Home Page | About Me | Home Entertainment | Home Entertainment Blog | Politics | Australian Libertarian Society Blog | Disclosures
---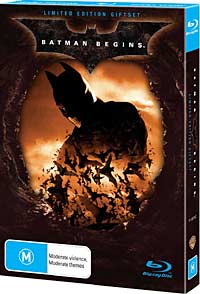 Not previously published
Last updated 17 June 2009
---
Batman Begins
2005
Director: Christopher Nolan
Starring: Christian Bale, Michael Caine, Liam Neeson, Katie Holmes, Gary Oldman, Cillian Murphy, Tom Wilkinson, Rutger Hauer and Ken Watanabe

Movie:

Picture:

Sound:

Extras:

---
No review as yet.
---
Facts
Running time: 140 minutes
Picture: 2.35:1 anamorphic, 1080p24, VC1 @ 13.69Mbps; BonusView VC1
Sound: English: Dolby TrueHD 16/48, 3/2.1 @ 1551kbps (Core: Dolby Digital 3/2.1 @ 640kbps); English, French, Spanish, Portuguese: Dolby Digital 3/2.1 @ 640kbps; BonusView: Dolby Digital Plus 2/0.0 @ 192kbps
Subtitles: English, French, Chinese, Korean, Spanish, Portuguese
Extras: Bookmarks, BonusView PIP 'In Movie Experience' (VC1, Dolby Digital Plus 2/0.0); The Dark Knight Prologue (1080p24, VC1 - 7 mins); Trailer (480p, MPEG2 - 1 min); MTV Parody: 'Tankman Begins' (480i, MPEG2 - 5 mins); Eleven Featurettes (480i, MPEG2 - 110 mins)
Restrictions: Rated

(Australian rating); Region Free

This is the video bitrate graph for this movie, generated by BDInfo 0.5.2: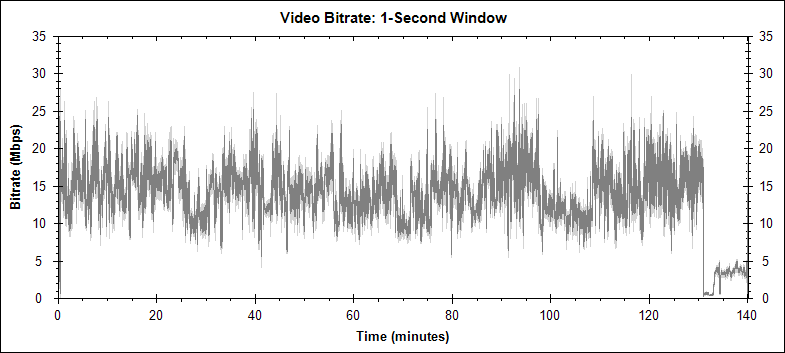 This is the video bitrate graph for the BonusView PIP stream in this movie. It shows where the PIP windows appear during its course: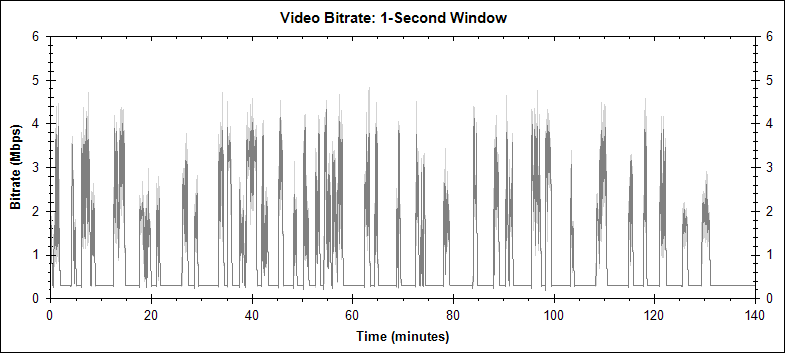 ---
Here are some comparisons between the Australian PAL DVD and the Australia Blu-ray version of this movie. At the top of each is the full frame (suitably shrunk down) used in the comparison, with a 250 pixel wide detail from the frame underneath. The left side is from the PAL DVD. The image was captured digitally from the disc, scaled up from its native 720 by 576 resolution to 768 by 576 (to present in the correct aspect ratio). I then scaled it, in order for it to be comparable to the Blu-ray version, to 1,920 pixels wide.

The detail is from that last scaled version, and has not been rescaled again. The right side is from the Australian Blu-ray. This has not been scaled at all. Different applications were used to capture the two frames, so I am not comfortable comparing the colour between the two, merely the detail and sharpness. For visitors from NTSC lands, generally the PAL DVD is just a touch sharper than the NTSC DVD.

Notice the MPEG noise around the girl's outline on the DVD. Notice the sharpness of the Blu-ray. Count the horizontal slats on the white seat above her head ... on the Blu-ray, because you can't on the DVD: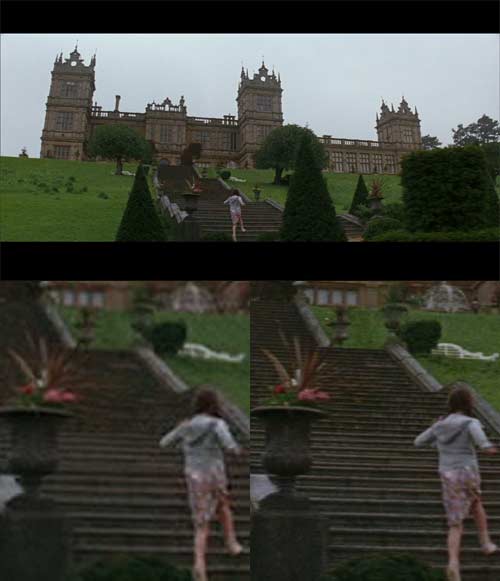 Same frame, different part. Five times the resolution gives the Blu-ray a lot more detail: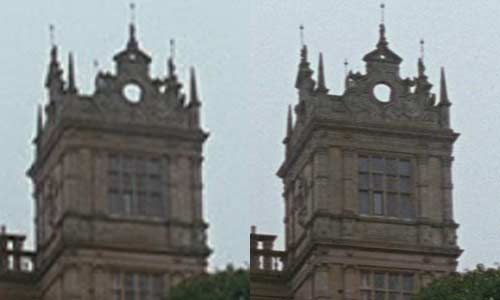 Sometimes the higher resolution of Blu-ray actually reveals new details which are quite obliterated by DVD, such as the dot pattern on Michael Caine's tie: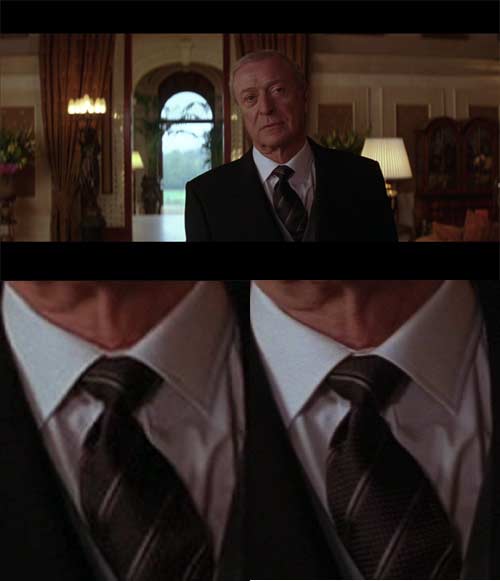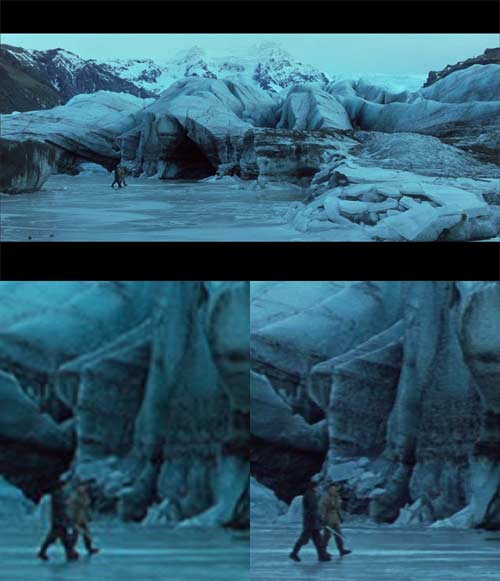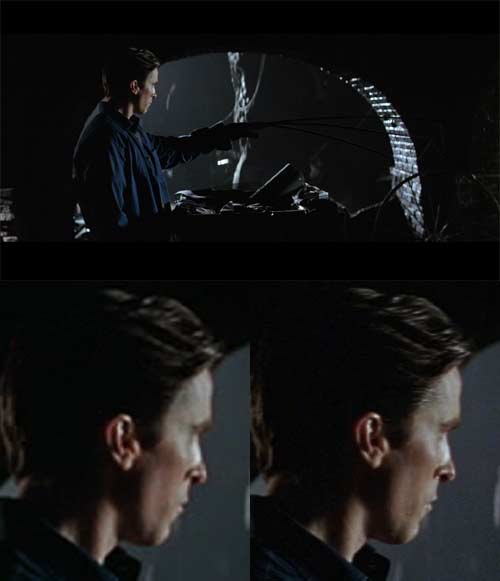 Not so many windows with DVD: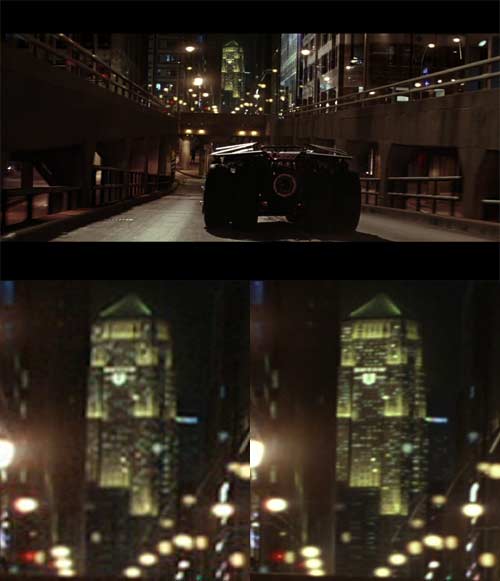 Finally, for reasons not at all apparent to me, is a shot where there was hardly anything in it for quality.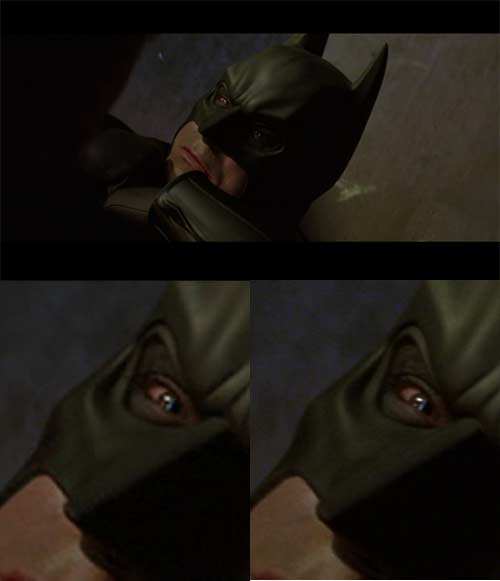 ---
&copy 2002-2008, Stephen Dawson