Home Page | About Me | Home Entertainment | Home Entertainment Blog | Politics | Australian Libertarian Society Blog | Disclosures
---
Originally published in Sound and Image, July/August 2008, v.21#8
Last updated 25 February 2013
Download scan of review (JPEG, right click, Save As)
---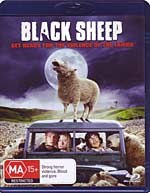 Black Sheep
2006 - Icon Film Distribution Pty Ltd
Director: Jonathan King
Starring: Nathan Meister, Oliver Driver, Danielle Mason, Peter Feeney, Glenis Levestam, Nick Blake, Richard Chapman, Louis Sutherland and Tammy Davis

Movie:

Picture:

Sound:

Extras:

---
The ways of movie distributors remain inscrutable. Tens of thousands of fine films have been made, but for Blu-ray we are still at the stage of only a few hundred movies having been released in the format. One of the latest to become available is New Zealand-made Black Sheep, provided by Icon Film Distribution. As I say, the ways of movie distributors remain inscrutable.

What we have here is a comedy horror movie. The horror derives from the seemingly limitless qualities of entrails employed in the making of the movie. The comedy derives from the glorious premise of mutant sheep running amok. A fairly sharp script has been developed around this -- er -- quaint notion. The cinematography and special effects are above par, but it seems New Zealand is brimming with movie-making talent. Even the homage to An American Werewolf in London is well executed.

The back cover quotes a review which demands a sequel: 'Black Sheep 2: Shorn of the Dead'. The included trailer refers to it as 'Violence of the Lambs'. Just remember, if you are contemplating purchasing this movie, that its makers were not burdened by any sense of good taste.

The picture quality in 1080p24 (I can't say the codec used, lacking for the moment a player that discloses this information*) is excellent. The early sun-lit colours seem a touch washed out, but the blacks, in which much of the movie is immersed, were excellent. Clarity was fine too (no splashing blood drop shall escape your notice).

The sound was odd. The main audio track uses Dolby Digital 5.1 at the maximum of 640kbps. But this is duplicated by a stereo Dolby Digital track, which seems rather pointless. There's also an amusing commentary.

But back to the main sound. Forget about how good (or not) the movie may be. Forget about the adequate array of special extras (all of which are in 50 hertz PAL SD, for a change, since these were presumably shot in NZ on PAL video). Just enjoy the surround mix and, above all, the bass.

As it happened, I was using the Paradigm Servo-15 version 2 subwoofer while watching this movie. At around 52 minutes into the movie, our heroes meet their first hybrid sheep/human/zombie. This confrontation is marked by a rich, exclusively bass, descending tone. It goes down, and down, and down! I had my measurement microphone already attached to a stand for other purposes, so I reversed a little and recorded this segment. The last cycle of this descending tone was 18.35 hertz! This does not escape your body's notice -- if your subwoofer will reproduce it.

* I have since discovered that it is MPEG4 AVC

NOTE: The video of this movie is 1080p24, where by '24' I mean 24 frames per second. Just about all 1080p24 material actually uses a frame rate of 23.976fps.
---
Facts
Running time: 86 minutes
Picture: 2.35:1 anamorphic, 1080p24, MPEG4 AVC @ 15.99Mbps
Sound: English: Dolby Digital, 3/2.0 @ 640kbps; English: Dolby Digital 2/0.0 @ 256kbps; Commentary: Dolby Digital 2/0.0 @ 224kbps
Subtitles: English for the Hearing Impaired
Extras: Five Deleted Scenes with optional commentary (4:3 letterbox, 576i50, MPEG2, 2 x DD2.0 @ 224kbps - 4 mins); Featurette: 'The Making of Black Sheep' (576i50, MPEG2, DD2.0 @ 224kbps - 32 mins); Trailer (576i50, MPEG2, DD2.0 @ 224kbps - 2 mins); Blooper Real (4:3 letterbox, 576i50, MPEG2, DD2.0 @ 224kbps - 2 mins)
Restrictions: Rated

(Australian rating); Region Free

This is the video bitrate graph for this version of the movie, generated by BDInfo 0.5.2: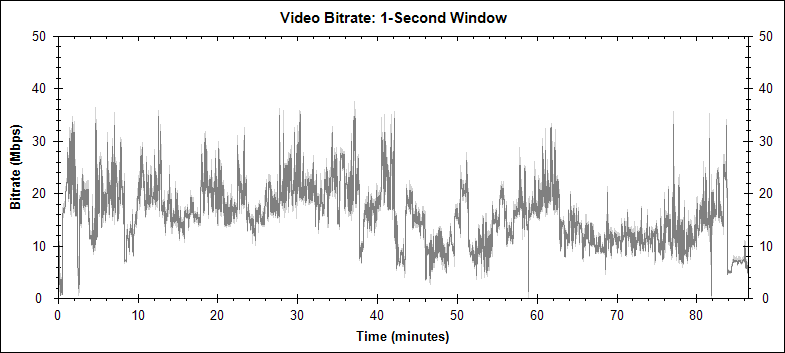 ---
A New Version
In 2009 Icon Film Distribution released this movie again on Blu-ray, this time as one of its 'Double Feature' series, with two movies on one Blu-ray disc. I expected it to be a simple transfer of the older one, discussed above. After all, the low video and audio bitrates and the short running time meant that only 13GB of the disc space was used. But Icon apparently remastered it (although it is is still 24fps rather than 23.976fps). You get a much higher video bitrate (compare the two graphs, one above and one below). You also get an improved audio specification, but you lose the extras. Oh, and of course you get another movie: Severance.
---
Facts
Running time: 86 minutes
Picture: 2.35:1 anamorphic, 1080p24, MPEG4 AVC @ 27.96Mbps
Sound: English: DTS-HD Master Audio 16/48 3/2.1 @ 2504kbps (Core: DTS 16/48 3/2.1 @ 1536kbps); English: Dolby Digital, 3/2.0 @ 640kbps
Subtitles: Nil
Extras: Nil
Restrictions: Rated

(Australian rating); Region Free

This is the video bitrate graph for this version of the movie, generated by BDInfo 0.5.2:
---
&copy 2002-2009, Stephen Dawson