Home Page | About Me | Home Entertainment | Home Entertainment Blog | Politics | Australian Libertarian Society Blog | Disclosures
---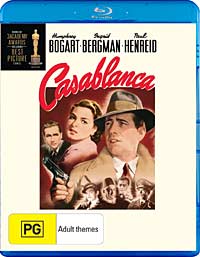 Not previously published
Last updated 27 June 2009
---
Casablanca
1942 - Warner Bros Entertainment Australia Pty Ltd
Director: Michael Curtiz
Starring: Humphrey Bogart, Ingrid Bergman, Paul Henreid, Claude Rains, Conrad Veidt, Sydney Greenstreet, Peter Lorre, S.Z. Sakall, Madeleine LeBeau and Dooley Wilson

Movie:

Picture:

Sound:

Extras:

---
No proper review as yet.

Yet I must make mention of this disc's predecessor: the HD DVD version. The video portion of the movie as recorded on the Blu-ray is identical to the HD DVD. To confirm this, I extracted twelve matching 'I' frames from the HD DVD and the Blu-ray discs. Saved in *.png format, I performed full bit-by-bit file comparisons and in all twelve cases, the files were perfectly identical.

One difference is in the sound. The HD DVD gets all the audio tracks in single channel Dolby Digital Plus, but only a 64kbps. The Blu-ray gets them in standard Dolby Digital, still single channel, but with a generous 192kbps.
---
Facts
Running time: 103 minutes
Picture: 1.37:1, 1080p24, VC1 @ 17.92Mbps
Sound: English, French, Spanish, 2 x Commentary: Dolby Digital 1/0.0 @ 192kbps
Subtitles: English, English for the hearing impaired, French, Spanish
Extras: Two Featurettes (4:3, 480i60, MPEG2, DD2.0 @ 192kbps - 41 mins); Documentary: 'Bacall on Bogart' (4:3, 480i60, MPEG2, DD2.0 @ 192kbps - 83 mins); Two Trailers (4:3, 480i60, MPEG2, DD2.0 @ 192kbps - 5 mins); Trailer for 'The Adventures of Robin Hood' (4:3, 480i60, MPEG2, DD2.0 @ 192kbps - 2 mins); Additional Scenes (4:3, 480i60, MPEG2, DD2.0 @ 192kbps - 2 mins); Outtakes (4:3, 480i60, MPEG2, DD2.0 @ 192kbps - 5 mins); Television Adaptation 'Who Holds Tomorrow' - First episode of TV series (4:3, 480i60, MPEG2, DD2.0 @ 192kbps - 19 mins); Cartoon: 'Carrotblanca' (4:3, 480i60, MPEG2, DD5.1 @ 448kbps - 8 mins); Eight Audio 'Scoring Stage Sessions' (Still backdrop 1080p24, MPEG2, DD2.0 @ 192kbps - 15 mins); Audio Screen Guild Theatre Radio Show - 1943 (Still backdrop 1080p24, MPEG2, DD2.0 @ 192kbps - 30 mins); 'Production Research' (94 Stills, 1080p24, MPEG2, Nil Audio)
Restrictions: Rated

(Australian rating); Region Free

This is the video bitrate graph for this movie, generated by BDInfo 0.5.2: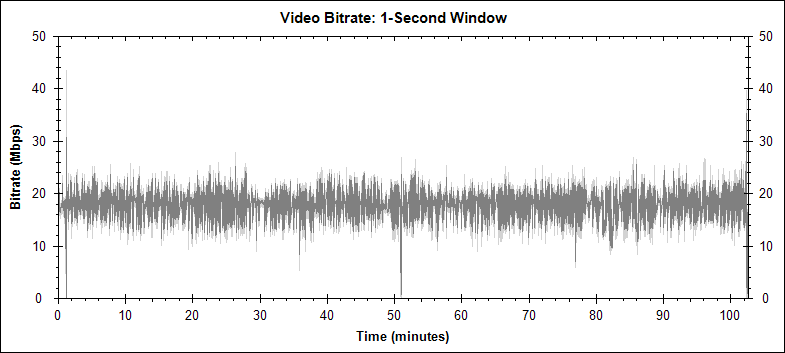 ---
Here are some comparisons between the PAL DVD and the Blu-ray version of this movie. The PAL DVD is from the 'Two-Disc Special Edition', released in 2003.

Before getting into the comparison of detail and resolution, let us see an overarching difference between the two. In brief, the DVD offers an aspect ratio suitable for good old-fashioned TV, while the Blu-ray delivers 'Academy' aspect ratio.

Traditional TV has an aspect ratio of 4:3, or 1.33:1. That is, for each four units across, the screen is only three units tall. But film traditionally -- prior to the widescreen era -- was very slightly wider than that. This was called the 'Academy' aspect ratio, and it was 1.37:1 rather than 1.33:1.

The DVD uses 1.33:1 while the Blu-ray uses 1.37:1. Both of these are sensible choices. The Blu-ray places its picture at the centre of a 16:9 (roughly, 1.78:1) frame, with black bars to either side. DVD could do this also, but that require putting the picture into an anamorphic frame, which would be throwing away horizontal resolution in order to rescue very narrow slivers of additional picture on either side. I suppose, they could alternatively have reduced the height of the picture a little (put in black bars top and bottom) to fit in the additional width. Still, the choice was reasonable.

You can see the difference below (DVD top, Blu-ray bottom). The lost side parts of the picture really are very slim. Still, given the resolution of Blu-ray, it's nice to have them back.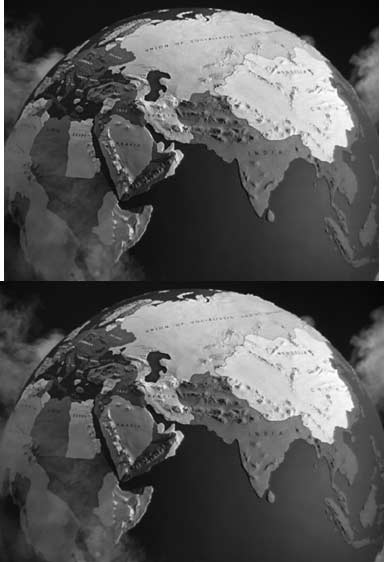 For this comparison have I presented the Blu-ray picture, from this point forward, as a full frame including the black bars on either side of the active picture area. Underneath the full frame from the Blu-ray (suitably shrunk down), are two 250 pixel wide details from the frame. The left side is from the PAL DVD. The image was captured digitally from the disc, scaled up from its native 720 by 576 resolution to 768 by 576 (to present in the correct aspect ratio), and then, in order to be comparable to the Blu-ray version, from that to 1,440 by 1,080. The detail is from that last scaled version, and has not been rescaled again. The right side is from the Blu-ray. This has not been scaled at all.
For those visitors from NTSC lands, generally the PAL DVD is just a touch sharper than the NTSC DVD.
Let us look at the first comparison. I am writing these up as I prepare the comparisons, so I don't really know what further shots from the two movie versions will later reveal. For this one, there simply isn't a lot of difference. The one exception is the noticable edge enhancement at the boundary between ocean and sky in the DVD version: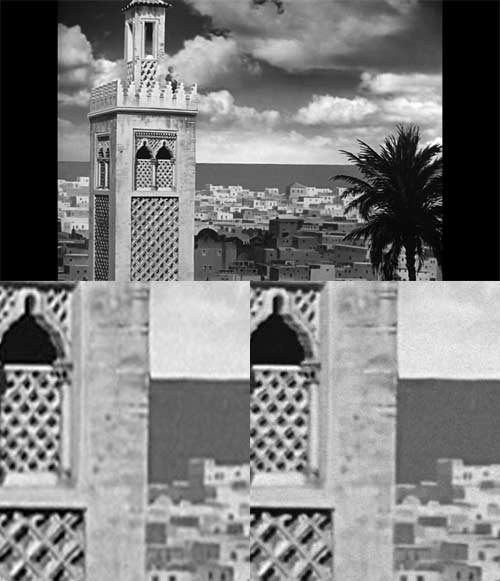 Here we see an increase in sharpness, but I should note that this is a rather kinetic scene with the camera panning across things, so I don't think focus was very sharp. Still, the railings on the balcony are more precisely defined, and to my eye the monkey's fur seems more natural in the Blu-ray: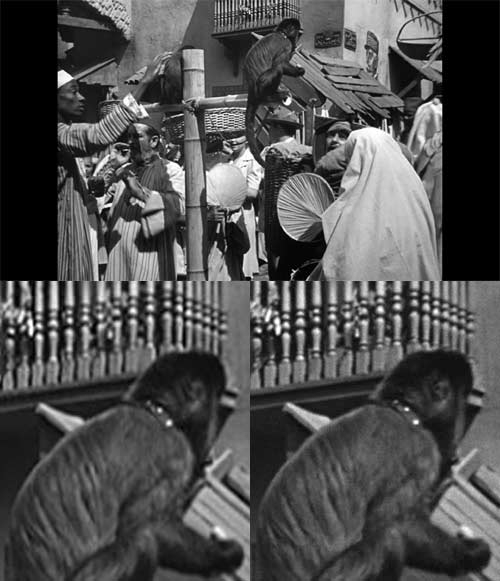 I do tend to focus on the fine detail and sharp edges in these things, but an important part of improving picture quality is simply in making things look more natural. Here the fabric of the gendarme's tunic seems rather more convincing in Blu-ray: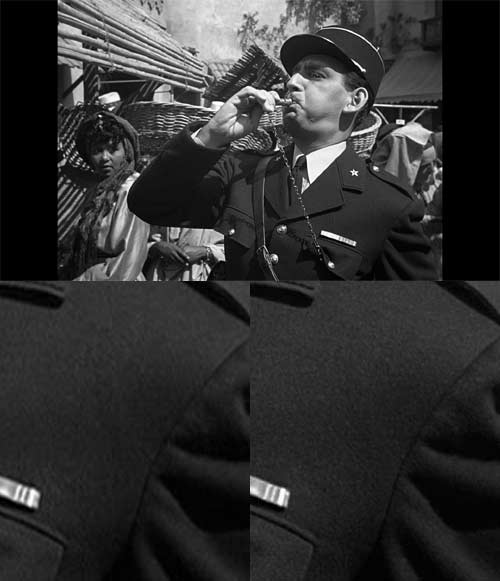 Here Blu-ray reveals its far greater detail. Note the palm tree fronds, and especially the face of the guy framed by the salute: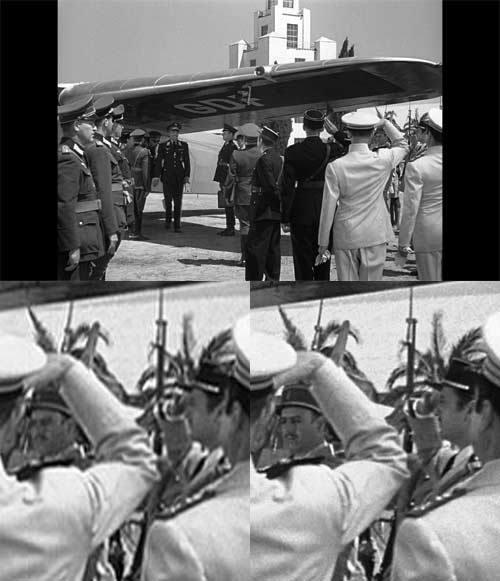 Dooley Wilson ('Sam') clearly looks better on Blu-ray, but I note that although not obvious here, there was a little macro blocking around his left shoulder (from his point of view) on the Blu-ray: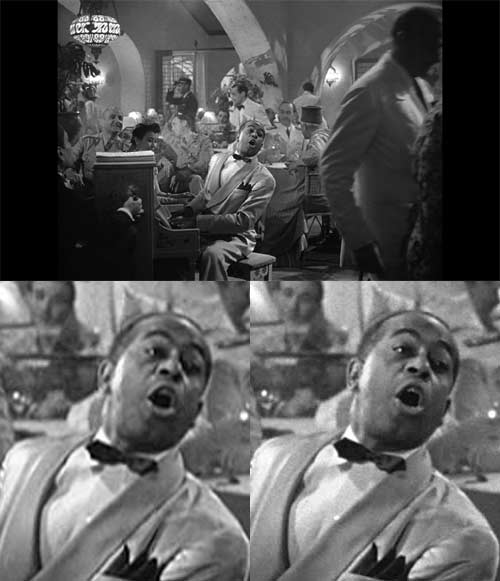 Let's look at that macro blocking a little more closely. I've blown up the Blu-ray grab to 300%. Black and white saves space, but even so packing the movie, plus two hours and twenty minutes of SD video supplements, plus 45 minutes of additional audio, plus 94 still slides, onto a single layer disc (it's 22.62GB in size) may have resulted in a touch too much compression being required from the VC1 encoder: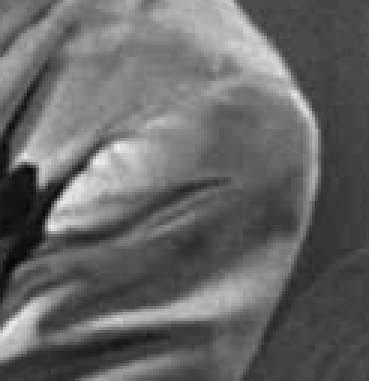 Humphrey Bogart ('Rick') is clearly both cleaner and sharper on Blu-ray, although again I noticed a very slight amount of macro blocking: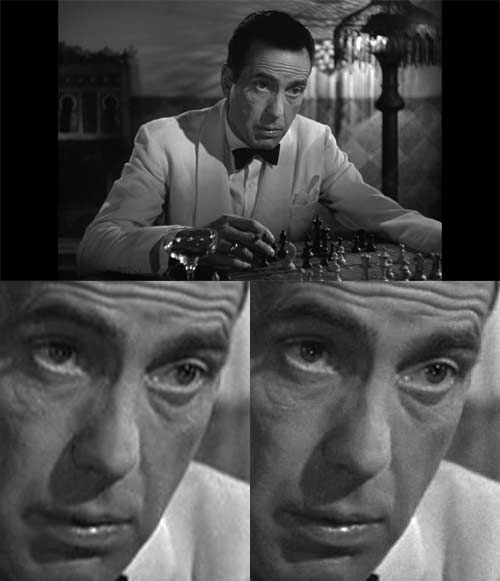 Despite the soft focus, Ingrid Bergman's ('Ilsa's') eyes seem more luminous in the Blu-ray version: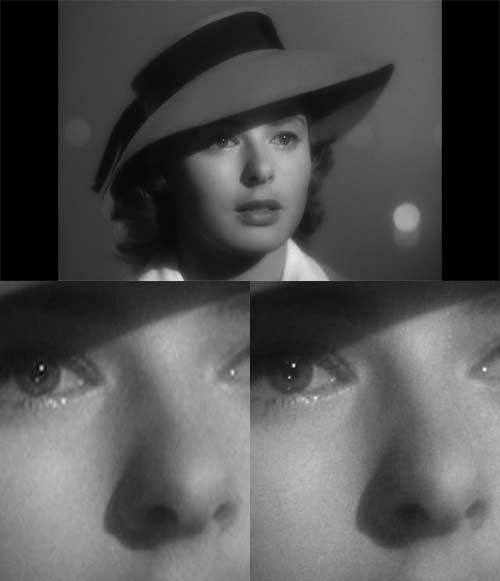 ---
&copy 2002-2009, Stephen Dawson