Home Page | About Me | Home Entertainment | Home Entertainment Blog | Politics | Australian Libertarian Society Blog | Disclosures
---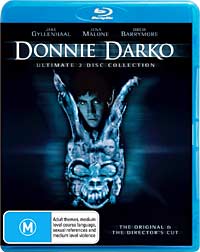 Originally published in Sound and Image, v.24#02
Last updated 24 February 2013
Download scan of review (JPEG, right click, Save As)
---
Donnie Darko
2001 - Anchor Bay Entertainment Australia
Director: Richard Kelly
Starring: Jake Gyllenhaal, Holmes Osborne, Maggie Gyllenhaal, Daveigh Chase, Mary McDonnell, James Duval, Patrick Swayze, Jolene Purdy, Beth Grant, Jena Malone, Noah Wyle, Drew Barrymore and Katharine Ross

Movie:

Picture:

Sound:

Extras:

---
Somehow this debut movie from Richard Kelly failed to be noticed upon theatrical release. An independent production, it cost $US4.5 million, but took in less than three quarters of a million at the US box office. I'd hazard a guess that it has since more than recovered its production costs in DVD and now Blu-ray sales.

Nobody noticed it at the cinema, but in these formats it has become a hit (and managed to score 8.3 out of 10 for position #129 on IMDB's Top 250 list). Perhaps because it is the kind of movie that you really ought to watch two or three times to really get a good grip on it. I won't really attempt to describe it, because to do so would be to give it away. But it does constitute a mystery -- as to what's going on, as to why things are happening, as to what drives the characters. And the mystery is, in the end, resolved.

The highlights include the extraordinary technique in camera work in linking things together. As Donnie arrives at school a camera watches him walk down the hall, then lingers, without break, on another character who is to prove important, then another and another. It shows them and introduces their relationships; alliances and oppositions. This is glorious.

And the whole thing is truly intense, emotionally. The performances are immaculate. Kelly managed to get a brilliant caste, including Drew Barrymore in a supporting role, the late Patrick Swayze in a thoroughly convincing turn as a high-energy lifestyle guru. Of course the title character was played by the then little-known Jake Gyllenhaal and his sister by, well, his sister Maggie Gyllenhaal. For me the standout performance was Mary McDonnell as his mother.

In Australia it was released in two bursts on DVD, both by Madman Entertainment. First there was the 113 minute theatrical edition, then the 134 minute Director's Cut. This Blu-ray version from Anchor Bay Entertainment Australia delivers two discs, each with one of the versions. The extras aren't exceptional, but nicely informative documentaries and three commentary tracks deliver most of the information about making this movie that you are ever likely to want to know.

I love this movie, and found myself getting really excited once I knew the Blu-ray was on the way. I thought the DVDs were a touch soft, even for DVDs, and was very keen to see this movie again in high definition.

Which is why it was quite disappointing.

It turns out that the movie basically has little, if any, more resolution than PAL DVD. The DVDs presented fairly smooth picture quality, so the Blu-ray doesn't offer much more in the way of picture. I pulled nearly thirty matching frames of the original theatrical version of the movie from the DVD and Blu-ray versions, and the overwhelming impression was of almost no difference in terms of detail, nor indeed of sharpness. In fact, the DVD was rather impressively done.

And so was the Blu-ray. The problem appears to be with the film stock chosen by Kelly and Steven Poster, his Director of Photography. Apparently this was suitable for low light levels, which would suggest reduced detail and increased grain. Very little film grain is evident so it's likely that the picture was filtered. It is this which leaves it was a smooth, but very soft, look.

Obviously (since they are, after all, on two different discs) the original theatrical and Director's Cut versions are not implemented via seamless branching. And it soon becomes obvious that they were separately telecined from different film versions. The colours are slightly different, with a little more pink in one than the other, and the detail in dark scenes is slightly different. The contrast range in the same scenes differs, and the apparent sharpness varies slightly, and even the framing is either slightly or wildly different, depending on the scene.

But it's by no means obvious which is better, because sometimes one is pinker, at other places the other is pinker, and so on. I did notice some instances of edge enhancement in the Director's Cut version, and soft as the film was, this serves primarily to produce those artefacts without adding anything useful.

The sound is respectable, with a good DTS-HD Master Audio delivery in 5.1 surround. It does a nice job of delivering the well-selected '80s sound track..
---
Facts
Running time: 114 minutes (134 minutes for Director's Cut)
Picture: 2.35:1, 1080p24, MPEG4 AVC @ 30.99Mbps (31.00Mbps for Director's Cut)
Sound: English: DTS-HD Master Audio 16/48 3/2.1 @ 2108kbps (2211kbps for Director's Cut; core: DTS 16/48 3/2.1 @ 1509kbps); English, 3 x Commentary: LPCM 16/48 2/0.0 @ 1536kbps
Subtitles: English
Extras: Cunning Visions Infomercials with optional commentary (4:3, 576i50, MPEG2, LPCM 16/48 2.0 @ 1536kbps - 6 mins); Art Gallery (1080p24, MPEG4 AVC, LPCM 16/48 2.0 - 3 mins); 4 Trailers (576i50, MPEG2, LPCM 16/48 2.0 @ 1536kbps - 5 mins); Director's Cut Trailer (480i60, MPEG2, LPCM 16/48 2.0 @ 1536kbps - 1 mins); Cast & Crew Interviews: Play All (576i50, MPEG2, LPCM 16/48 2.0 @ 1536kbps - 15 mins); The Philosophy of Time Travel - pages of book referenced in movie (1080p24, MPEG4 AVC, LPCM 16/48 2.0 - 3 mins); Production Diary with optional commentary (480i60, MPEG2, 2 x LPCM 16/48 2.0 - 40 mins); 3 Featurettes (576i50, MPEG2, LPCM 16/48 2.0 - 40 mins)
Restrictions: Rated

(Australian rating); Locked to Region B

The following video bitrate graphs were generated by BDInfo 0.5.6. This is for the original theatrical version of the movie: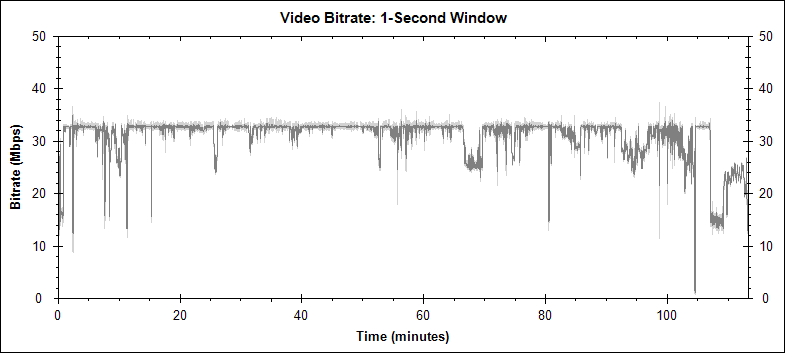 This is for the Director's Cut: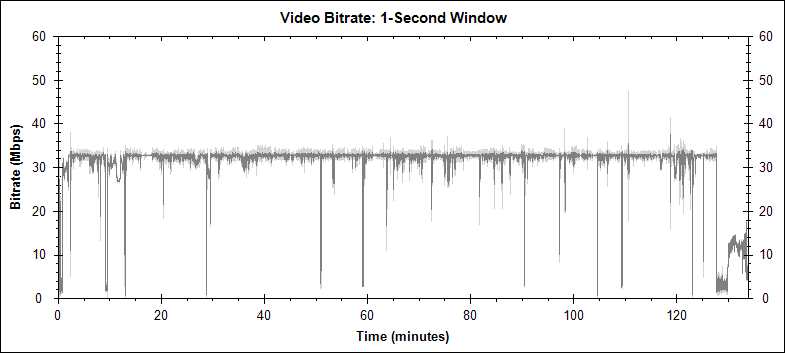 ---
Here are some comparisons between the Australian PAL DVD and the Australia Blu-ray version of this movie. The Blu-ray was supplied to me by Anchor Bay Entertainment Australia. The PAL DVD was the original theatrical version, purchased by me some years ago.
You get both the theatrical and the Director's Cut versions of the movie with the Blu-ray. I have used the theatrical version for this comparison. Extracting identical frames from the DC yielded few, if any, noticable improvements, but a few frames of image degradation due to the use of edge enhancement.
At the top of each is the full frame (suitably shrunk down) used in the comparison, with a 250 pixel wide detail from the frame underneath. The left side is from the PAL DVD. The image was captured digitally from the disc, scaled up from its native 720 by 576 pixel resolution to 1,024 by 576 (to present in the correct aspect ratio) by the application. I then scaled it, in order for it to be comparable to the Blu-ray version, to 1,920 by 1,080 pixels.
The detail is from that last scaled version, and has not been rescaled again. The right side is from the Australian Blu-ray. This has not been scaled at all. Different applications were used to capture the two frames, so some caution should be exercised in judging colour and brightness.
For visitors from NTSC lands, generally the PAL DVD is just a touch sharper than the NTSC DVD.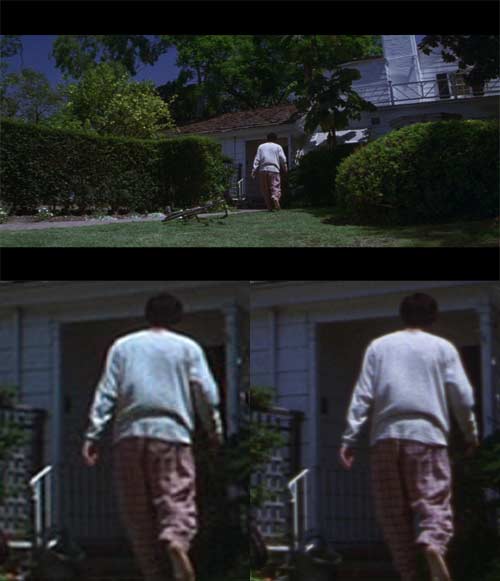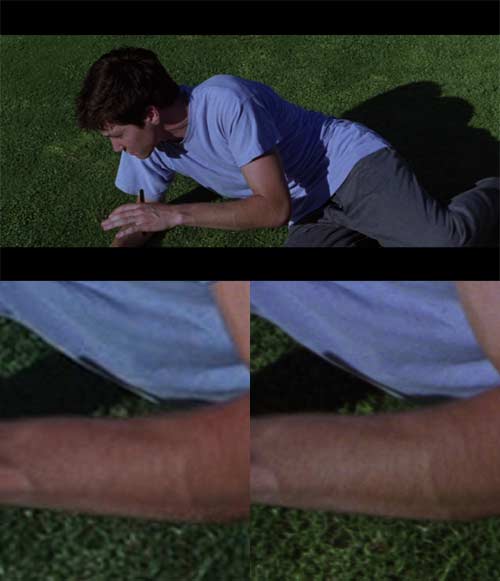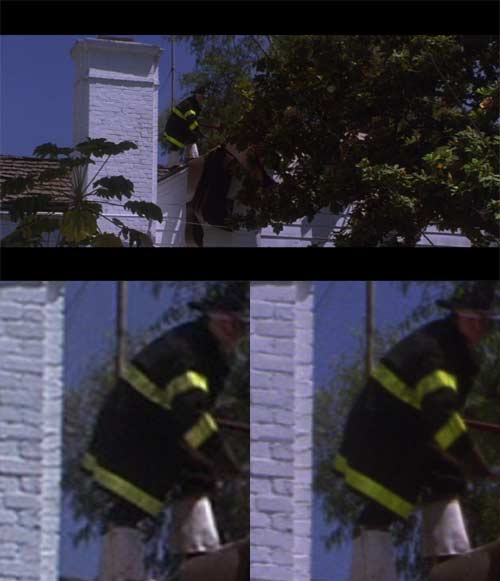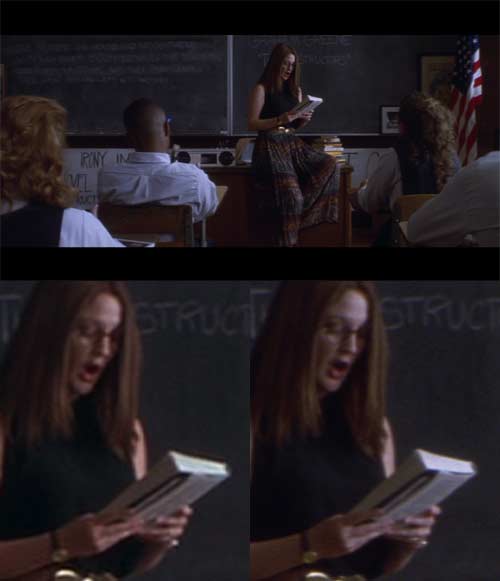 On this one the printing on the bit of paper in the DVD version seems more evident: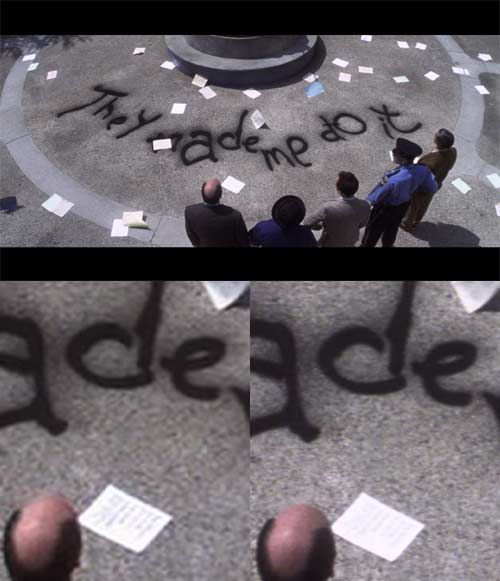 This one is interesting. The DVD version has a sharper look than the Blu-ray, albeit with a jittery, nervous quality: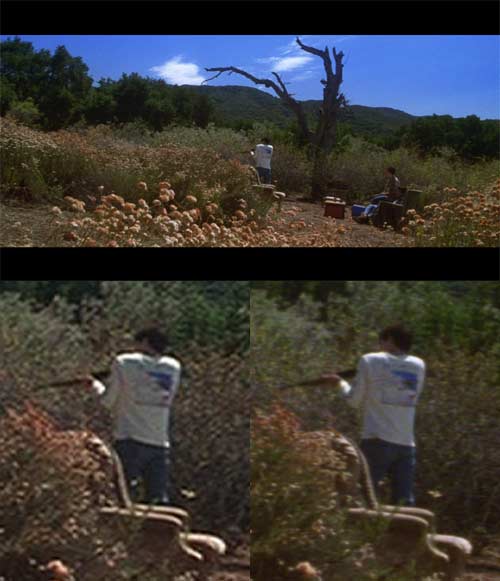 And here's the reason. Taken from the same frame you can see the clear edge enhancement in the DVD version. It may look sharper, but then lots of harmonic distortion can make an audio system sound brighter: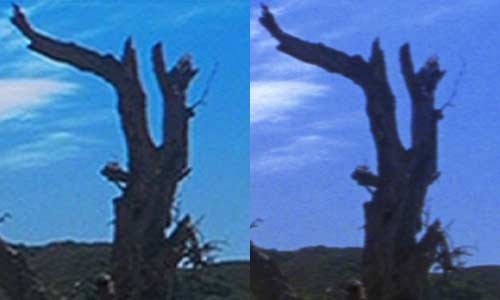 ---
&copy 2002-2010, Stephen Dawson