Home Page | About Me | Home Entertainment | Home Entertainment Blog | Politics | Australian Libertarian Society Blog | Disclosures
---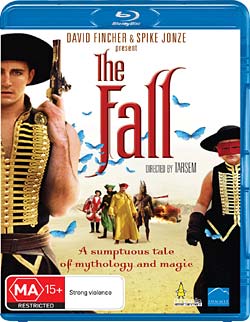 Originally published in Sound and Image, May/June 2012, v.25#05
Last updated 26 August 2012
Download scan of review (JPEG, right click, Save As)
---
The Fall
2006 - Umbrella Entertainment
Director: Tarsem Singh
Starring: Catinca Untaru, Justine Waddell, Lee Pace, Grant Swanby, Emil Hostina, Robin Smith, Jeetu Verma, Leo Bill and Marcus Wesley

Movie:

Picture:

Sound:

Extras:

---
Often it is very discern any pattern or order in the movie making business. When someone makes an independent feature of sufficient interest to score a 'Presented by' panel at the start naming David Fincher and Spike Jonze, you'd think that maybe the movie would get released. Well, The Fall did get released. After a year or so bouncing around the festival circuit, Tarsem Singh's feature managed to get out to all of 111 screens (it opened on just 9). To compare, Transformers 3 opened on 4,234 screens.

Bummer.

I first watched the movie a couple of years ago on a Blu-ray I bought on-line from the UK. I wrote a blog post about it at the time. Why couldn't I get it in Australia? Even on DVD?

Well now you can, from Umbrella Entertainment. It has a smallish Blu-ray catalogue with a surprisingly high proportion of fine movies.

As to The Fall, this is a work of art, and a simply beautiful story. It is moving and bloody, and dark and funny, and fantastical and gritty, and clever and brutal. The director apparently financed it himself, yet it is shot in the most breathtakingly beautiful and intriguing places all over the world. Many of the places look like they must be elaborately constructed sets, but are in fact real places, such as the 2nd Century Hadrian's Villa in Italy, or the 19th Century Jantar Mantar in India.

That is the background of the fantasy story of a swashbuckling band of five men with deadly revenge on their minds. The story is being told by Lee Pace ('Pushing Daisies'), an injured Hollywood stuntman in a 1920s Los Angeles hospital, to a young girl. She is played by Catinca Untaru, a six year old Romanian who at the time must have been one of the cutest people on the face of the planet, especially with her broken arm -- her reason for being there -- stuck out precariously, encased in plaster to the shoulder.

It soon becomes apparent that Pace's character is using her to get what he really wants.

But I fear I could write a full page on the movie and still not convey it properly. As an indication of that, the UK version I bought was marked (15) as its age level. After watching it, and in the absence of it having received an Australian rating (which it finally got last year), I put it down in my database as PG. The Australian censors disagree: they've made it MA! And perhaps they're right.

One last word, even the opening credit section is a work of art: slow motion, black and white, with a horse and a train and a bridge and a river, beautifully choreographed to the 2nd movement of Beethoven's Seventh.

As for this Australian release, the news is mostly good, but leavened with a little bad. The bad is that you don't get the commentary track that's on the UK version, nor the two commentaries on the US version

The good is that we get the US video transfer. The UK version is squished into about four fifths of a single layer disc and makes do with a VC1 transfer at 16.99Mbps. The Australian version gets 30GB on a dual layer disc and a healthy 27.31Mbps. A really good movie may have four or five breathtaking scenes. This has a couple of dozen, some of them extreme distance shots, and they are beautifully rendered on this Blu-ray.

Had this movie had the full resources of Hollywood behind it, a couple of slightly soft shots may have been sharpened for a full 5/5 video score, but had Hollywood been behind it, this movie wouldn't have been what it is.

The sound was pretty much up to the same standard. Faithfully rendered in Dolby TrueHD, there was generally good ambience and plenty of punch. Particularly intriguing were the black powder pistols, in which the tiny interval between igniting the pan and then the main powder charge was sometimes apparent.

A couple of SD featurettes come to nearly an hour. But, strangely, there is no chapters/scenes menu, although you can skip through the 17 chapters using your remote's skip key.

Your Blu-ray collection will definitely be a poorer one without The Fall amongst its holdings.
---
Facts
Running time: 117 minutes
Picture: 1.85:1, 1080p24, MPEG4 AVC @ 27.31Mbps
Sound: Dolby TrueHD 24/48 3/2.1 @ 2826kbps (embedded: Dolby Digital 3/2.1 @ 640kbps)
Subtitles: English
Extras: 2 Deleted Scenes (576i50 - 2 mins); 2 Featurettes (576i50 - 58 mins)
Restrictions: Rated

(Australian rating); Region Free

The following video bitrate graphs were generated by BDInfo. This is for Australian disc: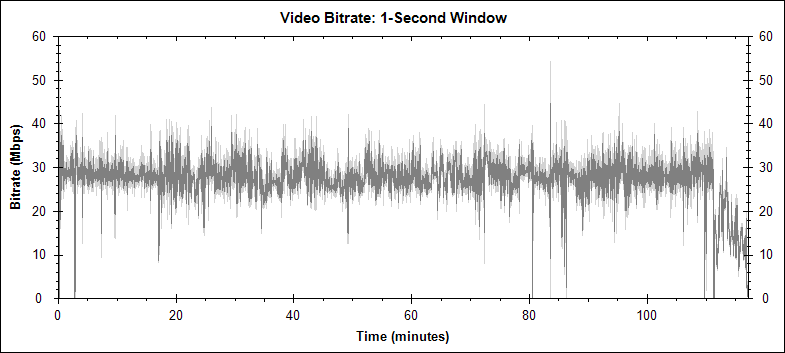 This one, purely for comparison, is for the UK disc: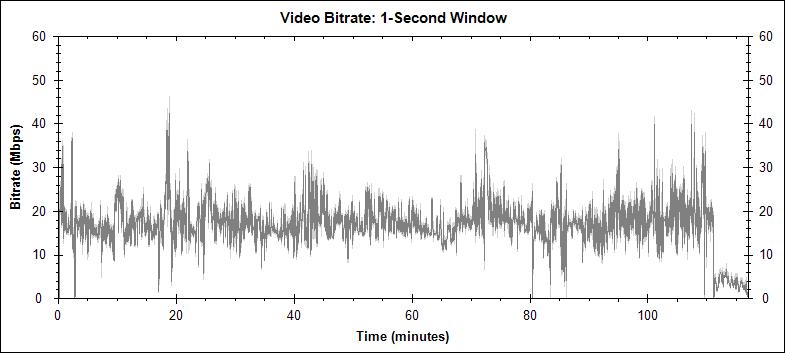 ---
&copy 2002-2012, Stephen Dawson