Home Page | About Me | Home Entertainment | Home Entertainment Blog | Politics | Australian Libertarian Society Blog | Disclosures
---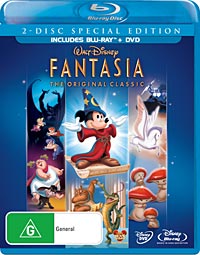 Originally published in Australian HI-FI, Mar/Apr 2011, v.42#2
Last updated 30 August 2011
---
Fantasia
1940 - Walt Disney Studios Home Entertainment
Director: Eleven different ones!
Starring: Leopold Stokowski and Deems Taylor

Movie:

Picture:

Sound:

Extras:

---
Fantasia was movie that shows that high concept cinema doesn't pay. Unless you're Disney and can keep rolling out the same film decade after decade. The grand-daddy of the music video, it is largely a series of animated reflections on musical works performed by Leopold Stokowski conducting the Philedelphia Orchestra. The music includes works by Bach, Tchaikovsky, Stravinski, Beethoven and others. Each is introduced by narrator Deems Taylor.

This movie has been through many incarnations over the decades, some with Taylor dropped. This version has him back, along with a dubbed narration (apparently his original one was largely lost).

The picture has been cleaned up and looks quite attractive, if not quite razor sharp. The slight softness is bit of a virtue because it softens the judder caused by the largely 12 frame per second animation.

Disney used more than thirty microphones and nine track optical recording to create the sound. This was mixed down to a three tracks plus sync for presentation in what Disney called 'Fantasound'. Apparently the original recordings had degraded by the 1950s, so the best sound was the three tracks from the one remaining 'Fantasound' print.

The result on this Blu-ray may be good enough for the average Joe, but I'm disappointed to report that it certainly won't be pleasing for the average reader of Australian HI-FI.

Some pains have clearly been taken to separate out the music elements from the surviving three tracks. This allowed a modern stereo spread to be presented, and even a surround one. This is tastefully done, with some instruments are delivered through all channels to give an encompassing effect during some climactic bits. This treatment may also have allowed some sensitive EQ to be applied, delivering a generally well balanced sound (except for stridency in the violin section).

But it also did some damage. Instruments start and stop too sharply, as though gated to suppress elements of the mix which crossed over during the separation process. Some instruments were accompanied by low level hiss, coming in underneath them and fading out in sympathy with their presence in the mix.

But the worst part was the pumping of the sound level during the loud bits, as though a dynamic expander had been brutally applied. A particularly severe example of this was the climax at the end of the Nutcracker section.

Perhaps including the original three channel Fantasound mix as at least an option would have been a good idea.
---
Censorship: By the time of the 1969 re-issue, Disney had decided that there were certain elements in the original movie that were rather insensitive, racially speaking. The adjustment is shown here, along with a frame before and after the change.
---
Facts
Running time: 124 minutes
Picture: 1:33:1 pillarboxed, 1080p24, MPEG4 AVC @ 23.00Mbps
Sound: English: DTS-HD Master Audio 24/48 3/4.1 @ 5201kbps (core: DTS 24/48 3/2.1 @ 1509kbps); Spanish, Dutch: DTS 24/48 3/2.1 @ 1509kbps; Portuguese, Polish, Hebrew: Dolby Digital 3/2.1 @ 640kbps; 3 x Commentaries: Dolby Digital 2/0.0 @ 192kbps
Subtitles: English, English for the Hearing Impaired, Spanish, Portuguese, Dutch, Polish, Hebrew, Spanish (Commentary 1), Portuguese (Commentary 1), Dutch (Commentary 1), Polish (Commentary 1), Hebrew (Commentary 1), Spanish (Commentary 2), Portuguese (Commentary 2), Dutch (Commentary 2), Polish (Commentary 2), Hebrew (Commentary 2), Spanish (Commentary 3), Portuguese (Commentary 3), Dutch (Commentary 3), Polish (Commentary 3), Hebrew (Commentary 3)
Extras: CDVD version included on 2nd disc; 2 Featurettes (1080p24 - 18 mins; Interactive Art Gallery with indexing, favourites, star ratings (413 stills, 1080p24, MPEG2, DD2.0 @ 192kbps)
Restrictions: Rated

(Australian rating); Region Free

The following video bitrate graph was generated by BDInfo 0.5.7: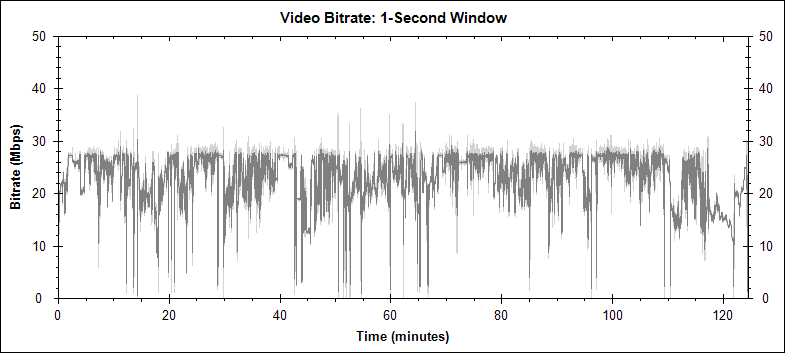 ---
Here are some comparisons between the Australian PAL DVD and the Australia Blu-ray version of this movie. The Blu-ray was supplied to me by Walt Disney Studios Home Entertainment. The PAL DVD was included in this pack as part of the Special Edition.
At the top of each is the full frame (suitably shrunk down) used in the comparison, with a 250 pixel wide detail from the frame underneath. The left side is from the PAL DVD. The image was captured digitally from the disc, scaled up from its native 720 by 576 pixel resolution to 768 by 576 (to present in the correct aspect ratio) by the application. I then scaled it, in order for it to be comparable to the Blu-ray version, to 1,440 by 1,080 pixels.
The detail is from that last scaled version, and has not been rescaled again. The right side is from the Australian Blu-ray. This has not been scaled at all. Different applications were used to capture the two frames, so some caution should be exercised in judging colour and brightness.
For visitors from NTSC lands, generally the PAL DVD is just a touch sharper than the NTSC DVD.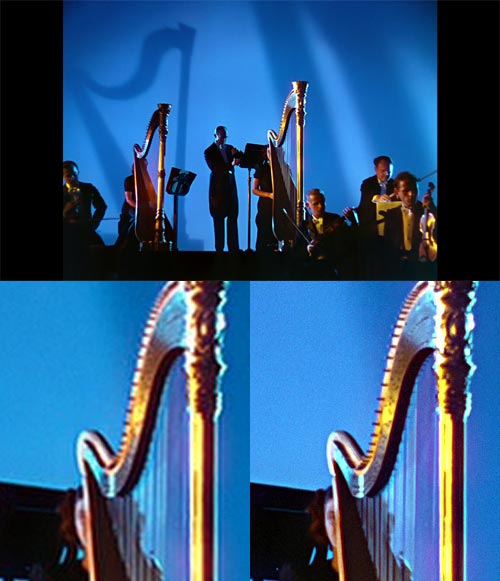 There are quite a few soft-focus elements of this movie, and as you can see Blu-ray and DVD aren't much different in those parts: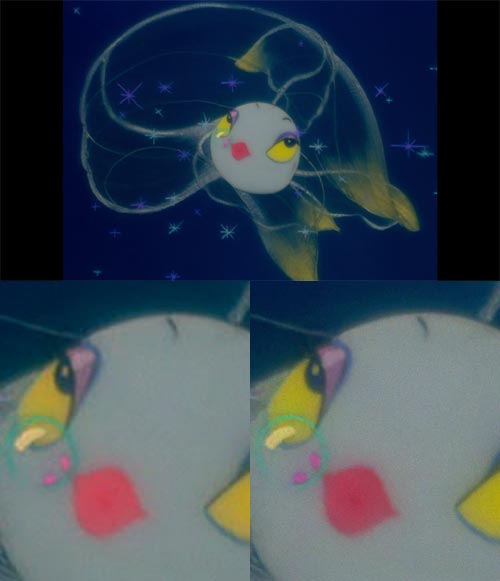 But other parts a very nicely sharp on Blu-ray, and so benefit from its higher resolution: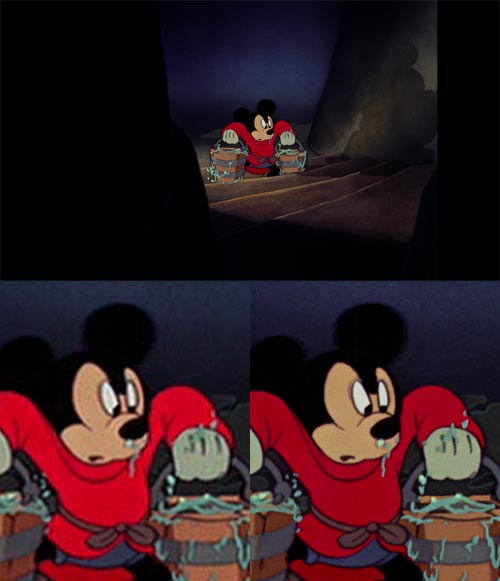 Notice the MPEG2 compression noise in the vicinity of the silhouette on the DVD version, from which the Blu-ray is thankfully free: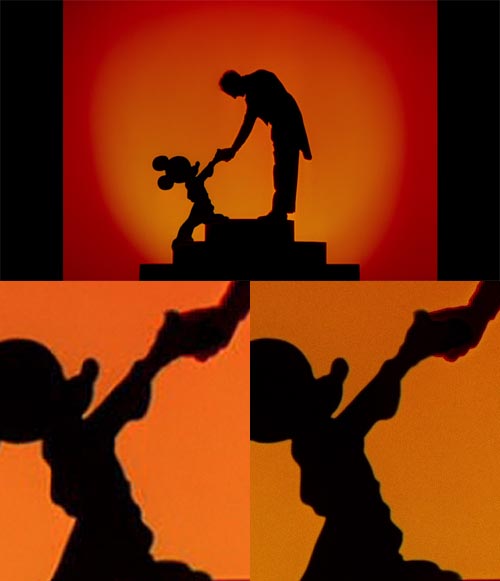 This one's interesting. Obviously the Blu-ray is sharper on the dinosaur neck, but notice how much more of the paint texture of the background is also brought out: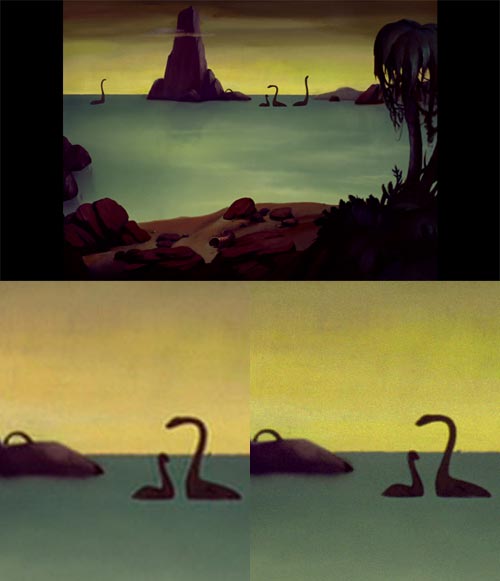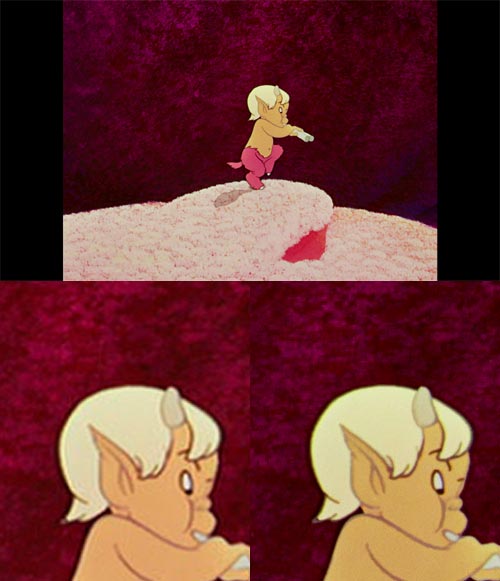 ---
&copy 2002-2011, Stephen Dawson