Home Page | About Me | Home Entertainment | Home Entertainment Blog | Politics | Australian Libertarian Society Blog | Disclosures
---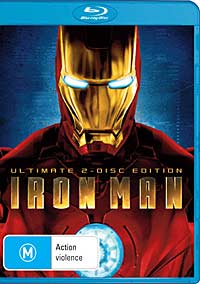 Originally published in Sound and Image, January 2009, v.22#03, Awards Special Issue
Last updated 6 April 2010
---
Iron Man
2008 - Paramount Home Entertainment (Australasia) Pty Ltd
Director: Jon Favreau
Starring: Robert Downey Jr., Terrence Howard, Jeff Bridges, Gwyneth Paltrow, Leslie Bibb, Shaun Toub, Faran Tahir, Clark Gregg and Bill Smitrovich

Movie:

Picture:

Sound:

Extras:

---
Yet another comic book super hero becomes yet another fine movie. Iron Man is brought to life by Robert Downey Jr, and a script full of sparkling dialogue. The action isn't half bad either.

All this is presented in an immaculate MPEG4 AVC video transfer and truly outstanding sound. At least, it will be outstanding if your subwoofer can cope with the infrasonic elements of the frequent explosions. The surround is strong, and Dolby TrueHD ensures that what you get is what was originally recorded.

Many North American purchasers of this movie, who got it a few weeks before us, had problems. They would insert the disc and it would hang ... for hours. That was for two reasons: this is a BD-Live title, and it is a little oddly designed. BD-Live means that it can access the Internet for additional material. The odd design had it access the Internet as soon as the disc was inserted ... if the player was BD-Live capable.

Unfortunately, some 260,000 copies of the Blu-ray Iron Man sold in North America on the first day of release. A sizeable proportion of those were loaded into Sony Playstation 3 players. A lot of those are connected to the Internet. It's likely that Paramount's Internet site, provided to support the disc, simply choked under the load. Since then it has worked fine.

The version here, if loaded into a BD-Live player, asks if you want to download 'Additional bonus features' the first time you insert the disc. It takes a couple of minutes, but do so. I had no access problems when I tried it out today on two different players. The BD Live content consists of nine Iron Man related trivia quizzes containing a total of 74 questions. The download took less than three seconds, and there's also an option to delete it to free up space.

This is not a killer BD-Live application, but it is at least fairly interesting and specific to the movie.
---
Features
Running time: 126 minutes
Video: 2.35:1 anamorphic, 1080p24, MPEG4 AVC @ 27.13Mbps
Sound: English: Dolby TrueHD 24/48 3/2.1 @ 3493kbps (embedded: Dolby Digital 3/2.1 @ 640kbps); Italian: Dolby Digital 3/2.1 @ 640kbps
Subtitles: Danish, Greek, English, English for the Hearing Impaired, Finnish, Turkish, Italian, Dutch, Hungarian, Norwegian, Polish, Portuguese, Swedish, English (Titles), Italian (Titles)
Features: Hall of Armor (Interactive examination of Iron Man suits); Ten featurettes (1080i60, MPEG4 AVC - 84 mins); Eleven Deleted/Extended Scenes (1080i60, MPEG4 AVC - 24 mins); Documentary: 'I Am Iron Man' (1080i60, MPEG4 AVC - 109 mins); The Onion satire (1080i60, MPEG4 AVC - 3 mins); Four trailers (1080p24, MPEG4 AVC - 8 mins); Photo Galleries; BD-Live: Nine Quizzes containing a total of 74 trivia questions

The following video bitrate graph was generated by BDInfo 0.5.3: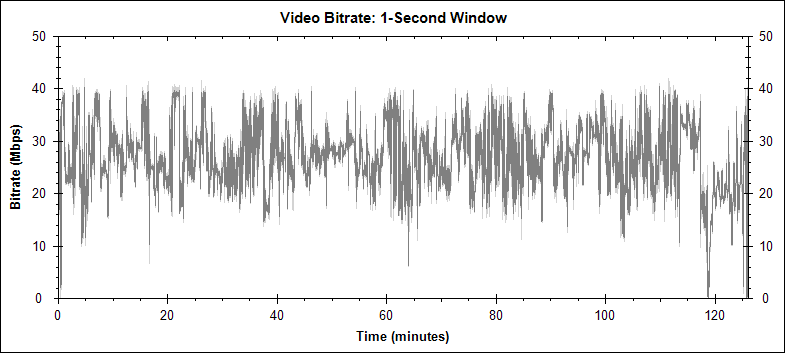 ---
&copy 2002-2010, Stephen Dawson