Home Page | About Me | Home Entertainment | Home Entertainment Blog | Politics | Australian Libertarian Society Blog | Disclosures
---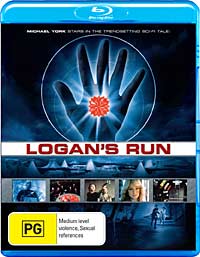 Not previously published
Last updated 19 April 2010
---
Logan's Run
1976 - Warner Bros Entertainment Australia Pty Ltd
Director: Michael Anderson
Starring: Michael York, Richard Jordan, Jenny Agutter, Roscoe Lee Browne, Farrah Fawcett, Michael Anderson Jr., Peter Ustinov, Randolph Roberts, Lara Lindsay, Gary Morgan, Michelle Stacy, Laura Hippe, David Westberg and Camilla Carr

Movie:

Picture:

Sound:

Extras:

---
No review. But do note the small role by Farrah Fawcett. This was just as 'Charlies Angels' was starting, which was to turn her into a TV superstar.
---
Facts
Running time: 119 minutes
Picture: 2.40:1, 1080p24, VC1 @ 18.74Mbps
Sound: English: Dolby TrueHD 16/48 3/2.1 @ 1698kbps (core: Dolby Digital 3/2.1 @ 640kbps); Spansih: Dolby Digital 3/2.1 @ 640kbps; French, German, Commentary: Dolby Digital 1/0.0 @ 192kbps
Subtitles: English for the Hearing Impaired, French, German for the Hearing Impaired, Spanish (Castellano), Spanish (Espanol), 2 x Japanese (Hidden)
Extras: Featurette: 'A Look into the Future' (480i60, VC1, DPL2.0 @ 192kbps - 9 mins); Trailer (480i60, VC1, DPL2.0 @ 192kbps - 3 mins)
Restrictions: Rated

(Australian rating); Region Free

The following video bitrate graph was generated by BDInfo 0.5.3: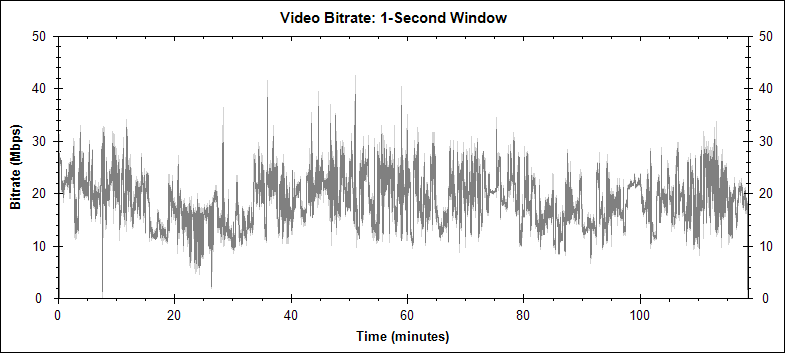 ---
Here are some comparisons between the Australian DVD and the Australia Blu-ray version of this movie. The Blu-ray was supplied to me by Warner Bros Entertainment Australia Pty Ltd, while I purchased the DVD some years ago. Note, the great majority of Australian DVDs are in PAL format with a resolution of 720 by 576 pixels at 50 hertz, but this was one of a small number, mostly issued by Warner Bros, that was provided locked to both Regions 1 and 4, and was in NTSC format with a resolution of 720 by 480 pixels at 60 hertz.

At the top of each is the full frame (suitably shrunk down) used in the comparison, with a 250 pixel wide detail from the frame underneath. The left side is from the PAL DVD. The image was captured digitally from the disc, scaled up from its native 720 by 480 pixel resolution to 853 by 480 (to present in the correct aspect ratio) by the application. I then scaled it, in order for it to be comparable to the Blu-ray version, to 1,920 by 1,080 pixels.

The detail is from that last scaled version, and has not been rescaled again. The right side is from the Australian Blu-ray. This has not been scaled at all. Different applications were used to capture the two frames, so some caution should be exercised in judging colour and brightness.

I thought it would be interesting to compare the ubiquitous MGM logo. Not much more detail in the Blu-ray, but a cleaner image: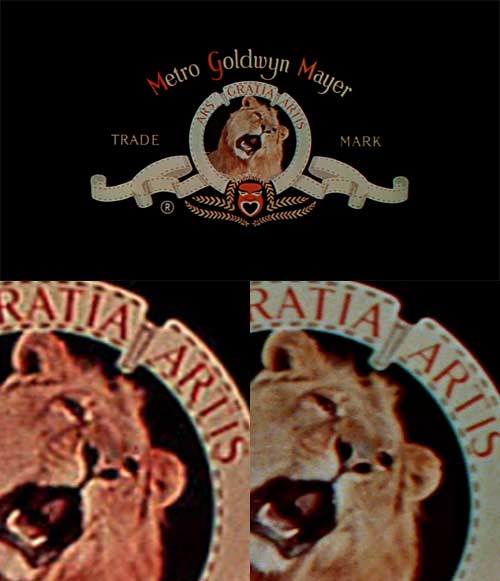 And we can see why the Blu-ray was cleaner than the DVD. The latter suffers from scads of edge enhancement. Loot at those white halos around the two in-focus characters. At small sizes, the DVD actually looks a trifle sharper than the Blu-ray, but get it up to a decent sized screen and the Blu-ray comes into its own while the DVD collapses into a pile of difficult to interpret noise: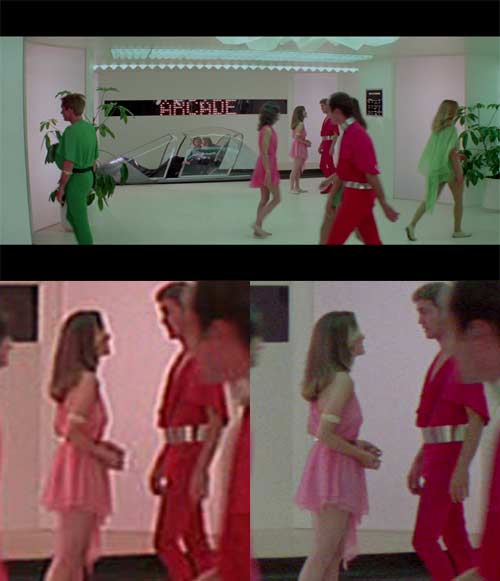 On the DVD, it looks like Homer has had a go at the normally lovely Jenny Agutter with his makeup gun, for the woman that just has to get ready in four fifths of a second: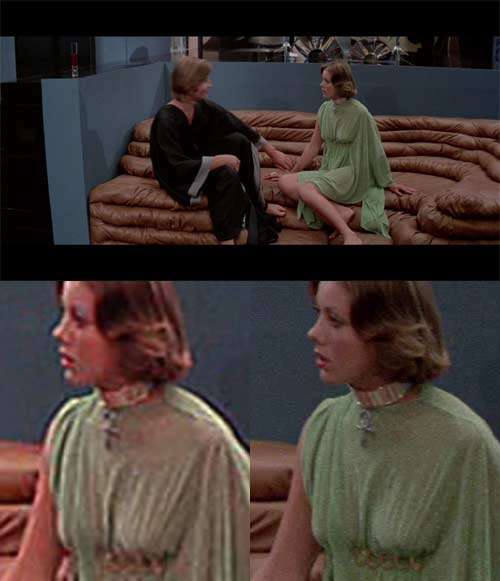 And here is the now unfortunately deceased Ms Fawcett dressed in some kind of sparkly thing: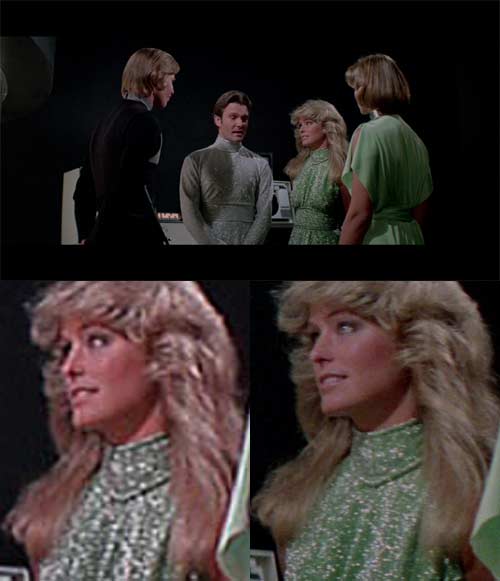 Free at last: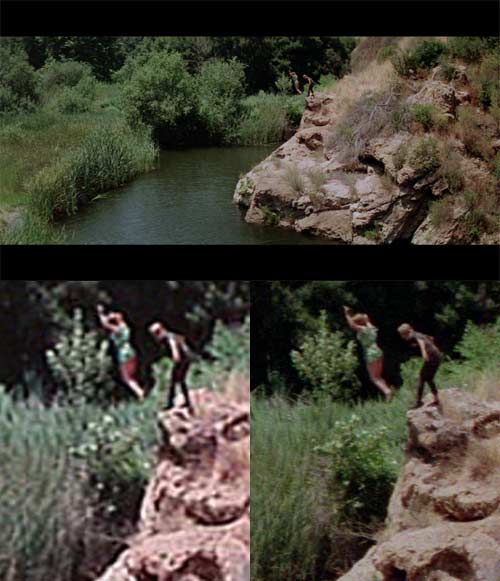 ---
&copy 2002-2010, Stephen Dawson