Home Page | About Me | Home Entertainment | Home Entertainment Blog | Politics | Australian Libertarian Society Blog | Disclosures
---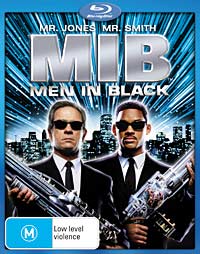 Originally published in Sound and Image, September/October 2008, v.22#1
Last updated 6 April 2010
---
Men in Black
1997 - Sony Pictures Home Entertainment Australia
Director: Barry Sonnenfeld
Starring: Tommy Lee Jones, Will Smith, Linda Fiorentino, Vincent D'Onofrio, Rip Torn, Tony Shalhoub and Siobhan Fallon

Movie:

Picture:

Sound:

Extras:

---
Everyone knows the story of 'Men in Black'. Duty demands that I recap it: secret government-like agency keeps the secret of alien presence under wraps, and tries to keep the aliens under control. Unfortunately, sometimes the aliens conduct their intrigues on our soil.

Fortunately, Tommy Lee Jones -- aka 'K' -- and Will Smith -- 'J' -- are here to keep us safe.

The movie is funny, clever and engaging. Sufficiently so that it made more than half a billion US dollars at the box office internationally, more than half of that outside America.

On this disc the sound is good, with very nicely extended bass at appropriate times. It isn't realistic sound, but the kind of cartoon sound that works for this sort of movie, and since it is in Dolby TrueHD format, what you're getting on the disc is the same as what the recording engineers created.

The picture quality ought to be excellent and it is certainly good. It was artefact free, with good use of the dynamic spectrum available. But it just didn't seem quite as sharp as it could have been. The detail was far better than the overly crowded DVD, as was the sharpness, but not quite up to the standard of the The Chronicles of Narnia: The Lion, the Witch and the Wardrobe, say.

What is special about this disc is that it is BD-Live. That is, it features web-enabled content. Sony Computer Entertainment came to my rescue with a Playstation 3 so I could review this disc properly -- it being the only BD-Live capable Blu-ray player.

So what does this disc use the Web for? Well, you can download nine trailers for other Blu-ray discs, or a 'Sneak Peek' at the forthcoming (as I write) Will Smith movie, Hancock. You can choose to download these either in SD (480i) or HD versions. The 'Sneak Peek' for Hancock turned out to be the same as the trailer which is on the disc anyway.

You can also conduct a 'Summer Survey', which seemed to primarily be a consumer preference survey. Use it, and help feed information back to the disc producers as to the kinds of things you prefer on your Blu-ray discs. There are also intriguing 'User Profile' and 'Disc Registration' features, however these responded merely with a 'Coming Soon' message. Finally, there is a trivia game which you can play either solo, or against others out there in the world who happen to be logged on at the same time. The trivia concerns, of course, the movie content.

Must-have BD-Live content? No. I think BD-Live is going to be exciting when some really clever ideas are produced to make use of it. This doesn't quite hit that mark.

But who cares? Men in Black is a fun movie, this BD is the best you're ever going to see it, and there are a stack of more conventional special extras.
---
Facts
Running time: 98 minutes
Video: 1.85:1 anamorphic, 1080p24, MPEG4 AVC @ 23.87Mbps
Sound: English: Dolby TrueHD 16/48 3/2.1 @ 1752kbps; German: Dolby TrueHD 16/48 3/2.1 @ 1650kbps; English (TrueHD core), German (TrueHD core), Czech, Hungarian, Polish, Russian: Dolby Digital, 3/2.1 @ 448kbps; 2 x Commentary: Dolby Digital 2/0.0 @ 192kbps
Subtitles: English, English-SDH, German, Arabic, Bulgarian, Croatian, Czech, Danish, Finnish, Greek, Hebrew, Hindi, Hungarian, Icelandic, Norwegian, Polish, Romanian, Serbian, Slovak, Slovene, Swedish, Turkish, English (Commentary 1), German (Commentary 1), English (Commentary 2), German (Commentary 2), Alien, Animated Silhouettes (Commentary 1), Russian (Titles)
Extras: Game: 'Ask Frank the Pug'; Extended/Alternate Scenes (4:3, 480i60, MPEG2, DD2.0 @ 192kbps - 4 mins); Featurette: 'Metamorphosis of Men in Black' (4:3, 480i60, MPEG2, DD2.0 @ 192kbps - 23 mins); Original Featurette (4:3, 480i60, MPEG2, DD2.0 @ 192kbps - 7 mins); Visual Effects Scene Deconstruction: five versions of two scenes; Character Animation Studies: Four developments of three characters; Creatures: Concept to Completion (development stills for five CGI characters); Stills galleries; Three storyboard comparisons (5 mins); Scene Editing Workshop; Music Video: 'Men in Black' (4:3, 480i60, MPEG2, DD2.0 @ 192kbps - 4 mins); Trailers (1080p24, MPEG2, DD5.1 @ 640kbps - 4 mins); Other show trailers (1080p24, MPEG2, DD5.1 @ 640kbps - 6 mins); BD-Live (download trailers, multi-player trivia game, user survey); 7669 Test Patterns (1080p24, MPEG2 - 1 min)
Restrictions: Rated

(Australian rating); Region Free

The following video bitrate graph was generated by BDInfo 0.5.3: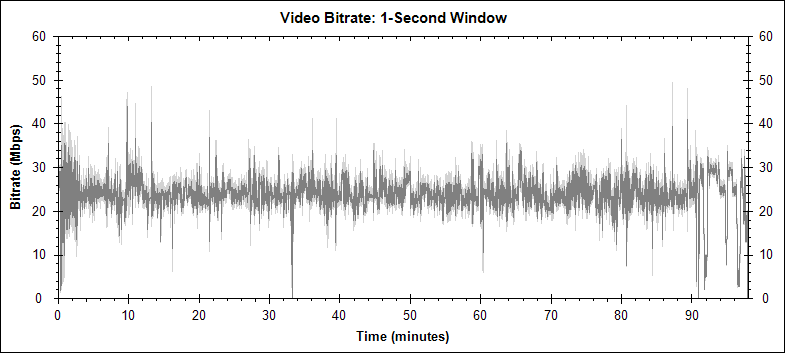 ---
Here are some comparisons between the 'Deluxe Collector's Edition' PAL DVD and the Blu-ray version of this movie. At the top of each is the full frame (suitably shrunk down) used in the comparison, with a 250 pixel wide detail from the frame underneath. The left side is from the PAL DVD. The image was captured digitally from the disc, scaled up from its native 720 by 576 resolution to 1,024 by 576 (to present in the correct aspect ratio), and then, in order to be comparable to the Blu-ray version, from that to 1,920 by 1,080. The detail is from that last scaled version, and has not been rescaled again. The right side is from the Australian Blu-ray. This has not been scaled at all. Different applications were used to capture the two frames, so I am not comfortable comparing the colour between the two, merely the detail and sharpness. For those visitors from NTSC lands, generally the PAL DVD is just a touch sharper than the NTSC DVD.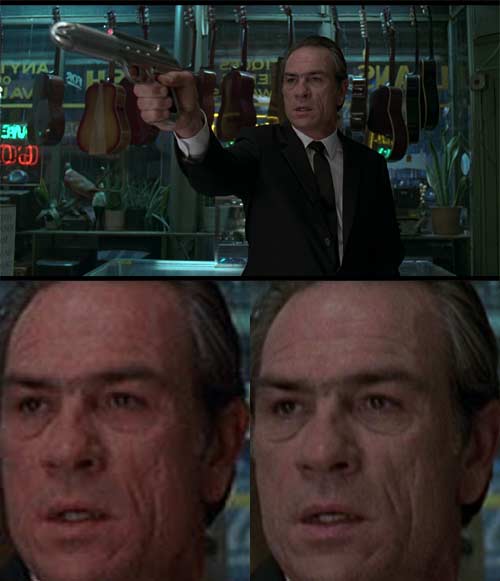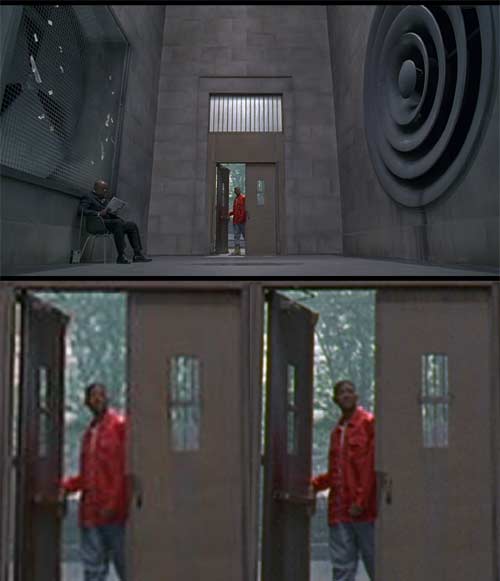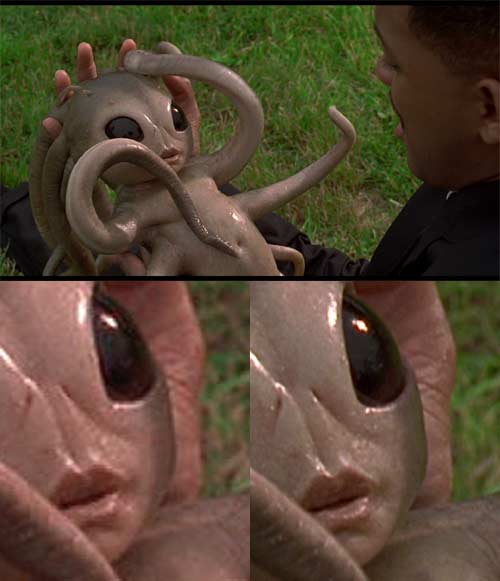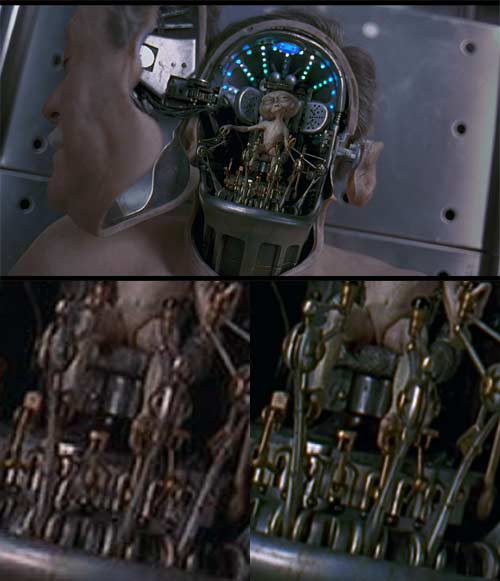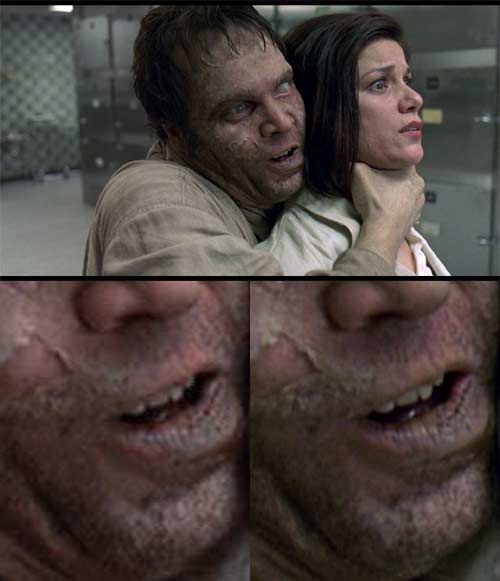 ---
&copy 2002-2008, Stephen Dawson