Home Page | About Me | Home Entertainment | Home Entertainment Blog | Politics | Australian Libertarian Society Blog | Disclosures
---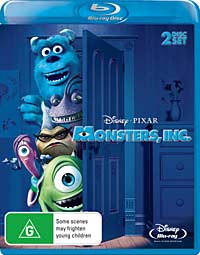 Originally published in Sound and Image, v.24#01
Last updated 22 May 2011
---
Monsters, Inc.
2001 - Walt Disney Studios Home Entertainment
Director: Pete Docter/David Silverman/Lee Unkrich
Starring: John Goodman, Billy Crystal, Mary Gibbs, Steve Buscemi, James Coburn, Jennifer Tilly, Bob Peterson, John Ratzenberger, Frank Oz and Daniel Gerson

Movie:

Picture: TBA Sound: TBA Extras:

---
Monsters, Inc. is one of the very best of Pixar's movies. At this remove some of the surprise has perhaps gone from the story, but when you think about it, the audacity of a whole Monster economy built on scream production remains thrilling.

As is the animation. Pixar developed a new 'engine' for providing movement to the long flowing hair of the 'Sulley' monster. This avoided the need to individually manipulate a literal million elements, and also made this another movie to prove the worth of Blu-ray.

Below I have matching screen grabs from the DVD and the Blu-ray of this movie. Sulley's fur on the DVD is indistinct and fuzzy, while the surrounding picture elements are mottled with MPEG2 noise. On the Blu-ray each hair is cleanly defined, and there are seemingly ten times as many of them because you can see them all, and the surroundings are smooth and noise free. That's the benefit of 1080p MPEG4 AVC with over 24Mbps of video.

There is a second disc which is chock full of features, well over an hour of them in HD, plus the full complement of SD DVD extras. When I went through the discs for my database, I ended up entering the details of 67 different Titles for both discs.

The discs use BD-Java to do not a lot. There are no bookmarks, but there is a memory for the position at which you stopped the movie from playing. When you go to 'Play' on the main menu again -- even on a different day after having played other discs in the meantime -- the disc asks if you'd like to resume at the point at which you stopped.

The language package on the Australian version provides English, French, Dutch and Flemish. The version of the movie you see depends on your language selection at the start. There are three versions of some scenes in which text is part of the picture (eg. newspaper headlines): English, French and Dutch (Flemish is pretty much the same as Dutch when written). All thanks to seamless branching, and Pixar's attention to detail.
---
Facts
Running time: 92 minutes
Picture: 1.85:1, 1080p24, MPEG4 AVC @ 24.12Mbps
Sound: English: DTS-HD Master Audio-ES Matrix 24/48 3/2.1 @ 4060kbps (core: DTS-ES Matrix 24/48 3/2.1 @ 1509kbps); French, Dutch: DTS-ES Matrix 24/48 3/2.1 @ 1509kbps; Flemish: Dolby Digital EX 3/2.1 @ 640kbps; Commentary (Docter/Unkrich/Stanton/Lasseter): Dolby Digital 2/0.0 @ 192kbps
Subtitles: English, English for the Hearing Impaired, French, Dutch, French (Commentary), Dutch (Commentary)
Extras: Restart from last position; Game: Roz's 100 Door Challenge; 12 HD Snippets and Featurettes (1080p24, MPEG4 AVC, DD2.0 @ 192kbps - 59 mins); 35 SD Snippets and Featurettes (480i60, MPEG2, DD2.0 @ 192kbps - 84 mins); 1 Featurette (1080i60, MPEG4 AVC, DD2.0 @ 192kbps - 8 mins); 2 Pixar shorts with optional commentary: (1080p24, MPEG4 AVC, DD5.1 @ 640kbps/DD2.0 @ 192kbps - 7 mins); 1 Music Video (1080p24, MPEG4 AVC, DD2.0 @ 192kbps - 1 min); Art Gallery (891 stills, 1080p24, MPEG2); 6 Trailers (480i60, MPEG2, DD2.0 @ 192kbps - 5 mins)
Restrictions: Rated

(Australian rating); Region Free

The following video bitrate graph was generated by BDInfo 0.5.3: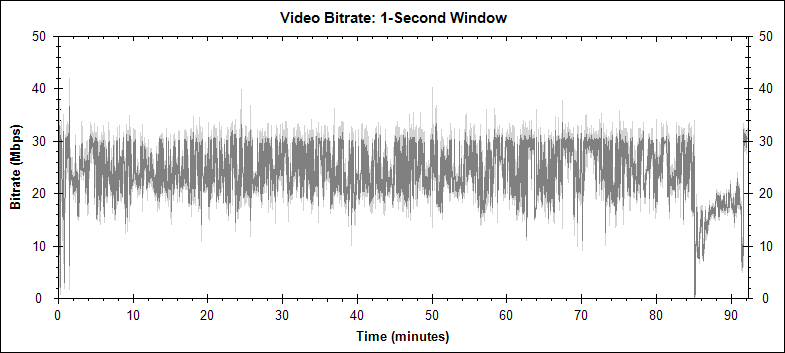 ---
Here are some comparisons between the Australian PAL DVD and the Australia Blu-ray version of this movie. The Blu-ray was supplied to me by Walt Disney Studios Home Entertainment. The PAL DVD was purchased by me some years ago.
At the top of each is the full frame (suitably shrunk down) used in the comparison, with a 250 pixel wide detail from the frame underneath. The left side is from the PAL DVD. The image was captured digitally from the disc, scaled up from its native 720 by 576 pixel resolution to 1,024 by 576 (to present in the correct aspect ratio) by the application. I then scaled it, in order for it to be comparable to the Blu-ray version, to 1,920 by 1,080 pixels.
The detail is from that last scaled version, and has not been rescaled again. The right side is from the Australian Blu-ray. This has not been scaled at all. Different applications were used to capture the two frames, so some caution should be exercised in judging colour and brightness.
For visitors from NTSC lands, generally the PAL DVD is just a touch sharper than the NTSC DVD.
Sure, the Blu-ray delivers increased sharpness, but it also adds significant detail, such as the striations around the 'cowling' of this toy plane, showing that it's a wooden toy, rather than plastic: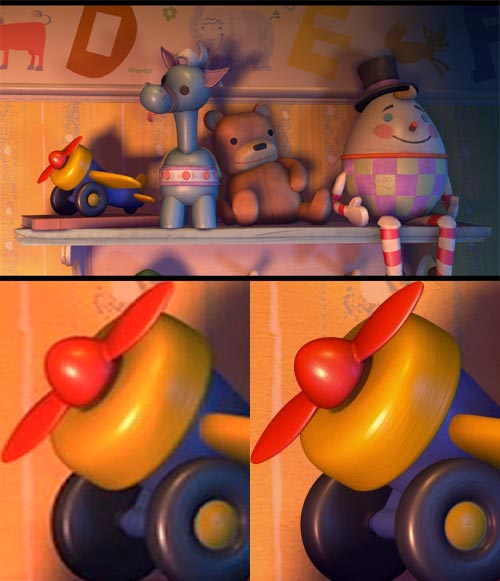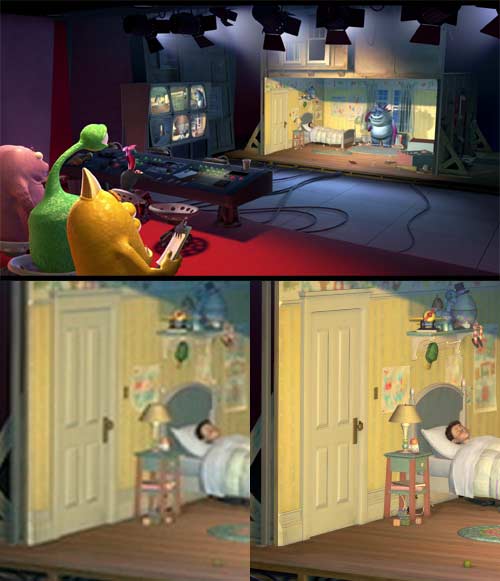 On of the magical things about this movie was the realistic CGI treatment of the fur; something difficult to see on the DVD: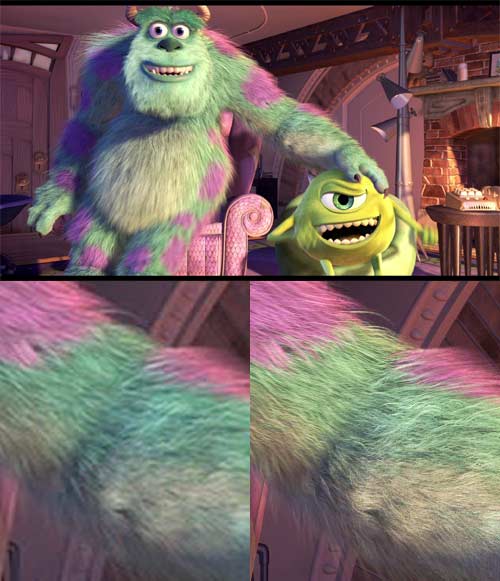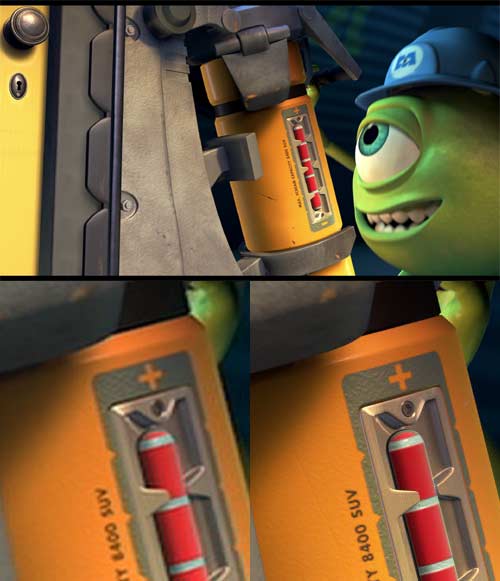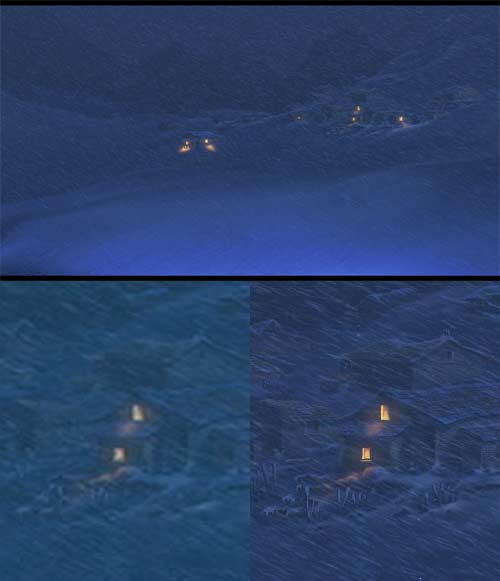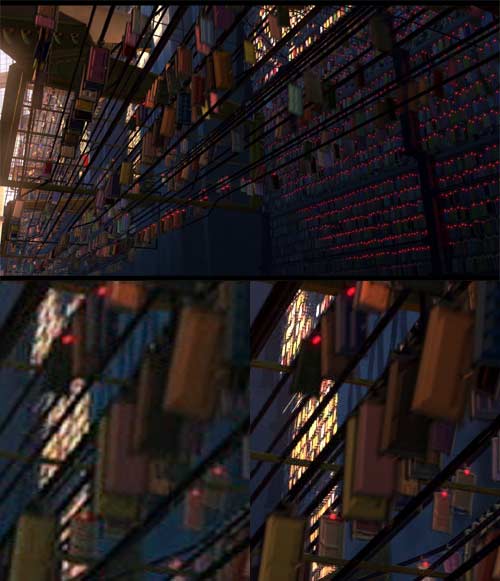 ---
&copy 2002-2011, Stephen Dawson