Home Page | About Me | Home Entertainment | Home Entertainment Blog | Politics | Australian Libertarian Society Blog | Disclosures
---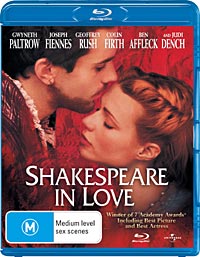 Not previously published
Last updated 17 June 2011
---
Shakespeare in Love
1998 - Universal Pictures (Australasia) Pty Ltd
Director: John Madden
Starring: Geoffrey Rush, Joseph Fiennes, Gwyneth Paltrow and Judi Dench

Movie:

Picture: TBA Sound: TBA Extras:

---
No printed review.
---
Facts
Running time: 124 minutes
Picture: 2.34:1, 1080p24, MPEG4 AVC @ 32.04Mbps
Sound: English: DTS-HD Master Audio 24/48 3/2.1 @ 2684kbps (core: DTS 24/48 3/2.1 @ 1509kbps); Japanese, French, Spanish, German Italian: DTS 24/48 3/2.1 @ 768kbps; Commentary (Madden), Commentary (Cast and Crew): Dolby Digital 2/0.0 @ 192kbps
Subtitles: Japanese, English, French, Italian, German, Spanish, Dutch, Chinese, Danish, Finnish, Greek, Icelandic, Korean, Norwegian, Portuguese, Swedish, Chinese, English (Commentary 1), English (Commentary 2)
Extras: 2 Featurettes (480i60 - 24 mins); Deleted Scenes (480i60 - 11 mins); 22 Trailers (480i60 - 12 mins)
Restrictions: Rated

(Australian rating); Regions Free

The following video bitrate graph was generated by BDInfo 0.5.6: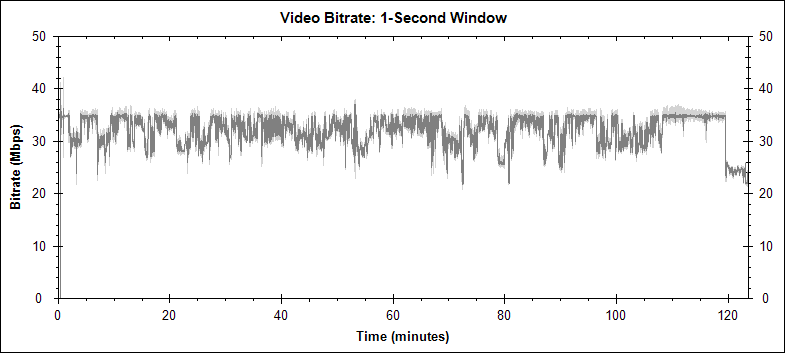 ---
Here are some comparisons between the Australian DVD and the Australia Blu-ray version of this movie. The Blu-ray was supplied to me by Universal Pictures. The DVD was supplied to me some years ago by what was then Columbia TriStar Home Video Australia and is now Sony Pictures Home Entertainment Australia.
It may seem odd that a Universal title was supplied by Columbia, but back then Columbia TriStar handled DVD distribution for Universal in Australia and, I gather, in certain other places.
At the time Columbia TriStar was pushing its high quality SuperBit DVDs, and included a number of Universal titles such as this one, and Gladiator. So, basically, this DVD is about as good as it gets for the format.
At the top of each is the full frame (suitably shrunk down) used in the comparison, with a 250 pixel wide detail from the frame underneath. The left side is from the PAL DVD. The image was captured digitally from the disc, scaled up from its native 720 by 576 pixel resolution to 1,024 by 576 (to present in the correct aspect ratio) by the application. I then scaled it, in order for it to be comparable to the Blu-ray version, to 1,920 by 1,080 pixels.
The detail is from that last scaled version, and has not been rescaled again. The right side is from the Australian Blu-ray. This has not been scaled at all. Different applications were used to capture the two frames, so some caution should be exercised in judging colour and brightness.
For visitors from NTSC lands, generally the PAL DVD is just a touch sharper than the NTSC DVD.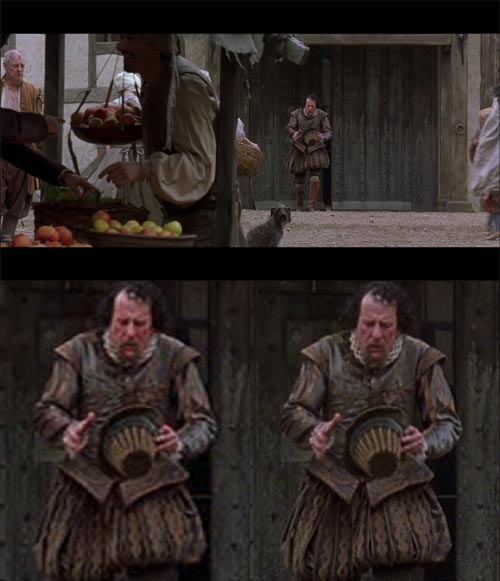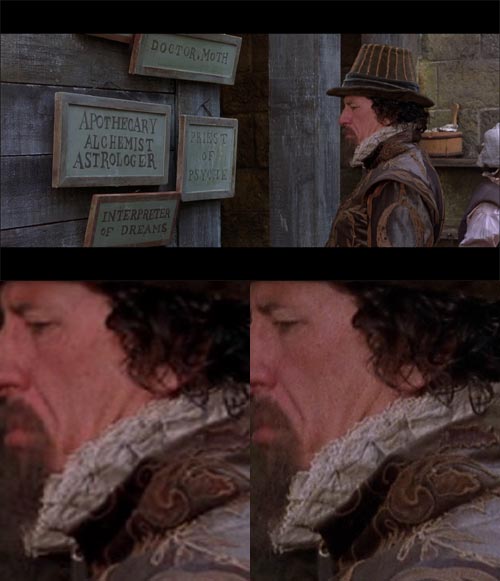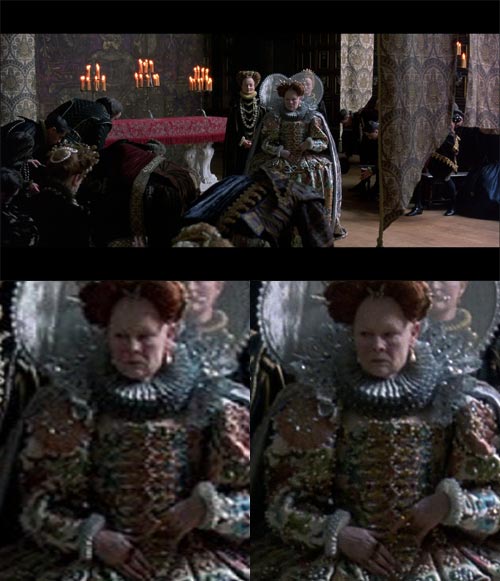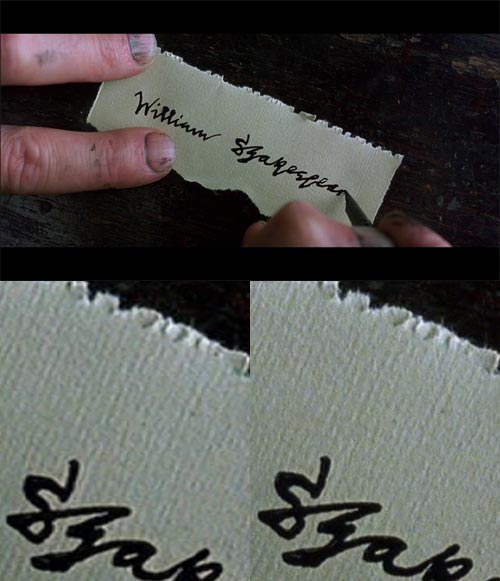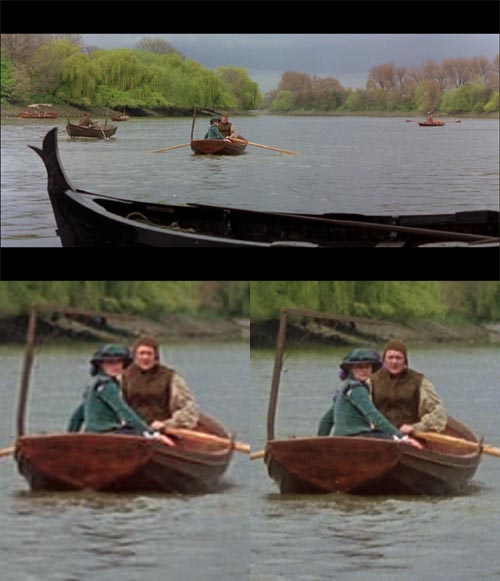 ---
&copy 2002-2011, Stephen Dawson