Home Page | About Me | Home Entertainment | Home Entertainment Blog | Politics | Australian Libertarian Society Blog | Disclosures
---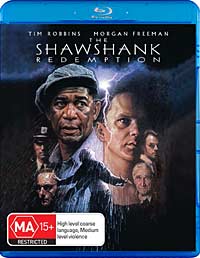 Not previously published
Last updated 26 June 2009
---
The Shawshank Redemption
1994 - Warner Bros Entertainment Australia Pty Ltd
Director: Frank Darabont
Starring: Tim Robbins, Morgan Freeman, Bob Gunton, William Sadler, Clancy Brown, Gil Bellows, Mark Rolston and James Whitmore

Movie:

Picture:

Sound:

Extras:

---
No review as yet
---
Features
Running time: 143 minutes
Video: 1.85:1, 1080p24, VC1 @ 16.42Mbps
Sound: English: Dolby TrueHD 16/48 3/2.1 @ 1423kbps (Core: Dolby Digital 3/2.1 @ 640kbps); English: Dolby Digital 3/2.1 @ 640kbps; French, Japanese, Spanish, Commentary: Dolby Digital Surround 2/0.0 @ 192kbps
Subtitles: English, English for the Hearing Impaired, French, Japanese, Korean, Spanish, Portuguese, Japanese
Features: Three Featurettes (4:3, 480i60, MPEG2, DD2.0 @ 192kbps - 122 mins); Parody: 'The Sharktank Redemption' (480i60, MPEG2, DD2.0 @ 192kbps - 25 mins); Trailer (1080p24, VC1, DD2.0 @ 192kbps - 2 mins); Six 'Shawshank Stills' slideshows (1080p24, VC1, DD2.0 @ 192kbps - 16 mins); Advertisement for Shawshank Redemption collectibles (1080p24, VC1, DD2.0 @ 192kbps - 1 min)

This is the video bitrate graph for this movie, generated by BDInfo 0.5.2: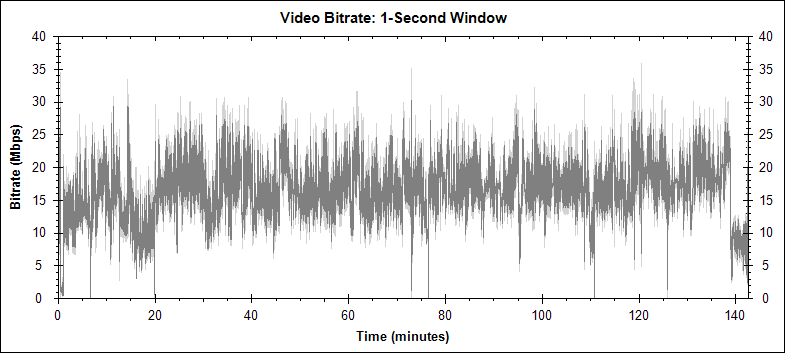 ---
Here are some comparisons between the PAL DVD and the Blu-ray version of this movie. The Blu-ray was supplied by Warner Bros in advance of the Australian release, and was actually the US version in 'book' packaging. In my experience, Warner Bros Blu-rays are identical in both countries. The DVD was not the Roadshow Entertainment one released in 2000, but the Warner Bros two disc special edition released in 2004/5. That had similar extras to those included on the Blu-ray.
At the top of each is the full frame (suitably shrunk down) used in the comparison, with a 250 pixel wide detail from the frame underneath. The left side is from the PAL DVD. The image was captured digitally from the disc, scaled up from its native 720 by 576 resolution to 1,024 by 576 (to present in the correct aspect ratio), and then, in order to be comparable to the Blu-ray version, from that to 1,920 by 1,080. The detail is from that last scaled version, and has not been rescaled again. The right side is from the Australian Blu-ray. This has not been scaled at all.
Different applications were used to capture the two frames, so I am not normally comfortable comparing the colour between the two, merely the detail and sharpness. For those visitors from NTSC lands, generally the PAL DVD is just a touch sharper than the NTSC DVD.
The first comparison doesn't exactly poke you in the eye with wonderful Blu-ray sharpness. Oh, it is a little sharper, and shows a bit more detail -- especially in defining the hairs of the eyebrow -- but I think that the cinematography in this section was actually a touch soft. Blu-ray can't create what wasn't there in the first place (and you shouldn't want it to):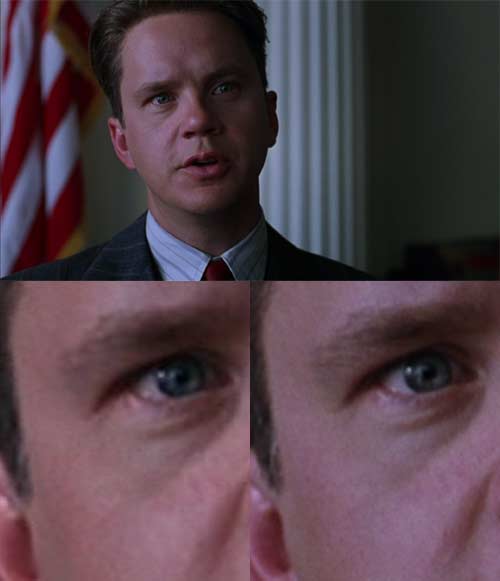 This is more like it. Notice the much greater sharpness and clarity of the people in the Blu-ray version, and see the things in it that you can't see at all in the DVD, such as the tile pattern on the roof, or the telegraph wire passing between the two buildings: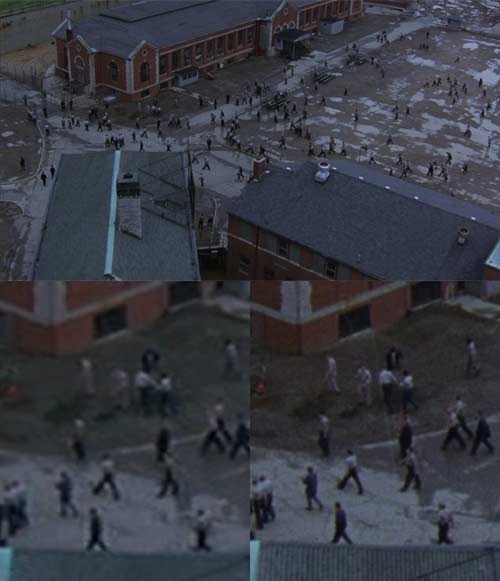 When it comes to an objective measure of difference, text is always a good test. That's why optometrists uses those charts I suppose: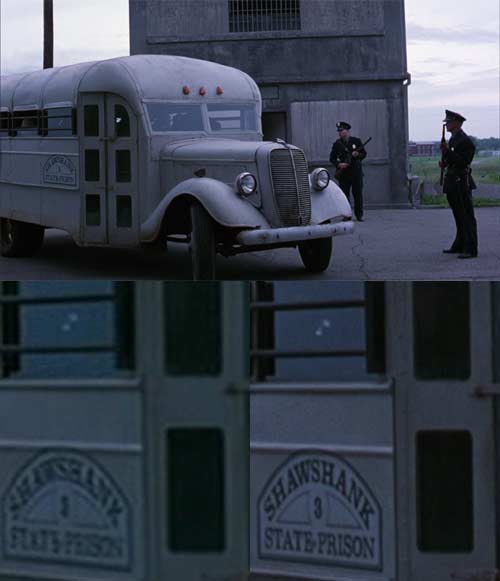 Believe it or not, these two were from matching frames. The apparent difference in angle is merely an optical illusion: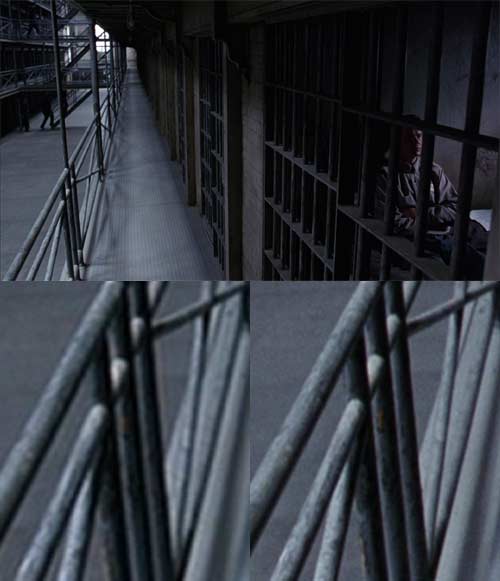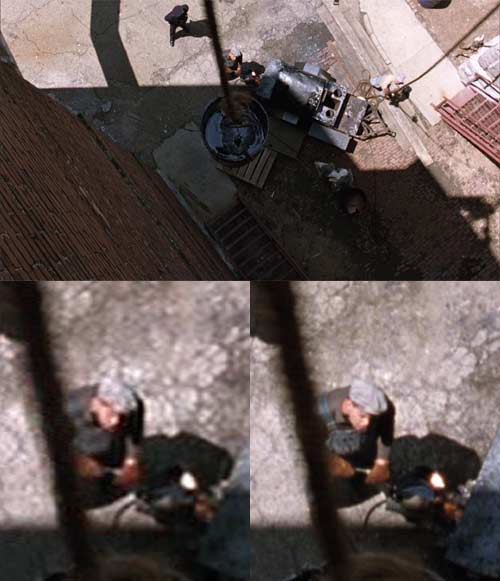 You gotta love that stare. That was my only motivation for grabbing this shot. But unlike the first one, there is a marked difference between the Blu-ray and the DVD: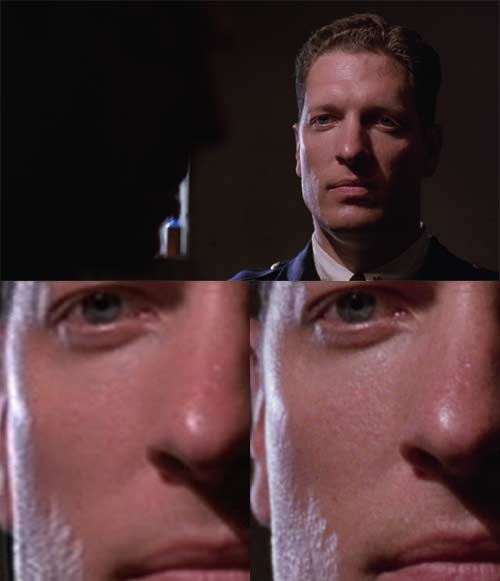 ---
&copy 2002-2009, Stephen Dawson