Home Page | About Me | Home Entertainment | Home Entertainment Blog | Politics | Australian Libertarian Society Blog | Disclosures
---
Originally published in Sound and Image, Sept/Oct 2007, v.21#1
Last updated 7 April 2010
---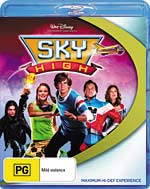 Sky High
2005 - Buena Vista Home Entertainment
Director: Mike Mitchell
Starring: Michael Angarano, Kurt Russell, Kelly Preston, Danielle Panabaker, Kevin Heffernan, Mary Elizabeth Winstead and Steven Strait

Movie:

Picture:

Sound:

Extras:

---
Superhero movies will, it seems, always be with us. Like all genres, it has spun off its own sub-genre of light-hearted re-examinations. The most famous one is The Incredibles. Although Sky High doesn't reach its heights of genius, it still constitutes a pleasant, and occasionally funny, look at everyday superheroes.

In the Sky High universe, superherodom is achieved either through the environment ('falling into a vat of toxic chemicals'), or genetically. Our hero -- or should I say, protagonist -- is entering the superhero's high school (our equivalent of Year 9, I think). He is the son of the two most famous superheroes presently do-gooding around the globe. Unfortunately, his own super powers have not yet kicked in. Kurt Russell does a wonderful job as his father, with his awkward phrasing contrasting against his constantly heroic pose. Also worth looking out for is a cameo from now rather aged Cloris Leachman as the school nurse, and the 1970s 'Wonder Woman' Lynda Carter as the school principal.

This BD demonstrates their capacious nature. Although single layer*, and carrying a 99 minute movie with its MPEG2 bitstream running close to 30Mbps, and having a few extras, it also carries ten audio tracks. Each of the foreign ones gets a standard Dolby Digital and a standard DTS treatment, but at the highest possible bitrates of 640 and 1536kbps respectively. The English tracks score Dolby Digital (at 640kbps) and 5.1 channel uncompressed 48kHz/16 bit PCM. Together, these add up to nearly 14Mbps, or more than the entire data delivery capacity of a DVD. The sound is as good as the original recording, which was good enough, if not especially exciting.

The picture quality is also excellent, with no artefacts, jaggies or anything else to draw your attention away from the action in the movie. Even the extras are presented in 1080p24, not that there are many of them.

* NOTE: This is an error. This is actually a dual layer disc, although at 25.37GB it barely creaks over to double layer territory.
---
Facts
Running time: 119 minutes
Picture: 2.35:1 anamorphic, 1080p24, MPEG2 @ 16.75Mbps
Sound: English: PCM 48kHz 3/2.1 @ 4608kbps; English, French, German, Italian, Spanish: Dolby Digital 3/2.1 @ 640kbps; French, German, Italian, Spanish: DTS 3/2.1 @ 1536kbps
Subtitles: English, English for the Hearing Impaired, French, German, Italian, Spanish, Dutch, Swedish, Norwegian, Danish, Finnish, Icelandic, French (Titles), German (Titles), Italian (Titles), Spanish (Titles)
Features: Alternate Opening (1080p24, MPEG2, DD5.1 @ 448kbps - 3 mins); Featurette: 'Breaking Down the Walls: The Stunts of Sky High' (1080p24, MPEG2, DD5.1 @ 448kbps - 7 mins);
Restrictions: Rated

(Australian rating); Region free

The following video bitrate graph was generated by BDInfo 0.5.3: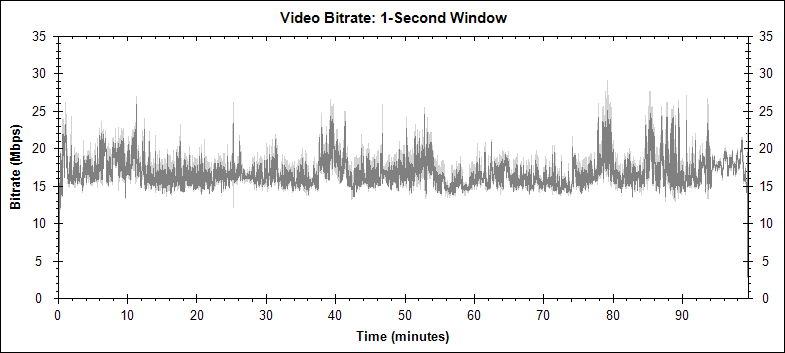 ---
&copy 2002-2010, Stephen Dawson