Home Page | About Me | Home Entertainment | Home Entertainment Blog | Politics | Australian Libertarian Society Blog | Disclosures
---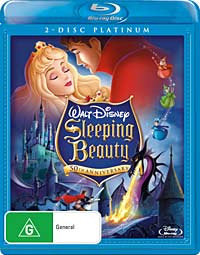 Blu-ray Reviews: Sleeping Beauty (2 Disc Platinum Edition)
Originally published in Australian HI-FI, Sept/Oct 2009, v.40#05
Last updated 14 November 2009
---
Sleeping Beauty
1959 - Walt Disney Studios Home Entertainment
Director: Clyde Geronimi
Starring: Mary Costa, Bill Shirley, Eleanor Audley, Verna Felton, Barbara Luddy, Barbara Jo Allen, Taylor Holmes and Bill Thompson

Movie:

Picture:

Sound:

Extras:

---
Back when DVDs were on the verge of appearing, rumours of the destructive qualities of lossy video compression were flowing. One of these was the claim that animation would look dreadful when rendered in MPEG2. As it happened, animation looked fine (when the disc was encoded competently). Especially traditional animation.

Modern lossy video compression systems work in part by trying to eliminate redundancy (and near redundancy) not just within frames, but between them. Since much of the action in hand-drawn animated movies takes place at 12 frames per second, rather than 24, it is actually quite easy to compress while retaining quality.

So when Walt Disney Studios delivered its 1959 classic Sleeping Beauty on Blu-ray with a healthy 24.06Mbps in the more efficient MPEG4 AVC codec, you can be confident that the picture quality would be about as good as it can get.

Which is just as well, because the source film for this Blu-ray was shot in Technirama 70, Sequential Exposure. Basically, a 35mm film was run sideways through a large format film camera, providing much greater resolution. And the film was high quality monochrome, with each frame shot three times using red, green and blue colour filters. This meant that the Blu-ray could come from a freshly scanned (at 4,096 pixels wide) film, carefully restored and coloured.

This also allowed the originally intended aspect ratio of 2.55:1 to be restored. The case says 2.39:1 but it is incorrect. The display area of the Blu-ray is 1920 x 752 pixels.

The picture detail is extraordinary and the colours positively glow. This isn't a movie, it's a work of art.

Disney also went back to the original three channel recordings, made in Germany, for the Tchaikovsky-based score. That meant a lot of listening to find the segments actually used, but they did it and mixed in cleaned up effects and voice. There is just occasionally a sense of sterility in the spoken voice hinting at the use of digital hiss removal, but I can live with that. The music could easily pass for something recorded in the early 70s. It's that good.

Get this release before it goes back into the Disney vault for another seven years.
---
Facts
Running time: 75 minutes
Picture: 2.55:1, 1080p24, MPEG4 AVC @ 24.06Mbps
Sound: English: DTS-HD Master Audio 16/48 3/4.1 @ 2591kbps (Core: DTS 16/48, 3/2.1 @ 1536kbps); Portuguese, Polish, Russian, Arabic: Dolby Digital 3/2.1 @ 640kbps; Commentary, English Audio Descriptive: Dolby Digital 2/0.0 @ 192kbps
Subtitles: English, English for the Hearing Impaired, Portuguese, Polish, Russian, Arabic, On Screen Lyrics
Extras: Disc 3 DVD version; Cine-Explore BonusView PIP version of movie; 'Grand Canyon' Documentary Short (1080p24, MPEG4 AVC, DTS-HD MA 24/48 5.1 @ 3526kbps - 29 mins); Disney TV Presentation: 'The Peter Tchaikovsky Story' - 2 versions (1080p24, MPEG4 AVC, DD2.0 @ 192kbps - 49 mins each); 4 Deleted Songs (1080p24, MPEG4 AVC, DD2.0 @ 192kbps - 19 mins); Documentary: 'The Making of Sleeping Beauty' (1080i60, MPEG4 AVC, DD2.0 @ 192kbps - 44 mins); 4 Featurettes (1080i60, MPEG4 AVC, DD2.0 @ 192kbps - 23 mins); Alternate Opening (1080p24, MPEG4 AVC, DD2.0 @ 192kbps - 3 mins); Trivia Track; In-movie music lyrics; 3 Games ('Maleficent's Challenge', 'Briar Rose's Enchanted Dance Game', 'Sleeping Beauty Fun With Language Game'); Original Disneyland Sleeping Beauty Castle Walkthrough Attraction - optional audio guide & optional branches to many short clips (1080p24, MPEG4 AVC, DD5.1 @ 448kbps or DD2.0 @ 192kbps - 8 mins); Art Galleries (637 stills with thumbnails, 1080p24, MPEG2, no audio); Live Action Reference (4:3, 480i60, MPEG2, DD2.0 @ 192kbps - 2 mins); Featurette: 'The Sound Of Beauty: Restoring a Classic' (1080p24, MPEG4 AVC, DTS-HD Master Audio 24/48 7.1 @ 3703kbps - 11 mins); 3 Trailers (4:3, 480i60, MPEG2, DD2.0 @ 192kbps - 6 mins); 1958 Disneyland segment: '4 Artists Paint 1 Tree' (1080p24, MPEG4 AVC, DD2.0 @ 192kbps - 16 mins); Dragon Encounter Audio Sensory Experience (1080p24, MPEG4 AVC, DTS-HD HR 24/48 7.1 @ 2046kbps - 5 mins); Music Video: 'Once Upon a Dream' - Emily Osment (1080p24, MPEG2, DD5.1 @ 640kbps - 4 mins); 2 Storyboard Sequences (4:3, 480i60, MPEG2, DD2.0 @ 192kbps - 4 mins)
Restrictions: Rated

(Australian rating); Locked to Regions B & C

This is the video bitrate graph for this movie, generated by BDInfo 0.5.2: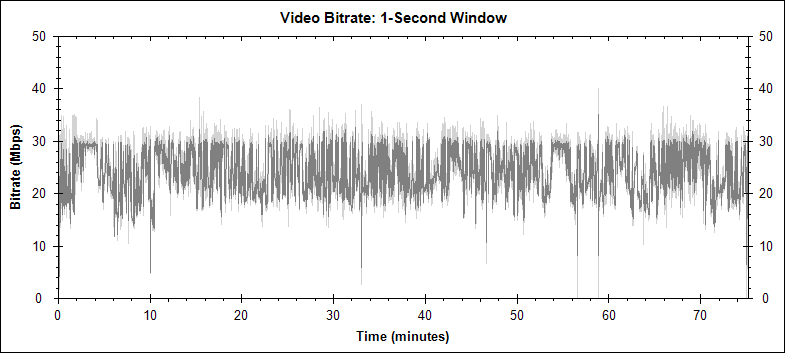 This is the video bitrate graph for the BonusView PIP stream in this movie. It shows where the PIP windows appear during its course: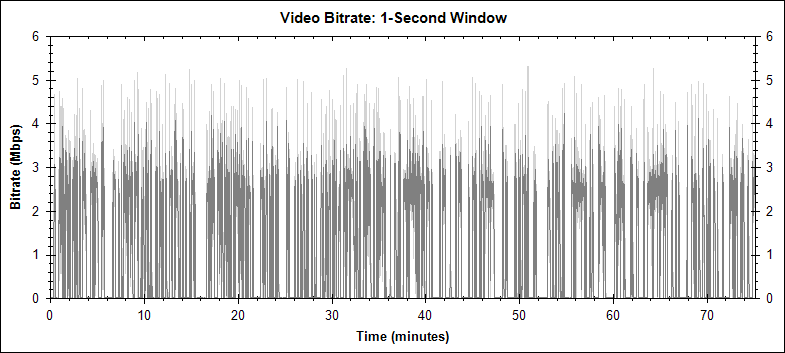 ---
Before getting to the DVD/Blu-ray comparisons, let us consider the two different DVD versions. I previously had in my DVD collection the 'Collector's Two Disc' DVD of this movie. This has THX certification and has the main feature with DTS 5.1 sound. Disc 1 carries ID number P04760/1, Disc 2: P04760/2.

The 2-Disc Platinum Blu-ray version of this movie with which I was supplied is actually a three disc one. It also contains a DVD version of the movie as well, and this is drawn from the remaster upon which the Blu-ray was also based.

The remaster is a work of art in itself and involved a huge amount of work, going back to the original 'successive exposure' film stock -- a black and white film in which each frame was photographed three times, once each through a red, a blue and a green filter, in succession. Amongst other things, the film was able to be presented in its original 2.55:1 aspect ratio as originally shot, rather than the 2.35:1 format in which it has since been presented (due to changing standards). All the detail on this restoration is laid out in this excellent interview by Robert Harris with Theo Gluck, the Director of Library Restoration and Preservation for Walt Disney Studios Motion Pictures.

So let us first see my old DVD and the new one. This is the same frame from both, with the old one at the top. As you can see, there is more picture at both the left and right sides of the newer version. Rather more surprisingly, there is also more content at both the bottom and top of the frames, suggesting that the earlier DVD was rather severely cropped: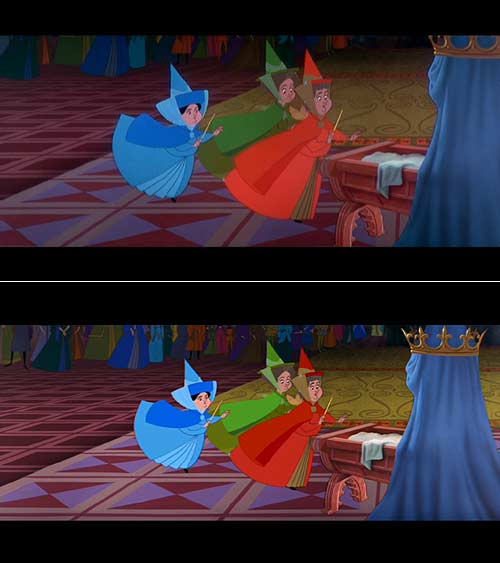 What follows now are comparisons between the new PAL DVD and the Blu-ray version of this movie. Both the DVD and the Blu-ray versions were from 2-Disc Platinum package provided to me by Disney.
In the following examples, at the top of each is the full frame (suitably shrunk down) used in the comparison, with a 250 pixel wide detail from the frame underneath. The left side is from the PAL DVD. The image was captured digitally from the disc, scaled up from its native 720 by 576 resolution to 1,024 by 576 (to present in the 16:9 aspect ratio), and then, in order to be comparable to the Blu-ray version, from that to 1,920 by 1,080. The detail is from that last scaled version, and has not been rescaled again. The right side is from the Australian Blu-ray. This has not been scaled at all.
Different applications were used to capture the two frames, so I am not normally comfortable comparing the colour between the two, merely the detail and sharpness. For those visitors from NTSC lands, generally the PAL DVD is just a touch sharper than the NTSC DVD.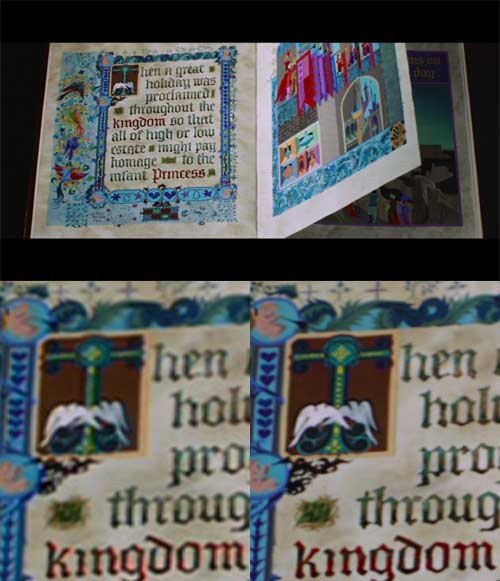 While the shot above shows more detail and cleaner edges from the Blu-ray compared to the DVD, the shot below shows how the lower resolution of the DVD can quite misrepresent things. For example, in addition to being fuzzy, the stylised character in the crest at top left is distorted in the DVD. And how many candles are there on the table at the right of the shot?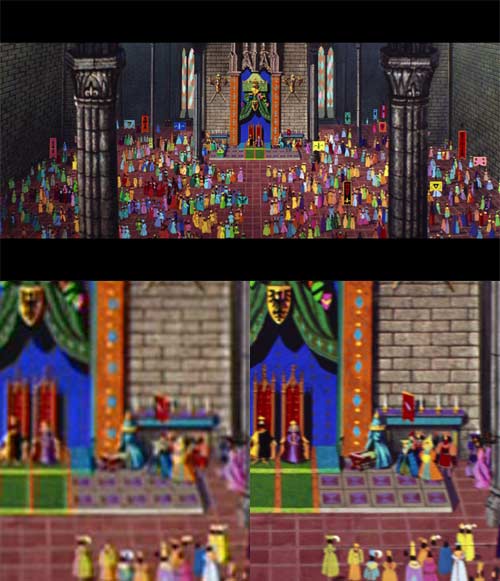 Note the attention to detail by the Disney painters -- in the Blu-ray, anyway. Especially the yellow curlicues on the red backrest of the throne. Note, also that the framing of the DVD and the Blu-ray is identical. I use a macro to make the 250 by 300 pixel selection, and I normally move it in both the DVD and Blu-ray screen shots to a point of comparison. With this one I did not shift the selection areas, and clearly the selection describes identical areas in both shots: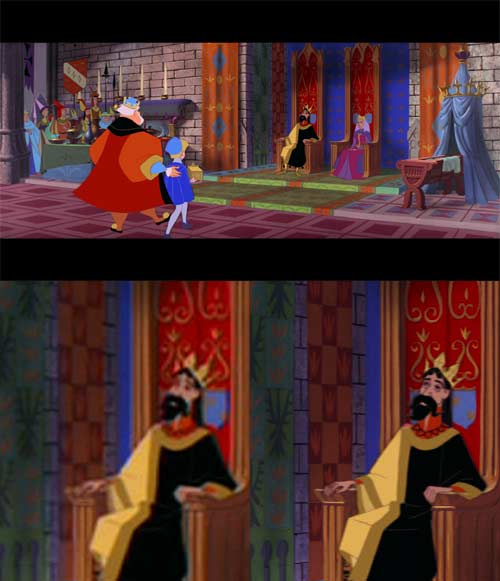 A menacing face is rather more menacing when it can actually be seen: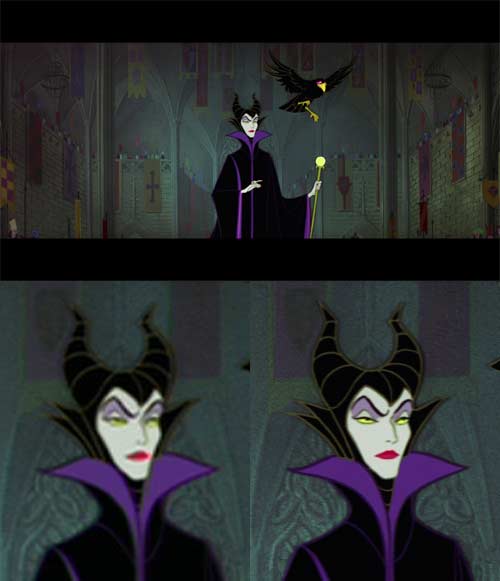 Goodness me, what did the DVD do to the prince's mouth? It looks like it's making him leer: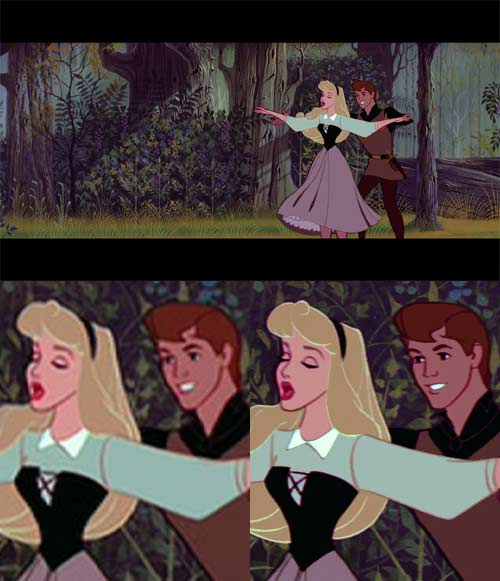 ---
&copy 2002-2009, Stephen Dawson