Home Page | About Me | Home Entertainment | Home Entertainment Blog | Politics | Australian Libertarian Society Blog | Disclosures
---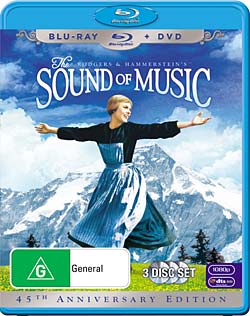 Originally published in Australian HI-FI, 2011
Last updated 19 August 2012
Download scan of review (JPEG, right click, Save As)
---
The Sound of Music
1965 - Twentieth Century Fox Home Entertainment South Pacific Pty Ltd
Director: Robert Wise
Starring: Julie Andrews, Christopher Plummer, Eleanor Parker, Richard Haydn, Peggy Wood, Charmian Carr, Heather Menzies-Urich, Nicholas Hammond, Duane Chase, Angela Cartwright, Debbie Turner and Kym Karath

Movie:

Picture:

Sound:

Extras:

---
I shan't bother describing the story of this singing not-quite-Nun and her romance, set in beautiful Austria around the time of the Anschluss -- the absorption of the nation by Germany under the Nazis. Over forty years old, let us just be dazzled by how gorgeous it is.

The picture quality was almost uniformly, well, perfect. The film itself has been beautifully restored from the 70mm Todd-AO format with which it was filmed. Perhaps the most surprising thing was the considerable depth of field. It seemed to be entirely free of grain which can sometime be taken as evidence of filtering of the source. But there was none of that sense of plastic skin and flesh which exposes that. I take the lack of grain to instead be evidence of the high resolution provided by the film.

There was of course digital noise removal, but apparently manually performed. Watch as I might, I could see not see the slightest evidence of a dust speck, or a scratch on the surface.

Okay, that's an exaggeration, but only a very slight one. There were defects, but fleeting and tiny. There were a few specks of dust and smudges during the opening titles, which is common for movies from this period, since the titles were prepared on transparencies which overlaid the main film. And at 49:40 there is a glint in the eye of one of the children, missed by the restorers because it looks so natural. But since it lasts for precisely one frame, it likely was actually a speck of dust, not a glint.

High quality sound was still a rare and expensive thing for movies back in 1964, but The Sound of Music as perhaps the peak achievement within the genre scored well, with six channel sound. But the six channels were very different to the 5.1 we think of today. Multichannel sound was not standardised, and indeed was only offered in a small number of theatres back then. With this movie, the six channels were five front, one rear or surround.

The five channels at the front -- left, centre left, centre, centre right and right -- were employed to steer to dialogue sound to match the on-screen characters. Remember, this movie was intended to be shown, if at all possible, on the widest possible screen.

Even though we only have three channels at the front of the room these days, the producers of this disc have chosen to present the movie with the dialogue steering fully intact.

This can be a bit disconcerting. The norm these days is that dialogue from an on-screen character is delivered from the centre channel, regardless of where he or she is on the screen. With this movie you can -- and do -- have characters talking with each from opposite sides of the screen, and the voices ping ponging from side to side. You have characters walking across the screen, their voices going with them.

It is absolutely vital if you wish to enjoy this movie that your speaker system be properly calibrated, or the tonal quality of voices will change in mid phrase as the weight of the reproduction effort switches from speaker to speaker. Obviously the correct speaker distances need to be registered as well.

This effect is at its most disconcerting during solo songs, such as the opening one, with the voice swinging around to accompany Julie Andrews' on-screen movements. But a number of ensemble numbers were well served by this vocal placement. With 'What will we do with Maria' the nuns can be picked out individually.

If you don't like this, don't bother to switch over to the 3/1.0 Dolby Digital track. It also has the vocal steering, and only scores a 448kbps bitrate. It seemed a touch thinner than the mighty DTS-HD MA 3/4.1 main audio.

Having said that, remember that this is an American musical: it was mixed for vocal clarity, and the singing voices are way out in front of the music mix.

Speaking of which, the voices and instruments are beautifully clean, but are obviously studio recorded and have no ambience whatsoever.

There are lots and lots of cool extras, but one worth special mention is the BD-Live 'Live Lookup'. This hooks into the Internet Movie Database, providing information on the actors and others. You can choose from all actors, or only those in the particular chapter, and then see what else each of them has been in. This worked very efficiently, without the usual grinding of cogs and pregnant pauses of a a lot of BD-Live extras. The information overlays the main picture, so you don't miss anything either.
---
Facts
Running time: 175 minutes
Picture: 2.20:1, 1080p24, MPEG4 AVC @ 22.89Mbps
Sound: English: DTS-HD Master Audio 24/48 3/4.1 @ 4418kbps (core: DTS 24/48 3/2.1 @ 1509kbps); English: Dolby Digital 3/1.0 @ 448kbps; Spanish, Portuguese: Dolby Digital 3/2.1 @ 448kbps; French: DTS 24/48 3/2.1 @ 768kbps; 2 x Commentary: Dolby Digital 2/0.0 @ 224kbps
Subtitles: English, French, Portuguese, Danish, Finnish, Spanish, Dutch, Norwegian, Swedish, English (Commentary 1), French (Commentary 1), Portuguese (Commentary 1), Danish (Commentary 1), Finnish (Commentary 1), Spanish (Commentary 1), Dutch (Commentary 1), Norwegian (Commentary 1), Swedish (Commentary 1), English (Commentary 2), French (Commentary 2), Portuguese (Commentary 2), Danish (Commentary 2), Finnish (Commentary 2), Spanish (Commentary 2), Dutch (Commentary 2), Norwegian (Commentary 2), Swedish (Commentary 2)
Extras: DVD version; 'Your Favorite Things' interactive mode with ability to select BonusView PIP, 2 Trivia Tracks, Sing-a-long Track; 'Music Machine' links to songs within movie; Location facts and photos; 41 Featurettes (1080i60 - 118 mins); 2 Restoration Featurettes (1080p24 - 11 mins); 4 Documentaries (480i60 - 331 mins); 5 Featurettes (480i60 - 101 mins); 3 Screen Tests (480i60 - 26 mins); 4 assorted shorts (480i60 - 28 mins); 9 Trailers (480i60 - 22 mins); Audio interviews; Photo and Artwork galleries
Restrictions: Rated

(Australian rating); Region Free

The following video bitrate graphs were generated by BDInfo 0.5.7. This is for the extended version of the movie: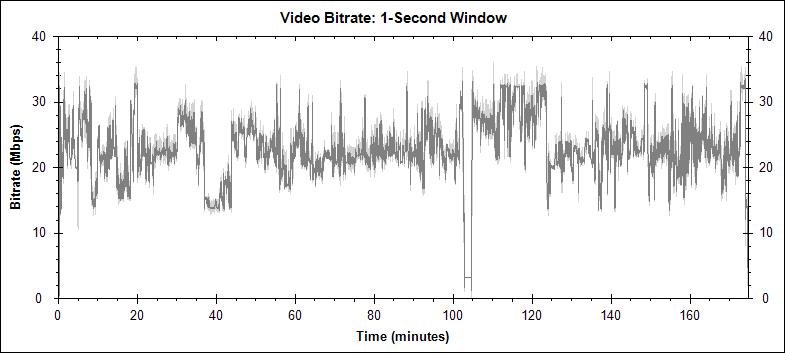 And this is for the BonusView PIP stream: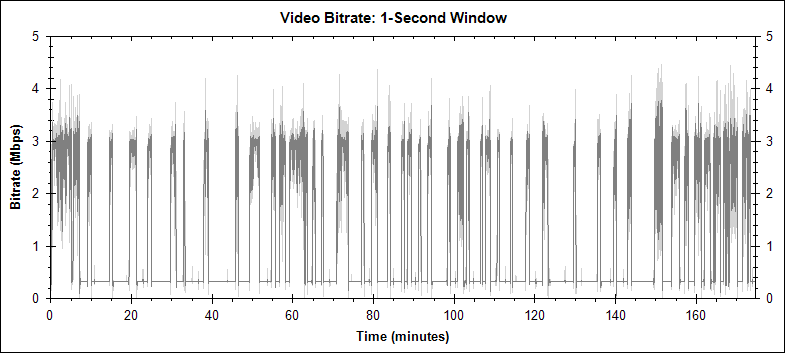 ---
Here are some comparisons between the Australian PAL DVD and the Australia Blu-ray version of this movie. The Blu-ray was supplied to me by Twentieth Century Fox Home Entertainment South Pacific Pty Ltd. The PAL DVD was the version included in the Blu-ray package.
At the top of each is the full frame (suitably shrunk down) used in the comparison, with a 250 pixel wide detail from the frame underneath. The left side is from the PAL DVD. The image was captured digitally from the disc, scaled up from its native 720 by 576 pixel resolution to 1,024 by 576 (to present in the correct aspect ratio) by the application. I then scaled it, in order for it to be comparable to the Blu-ray version, to 1,920 by 1,080 pixels.
The detail is from that last scaled version, and has not been rescaled again. The right side is from the Australian Blu-ray. This has not been scaled at all. Different applications were used to capture the two frames, so some caution should be exercised in judging colour and brightness.
For visitors from NTSC lands, generally the PAL DVD is just a touch sharper than the NTSC DVD.
The Blu-ray provides a sharper castle: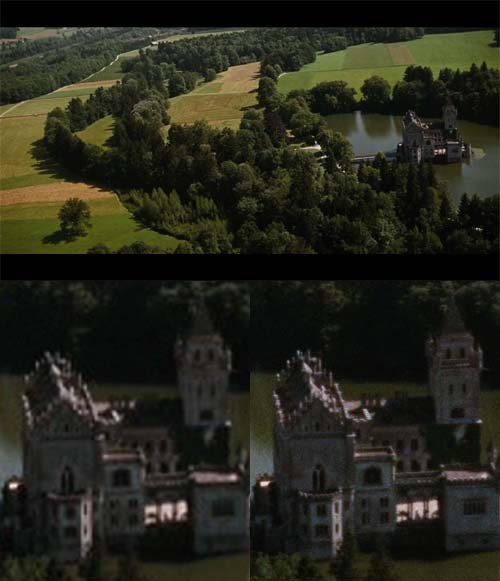 and defined brick pavers were many are smudged by the DVD: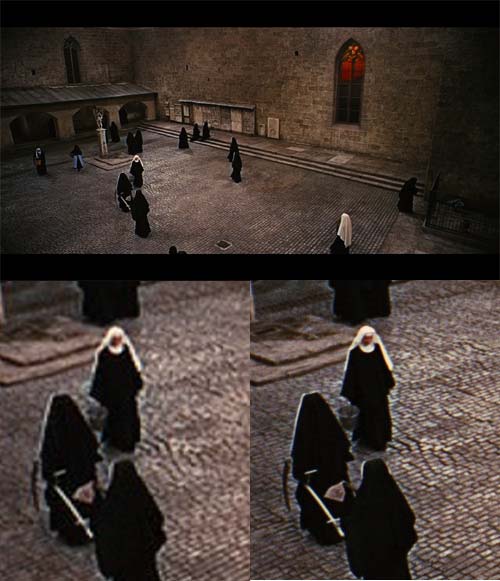 With all that rich detail provided by the Todd-AO photography, it's a shame to lose it in DVD resolution. Note also the texture on Julie Andrews' jacket: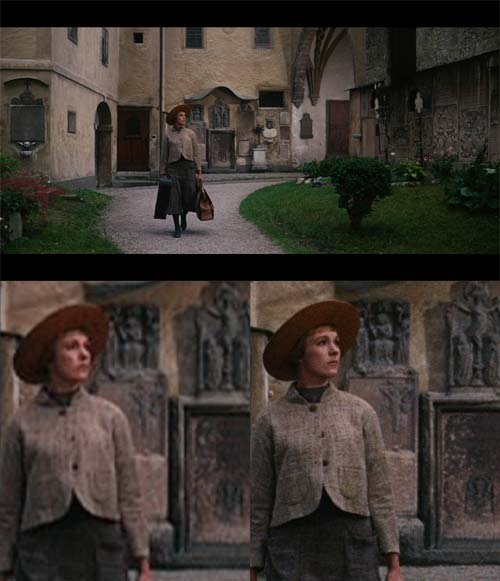 Can you see the same expression in both versions? The suspicion is clear in the Blu-ray, indistinct in the DVD: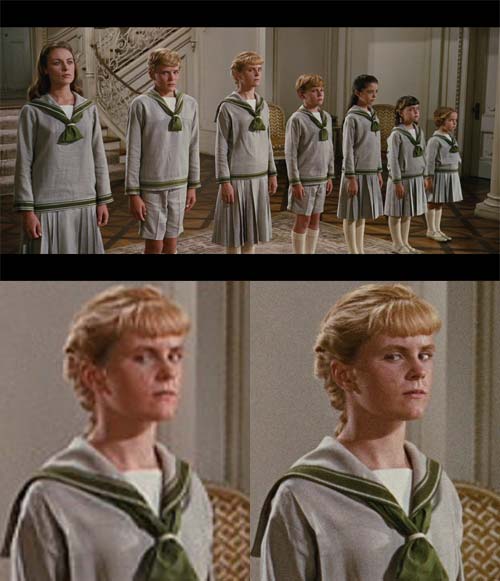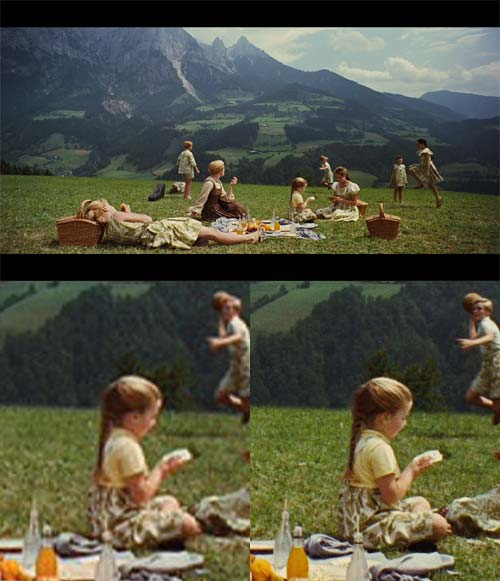 In addition to the cleaner detail (eg. the diamond-shaped panels in the windows), the sharper edges make the car seem shinier: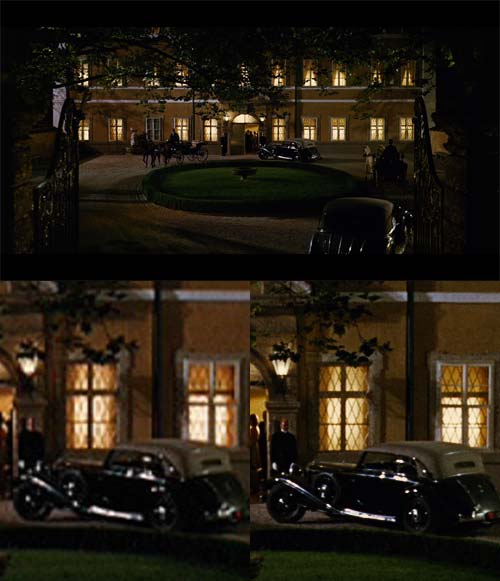 ---
&copy 2002-2012, Stephen Dawson