Home Page | About Me | Home Entertainment | Home Entertainment Blog | Politics | Australian Libertarian Society Blog | Disclosures
---
Originally published in Sound and Image, July/August 2007, v.20#8
Last updated 7 April 2010
---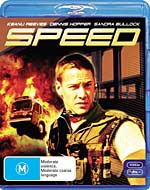 Speed
1994 - Twentieth Century Fox Home Entertainment South Pacific Pty Ltd
Director: Jan de Bont
Starring: Keanu Reeves, Dennis Hopper, Sandra Bullock, Joe Morton and Jeff Daniels

Movie:

Picture:

Sound:

Extras:

---
Speed, from Twentieth Century Fox, shows that just because Blu-ray is new does not mean that it cannot be employed to good effect with teenage movies (this movie is 13 years old as I write). Of course, everyone knows the basic story. Keanu Reeves is a cop. Dennis Hopper is a nut. The former wants money, so of course he goes to great lengths to rig an L.A. city bus so that once it exceeds fifty miles per hour, a bomb will be armed, and once the bus slows to less than that speed, it will blow up, along with the passengers. Reeves has to save the day, which of course he does, and in the process forms a relationship with Sandra Bullock. Unfortunately the relationship didn't seem to survive to the sequel.

Hey, forget about the plot holes and the sheer improbability (and in parts, physical impossibility) of it all, and enjoy the ride. It's a good watch.

And a better watch on Blu-ray than it is on DVD. The picture is a little sharper, not not exceptionally so. But it is markedly smoother, and far more relaxing to watch. The bitrate meter on the Pioneer BDP-LX70 player seemed to hover around 25 to 30Mbps, so I suspect that the picture quality was about as good as the film source could provide.

The sound is provided in DTS-HD Master Audio only (the two commentary tracks are in two channel Dolby Digital), and the Pioneer player could deliver only the standard DTS 'core', but this still provided plenty of impact, especially during the credits where some creepy surround creaking in the elevator shaft got the adrenaline running.

Extras were limited, but very special indeed. Every new digital medium proclaims its interactivity, and Blu-ray is no exception. But this disc actually delivers. There is a rather uninvolving game, and a 'Personal Scenes Selection' feature, which allows you to bookmark chapters. This is pretty useless because the selections are lost once the disc is ejected. What's actually useful is the 'Content Search' feature, which presents an alphabetical index to key words. Choose 'Explosion' and you are presented with a list of all the points in the movie where an explosion occurs. Select any one of them (they are indicated by time) or just the first one, and those sections will play one by one. Just the thing for finding that scene you want to show someone else. If only this were on all discs.

But these interactive features do make for slow loading: about 70 seconds on the Pioneer.
---
Features
Running time: 116 minutes
Picture: 2.35:1, 1080p24, MPEG4 AVC @ 18.13Mbps
Sound: English: DTS-HD Master Audio 24/48 3/2.1 @ 3865kbps (core: DTS 24/48 3/2.1 @ 1509kbps); 2 x Commentary: Dolby Digital 2/0.0 @ 224kbps
Subtitles: English, Danish, Finnish, Norwegian, Swedish, English (Director's commentary), English (Writer's & producer's commentary), Danish (Director's commentary), Danish (Writer's & producer's commentary), Finnish (Director's commentary), Finnish (Writer's & producer's commentary), Norwegian (Director's commentary), Norwegian (Writer's & producer's commentary), Swedish (Director's commentary), Swedish (Writer's & producer's commentary), English (Trivia Track), Danish (Trivia Track), Finnish (Trivia Track), Norwegian (Trivia Track), Swedish (Trivia Track)
Features: Trailer (1080p24, MPEG4 AVC, DPL2.0 @ 224kbps - 3 mins); Trivia track; Content Search, Personal Scene Selections; Speed Takedown game
Restrictions: Rated

(Australian rating); Locked to Region B

The following video bitrate graph was generated by BDInfo 0.5.3: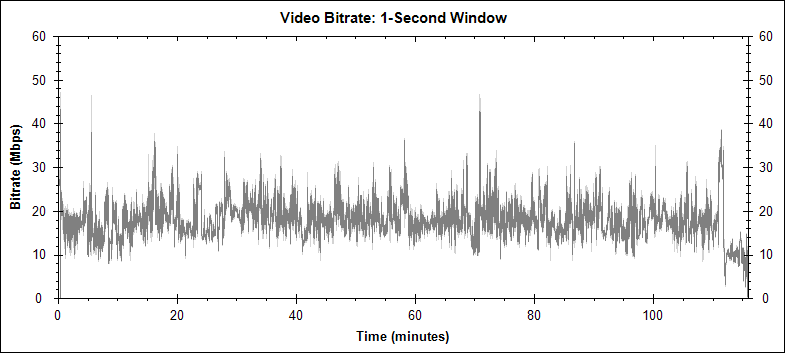 ---
Here are some comparisons between the PAL DVD and the Blu-ray version of this movie. At the top of each is the full frame (suitably shrunk down) used in the comparison (taken from the Blu-ray), with a 250 pixel wide detail from the frame underneath. The left side is from the PAL DVD. The image was captured digitally from the disc, scaled up from its native 720 by 576 resolution to 1,024 by 576 (to present in the correct aspect ratio), and then, in order to be comparable to the Blu-ray version, from that to 1,920 by 1,080. The detail is from that last scaled version, and has not been rescaled again.

The right side is from the Australian Blu-ray. This has not been scaled at all. Different applications were used to capture the two frames, so I am not comfortable comparing the colour between the two, merely the detail and sharpness. For those visitors from NTSC lands, generally the PAL DVD is just a touch sharper than the NTSC DVD.

Sharpness differences often first make themselves apparent with titles. Look at the top of the triangular hole in the two capital As, for example. But did the Blu-ray come from a different print? Look the small dot right on the edge of the column to the left, visible in the Blu-ray but not the DVD shot: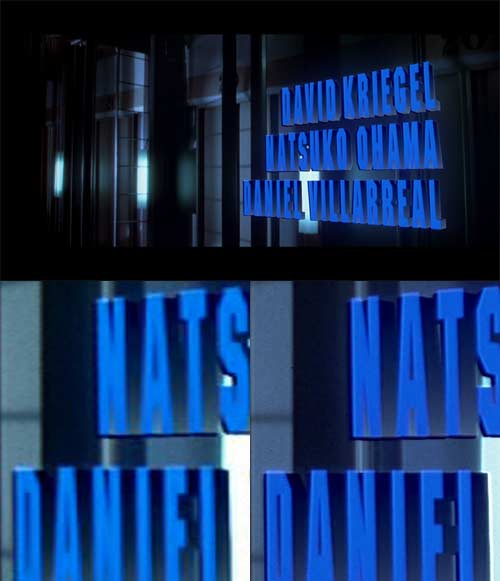 Above I wrote: 'The picture is a little sharper, not not exceptionally so. But it is markedly smoother, and far more relaxing to watch.' I think I might be roughly right there, judging form theis shot. But some detail is clearly missing on the DVD. For example, see the wooden ridges under the speaker's right hands. Note how you can't even see two of them with the DVD: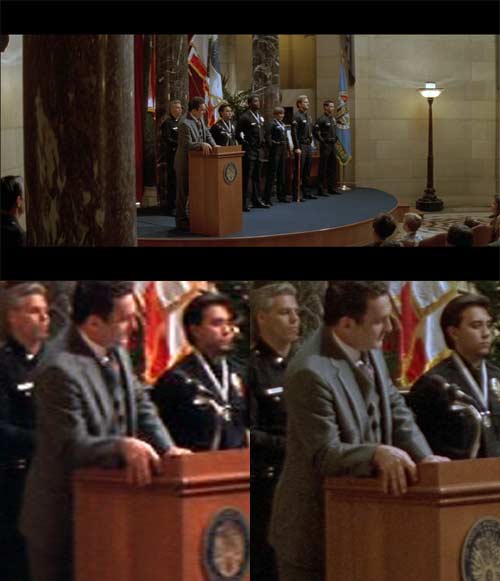 What on earth happened on the DVD version to Harry's name plate. What are those little jaggedy bits: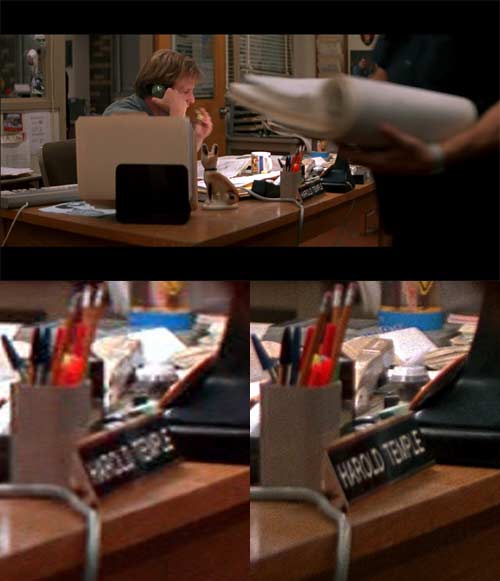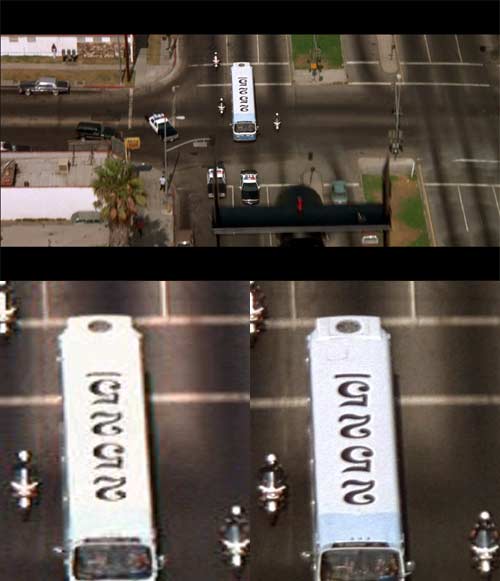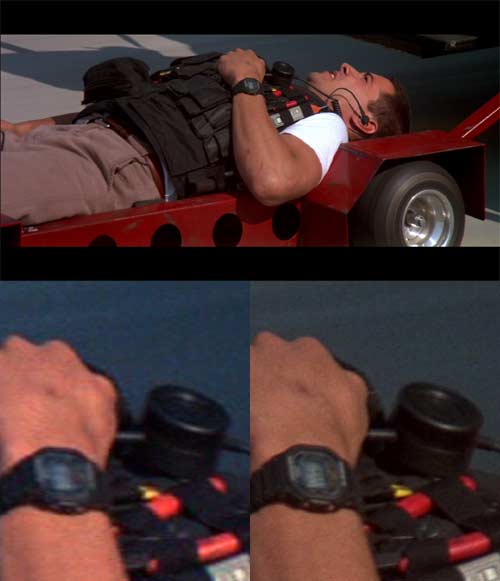 ---
&copy 2002-2008, Stephen Dawson