Home Page | About Me | Home Entertainment | Home Entertainment Blog | Politics | Australian Libertarian Society Blog | Disclosures
---
Originally published in Sound and Image, March/April 2008, v.21#5
---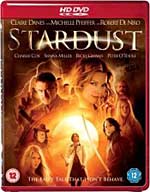 Stardust
2007
Director: Matthew Vaughn
Starring: Charlie Cox, Claire Danes, Michelle Pfeiffer, Robert De Niro, Kate Magowan, Mark Strong, Sienna Miller, Peter O'Toole, Jason Flemyng, Ricky Gervais

Movie:

Picture:

Sound:

Extras:

---
Stardust is, I think, the best movie that I've ever watched of which I hadn't previously heard. Paramount sent the HD DVD to me without warning. I had nothing better to do one evening, so I watched it. I watched it a second time with my youngest daughter. I announced a 'Stardust' evening and watched it with my eldest daughter. My son was supposed to be heading back home ready for an early start at work the next day, but he lingered quietly in the background until it was finished.

Yes, this really is an excellent movie. It takes the twisted fairytale fantasy genre to a whole new level. The actors are all engaging, and this fantasy world has a solid internal logic. And it is consistently surprising.

The HD DVD delivers picture quality that I would hesitate to call as good as it gets, simply because I suspect that it is as good as it can get. At least, for a movie filmed with, well, film as opposed to digital video, or created on a computer. The print is totally clean, very sharp. Flawless.

Even better are the colours and black levels of the MPEG4 video. The gradations between colour intensities are wonderfully smooth. Yes, I don't think it can get any better than this.

The sound was excellent too, with the 5.1 channel Dolby Digital Plus providing plenty of bass and good enveloping surround, which was useful given that there was a fair amount of whooshing around in the movie.

The special extras were nothing special. Really pretty much the same stuff you get on a DVD, except that you also get bookmarks which make use of the HD DVD's persistent storage.
---
Features
Running time: 128 minutes
Video: 2.35:1 anamorphic, 1080p24, MPEG4AVC
Sound: English: Dolby Digital Plus, 3/2.1 @ 1,536kbps; German, Spanish, French: Dolby Digital Plus, 3/2.1 @ 448kbps
Subtitles: Danish, German, Greek, English, Spanish, French, Hungarian, Dutch, Norwegian, Polish, Portuguese, Finnish, Swedish, Turkish, English for the hearing impaired
Features: Bookmarks, Deleted scenes (6 mins); Featurette: 'Good Omens: The Making of Stardust' (30 mins); Blooper Reel (5 mins); Trailer (2 mins)
---
&copy 2002-2008, Stephen Dawson