Home Page | About Me | Home Entertainment | Home Entertainment Blog | Politics | Australian Libertarian Society Blog | Disclosures
---
Last updated 4 July 2009
---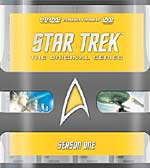 Star Trek Season One
1966 - Paramount Home Entertainment (Australasia) Pty Ltd
Creator: Gene Roddenberry
Starring: Leonard Nimoy, William Shatner, DeForest Kelley, Nichelle Nichols, James Doohan, George Takei, Eddie Paskey and Bill Blackburn

Movie:

Picture:

Sound:

Extras:

---
Star Trek Season One (HD DVD)
Originally published in Sound and Image, March/April 2008, v.21#5
It was a surprise to see the original 'Star Trek' TV show released so early on HD DVD. Even more surprising was how lavish the presentation was.

In fact, it is difficult to think of any home video release upon which more TLC had been expended, except, possible, the five disc new release of Bladerunner.

Here we have all 29 fifty minute episodes presented on ten double sided discs. On the flip side of each is a DVD version! These are all packed into a hinged disc holder, held within a cardboard slip case along with the five plastic contents cards, and all these in turn held in a sturdy transparent presentation case.

For just one indication of the care that has gone into this release, consider the DVD side. I assumed that they would be 480i format, like the US ones. But, no, they are 576i. These were clearly remastered for Australian/European release.

So how does a forty-some year old TV program look in high definition. Variable is the best way to put it. Most of the time it is good, or very good, and sometimes excellent. Occasionally there are scenes, in one case most of a whole episode, that are quite soft. The show was shot on film, but since the intended destination of the footage was NTSC TV, there wasn't much pressure to go for a really tight focus.

Still, it is consistently better than that the DVD side. Just as importantly, either clean prints were used, or the picture was cleaned up in other ways. There were no scratches, dust or any other problems with the picture. Which, incidentally, was presented in the original 4:3 frame, just inserted into HD DVD's 16:9 frames, so there are black bars on the sides.

Some of the special effects have been redone with CGI, but done tastefully. Generally shots from space of the USS Enterprise and various planets have been made far more believable. Sometimes on-planet backgrounds have been improved a little. But none so much as to seem out of place with the slight goofiness of 1960s TV special effects.

The sound is Dolby TrueHD. High fidelity? Not really, but not bad either. Some surround has been added, although not in an aggressive way.

There are plenty of featurettes on the DVD side, and a few HD DVD extras to use up the remaining space on Disc 10. But of most interest, seven of the episodes have a 'Starfleet Access' option, which allows you to select and pop up two different 'trivia track' type sets of information, plus video clips discussing the show, its background and aspects of the episode. These last use HD DVD's PIP feature, with the video also presented in MPEG4AVC and the overlay sound carried in Dolby Digital Plus. When you invoke one of these, the main picture shrinks and moves over to occupy the left side of the picture frame, while the inserted material appears on the right.

Don't despair if you've missed out, now that HD DVD has failed. Paramount, having done all this work, is certain to release it on Blu-ray sooner or later. Now that Blu-ray Profile 1.1 is here, it should be able to make use of the same features, although it will lack the DVD side.
---
Facts
Running time: 1,450 minutes
Picture: 1.33:1 original aspect ratio (in pillarboxed widescreen presentation), 1080p24, MPEG4AVC
Sound: English: Dolby TrueHD 3/2.1; German, French: Dolby Digital Plus, 2/0.0 (mono) @ 192kbps
Subtitles: Danish, German, English, French, Dutch, Norwegian, Finnish, Swedish, English for the hearing impaired
Extras: Bookmarks, 'Starfleet Access' popups; entire series on PAL DVD on flipside; various featurettes on DVDs
---
Star Trek Season One (Blu-ray Addendum)
Not previously published
(See below for the Blu-ray vs DVD comparison.)

As I write this, I have not yet completed the task of examining the entire contents of this seven disc collection (the larger capacity of Blu-ray allows more episodes to fit per disc). But one thing is clear: it is better than the HD DVD version.

What you lose is the DVD version on the flip side, and the nifty way that the main video resizes for a side-by-side appearance with the PIP elements in 'Starfleet Access'. You still get 'Starfleet Access' PIP stuff for six episodes (you lose it for 'The Galileo Seven'), but it's just a regular window. Unfortunately, it isn't shoved off into the pillarbox area where it would interfere with the picture the least.

Still, what makes the Blu-ray much, much better than the HD DVD is that you get the complete original episodes for all 29. You can choose to watch each episode with either the original or the enhanced (ie. re-done) visual effects. If you select the former, the audio automatically changes as well, to the two channel mono original soundtrack. You can override to switch back to the 7.1 DTS-HD MA if you prefer.

These options are provided as 'Angles', but rather than angles within the one video file, they are separate files. You can use the 'Angle' key on your remote to switch between them on the fly. The playlists are, consequently, fairly complicated. For example, the files constituting the episode 'The Man Trap' are (data from BDInfo 0.5.2):

Enhanced    Original	Start time   Duration
================================================
00036.m2ts  00037.m2ts  0:00:00.000  0:00:24.399
      00038.m2ts        0:00:24.399  0:03:28.875
00039.m2ts  00040.m2ts  0:03:53.274  0:01:12.447
      00041.m2ts        0:05:05.722  0:05:14.772
00042.m2ts  00043.m2ts  0:10:20.494  0:00:08.007
      00044.m2ts        0:10:28.502  0:03:13.359
00045.m2ts  00046.m2ts  0:13:41.862  0:00:09.634
      00047.m2ts        0:13:51.497  0:06:57.750
00048.m2ts  00049.m2ts  0:20:49.247  0:00:08.007
      00050.m2ts        0:20:57.255  0:09:28.609
00051.m2ts  00052.m2ts  0:30:25.865  0:00:11.094
      00053.m2ts        0:30:36.960  0:01:25.794
00054.m2ts  00055.m2ts  0:32:02.754  0:00:07.757
      00056.m2ts        0:32:10.511  0:07:10.888
00057.m2ts  00058.m2ts  0:39:21.400  0:00:13.638
      00059.m2ts        0:39:35.039  0:04:09.248
00060.m2ts  00061.m2ts  0:43:44.288  0:00:08.007
      00062.m2ts        0:43:52.296  0:04:29.394
00063.m2ts  00064.m2ts  0:48:21.690  0:00:08.007
      00065.m2ts        0:48:29.698  0:00:34.784
00066.m2ts  00067.m2ts  0:49:04.483  0:00:30.029
      00068.m2ts        0:49:34.513  0:00:53.553

The replacement bits are usually quite short -- just eight seconds in several cases above. As an example of the difference, here is the 29th 'I' frame from 00036.m2ts, the enhanced opening of this episode: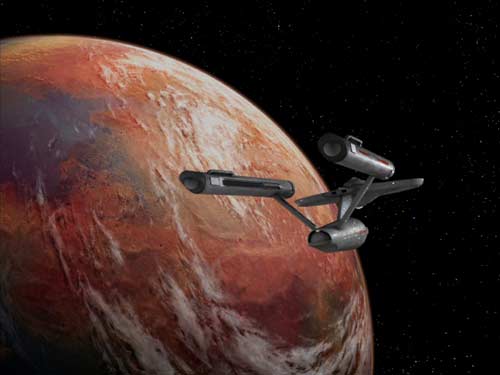 And here is the matching frame from 00037.m2ts, the original opening: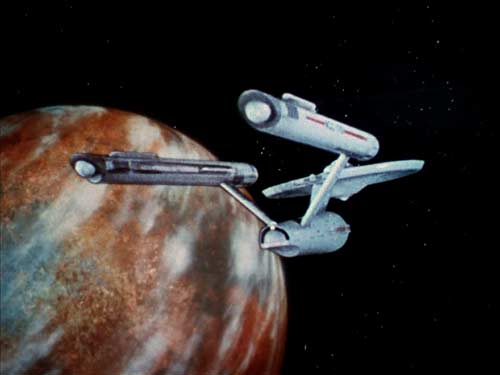 Reduced in size, the difference doesn't seem all that huge. So here is a detail from each, side by side, unscaled (original on the left):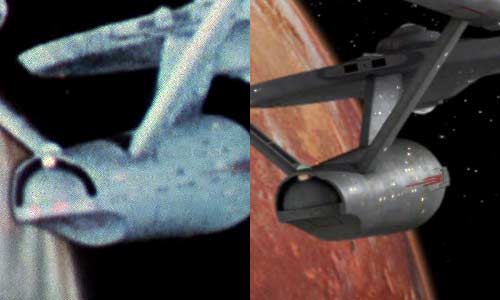 Here is the bitrate graph for this episode, using the enhanced version (generated by BDInfo 0.5.2):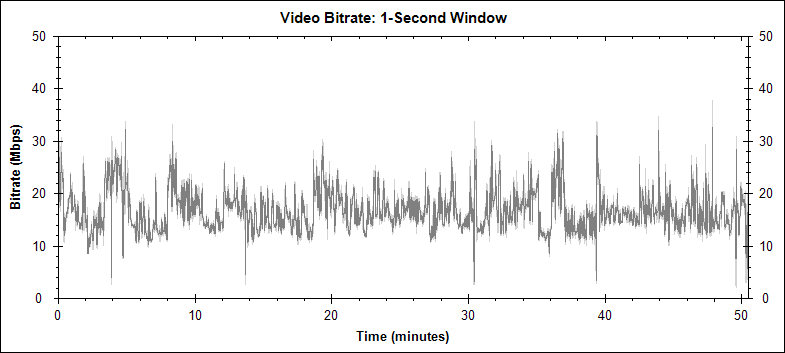 And this graph shows where the second angle is available: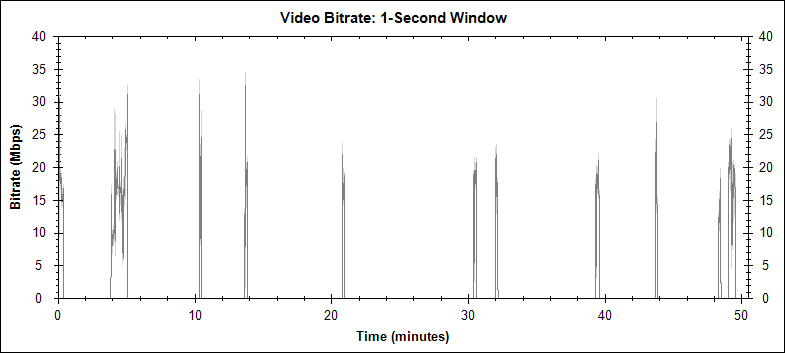 Now, onto some facts, and then the Blu-ray vs PAL DVD comparison.
---
Facts
Running time: 1,450 minutes
Picture: 1.33:1 original aspect ratio (in pillarboxed widescreen presentation), 1080p24, MPEG4AVC (so far, average bitrates range from about 14.5 to 17.5Mbps)
Sound: English: DTS-HD Master Audio 24/48 3/2.1 (@ around 4000kbps) (core: DTS 24/48 3/2.1 @ 768kbps); English, German, French: Dolby Digital 2/0.0 (Mono) @ 192kbps
Subtitles: Danish, German, English, French, Dutch, Norwegian, Finnish, Swedish, English for the hearing impaired
Extras: TBA
Restrictions: Rated

(Australian rating); Region Free
---
Here are some comparisons between the PAL DVD and the Blu-ray version of this show. The PAL DVD version was actually from the flip side of the HD DVD version, since that was what I had to hand. It should be the same as the standalone version released in the last couple of years.

I used the episode 'Where No Man Has Gone Before' for this example. This episode has an average video bitrate of 16.58Mbps. I used the enhanced version of this.

In the following examples, at the top of each is the full frame (suitably shrunk down) used in the comparison, with a 250 pixel wide detail from the frame underneath. The left side is from the PAL DVD. The image was captured digitally from the disc, scaled up from its native 720 by 576 resolution to 1,024 by 576 (to present in the 16:9 aspect ratio), and then, in order to be comparable to the Blu-ray version, from that to 1,920 by 1,080. The detail is from that last scaled version, and has not been rescaled again. The right side is from the Australian Blu-ray. This has not been scaled at all.

Different applications were used to capture the two frames, so I am not normally comfortable comparing the colour and brightness between the two, merely the detail and sharpness. For those visitors from NTSC lands, generally the PAL DVD is just a touch sharper than the NTSC DVD.

The Enterprise is easier to spot on the Blu-ray in the noise of space, because there is less compression noise from the media: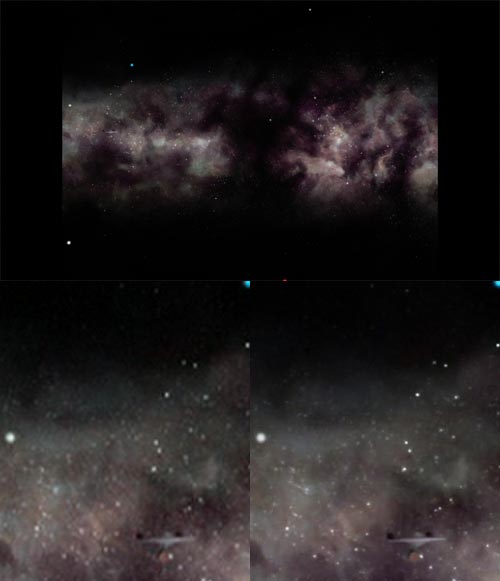 Likewise, Kirk's facial creases are cleanly and clearly represented: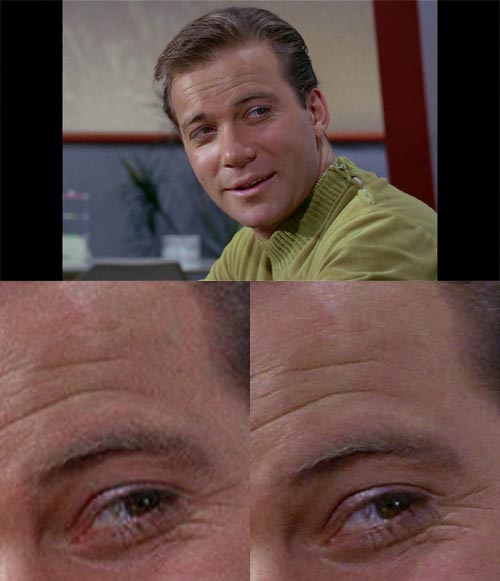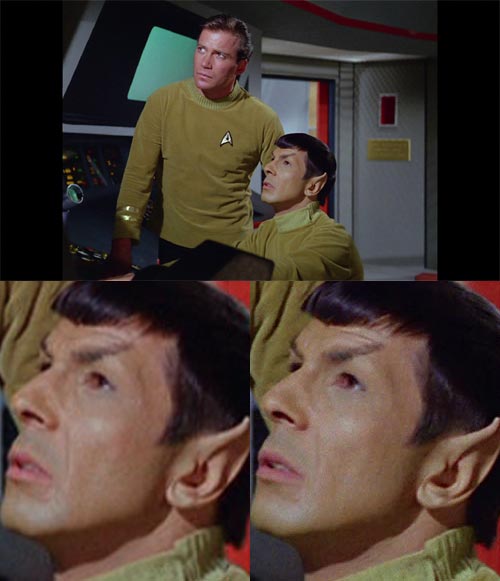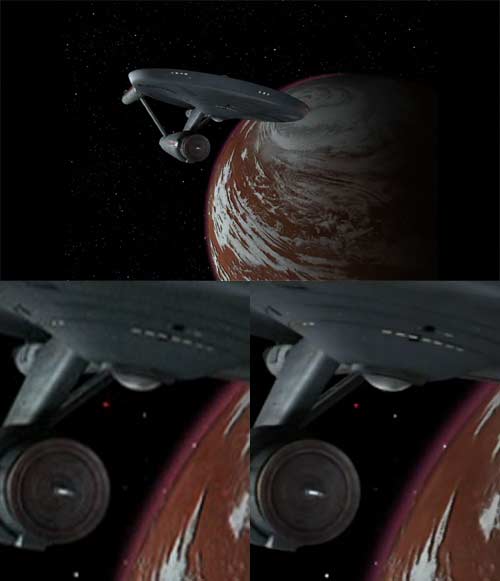 The painted backdrop is more obviously a painted backdrop in the Blu-ray: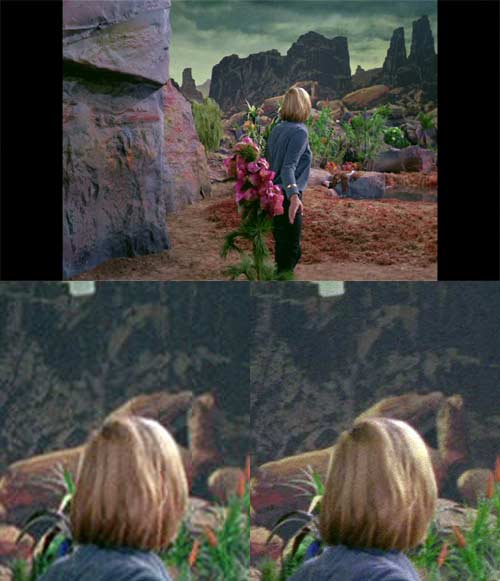 ---
&copy 2002-2009, Stephen Dawson