Home Page | About Me | Home Entertainment | Home Entertainment Blog | Politics | Australian Libertarian Society Blog | Disclosures
---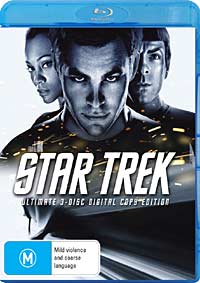 Originally published in Sound and Image, January 2010, v.23#03
Last updated 25 February 2013
Download scan of review (JPEG, right click, Save As)
---
Star Trek
2009 - Paramount Home Entertainment (Australasia) Pty Ltd
Director: J.J. Abrams
Starring: Chris Pine, Zachary Quinto, Leonard Nimoy, Eric Bana, Bruce Greenwood, Karl Urban, Zoe Saldana, Simon Pegg, John Cho, Anton Yelchin, Ben Cross, Winona Ryder, Chris Hemsworth and Jennifer Morrison

Movie:

Picture:

Sound:

Extras:

---
What hath Gene Roddenberry wrought? With the spin-offs, by my calculation there have now been 725 TV episodes and eleven movies. It would take you fourteen 40-hour work weeks to watch everything Star Trek.

Even more surprising is that, with a few fits and start such as 2004's abortive six episode 'Star Trek: New Voyages', the quality has remained middling to high.

With the most recent Star Trek movie, it has gotten to more than 'High'. After some 97,000 votes, the 2009 movie stands at position 133 of the Internet Movie Database 'Top 250' list.

Anyone who wants to do a remake or a sequel or, as in this case, a prequel, should watch this movie to see how it's done. The main ingredient was respect for what had come before. By its nature, a respectful prequel must leave things as they were, otherwise what comes later in the fictional chronology makes no sense.

With Star Trek, Abrams and his team tell a story which veered impossibly into contradictions with the 560 other hours of Star Trek, yet finishes off leaving them plausible. In the meantime there is plenty of exceptionally classy camera and CGI work, along with a decent story-line, to make for a thrilling two hours.

But you won't get anywhere near what you should from this experience unless you have a big screen, a great surround system, and the Blu-ray version of this movie.

Whereas Harry Potter's movies, CGI intensive as they are, still preserve the overall softness of film in their final look, Star Trek gets super sharp resolution at every point on everything, whether filmed or created in the bowels of a computer. Consistency has been maintained between the two sources, so it merges together seamlessly and attractively. So while Harry Potter is a pleasant viewing experience, Star Trek is an exciting one, a thrilling one, with every pixel preserved in a generous 32.7Mbps MPEG4 AVC transfer. It is indeed one worth using to demonstrate your high-end system to everyone.

And so is the sound. It is this kind of movie that makes spending big on your subwoofer worthwhile. The levels of truly deep bass, especially in the opening battle, are prodigious.

The only extra on the main disc (aside from the commentary) is BD-Live access. As I write, that is limited to an RSS feed from NASA news. If Paramount follows its past practice, such as with Transformers, you can expect more BD-Live material to become available.

You also get a 'Digital Copy' capable of being loaded onto your computer or iPod or other compatible portable video device, and a second Blu-ray disc with over 220 minutes of full 1080p24 extras.
---
Facts
Running time: 127 minutes
Picture: 2.35:1, 1080p24, MPEG4 AVC @ 32.70Mbps
Sound: English: Dolby TrueHD 24/48 3/2.1 @ 3603kbps (core: Dolby Digital 3/2.1 @ 640kbps); German, English Audio Description, Spanish, French, Italian: Dolby Digital 3/2.1 @ 640kbps; Commentary: Dolby Digital 2/0.0 @ 224kbps
Subtitles: Danish, German, English, Spanish, French, Italian, Dutch, Norwegian, Finnish, Swedish, English for the Hearing Impaired, German (Commentary), English (Commentary), Spanish (Commentary), French (Commentary), Italian (Commentary)
Extras: Bookmarks; BD-Live; Starfleet Vessel Simulator (graphical info feature); 9 Deleted scenes with Optional Commentary (1080p24, MPEG4 AVC, 2 x DD2.0 @ 224kbps - 14 mins); 30 Featurettes (1080p24, MPEG4 AVC, DD5.1 @ 640kbps - 194 mins); Gag Reel (1080p24, MPEG4 AVC, DD5.1 @ 640kbps - 6 mins); 4 Trailers (1080p24, MPEG4 AVC, DD5.1 @ 640kbps - 7 mins); Digital Copy
Restrictions: Rated

(Australian rating); Region Free

The following video bitrate graph was generated by BDInfo 0.5.3: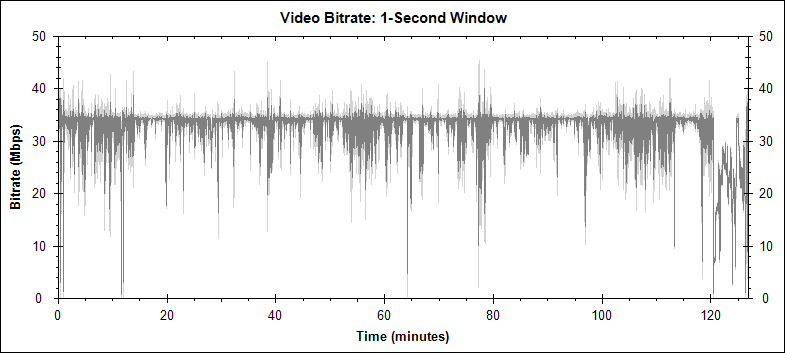 ---
&copy 2002-2010, Stephen Dawson