Home Page | About Me | Home Entertainment | Home Entertainment Blog | Politics | Australian Libertarian Society Blog | Disclosures
---
Originally published in Sound and Image, July/August 2007, v.20#8
Last updated 8 April 2010
---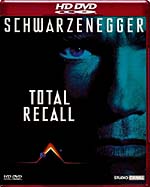 Total Recall
1990
Director: Paul Verhoeven
Starring: Arnold Schwarzenegger, Ronny Cox, Michael Ironside, Marshall Bell and Mel Johnson Jr.

Movie:

Picture:

Sound:

Extras:

---
Total Recall was the second Philip K Dick story committed to film and, as can be gleaned from the original short story's title -- 'We Can Remember It For You Wholesale' -- is typically twisted. The movie basically follows the story up to its last couple of pages, and then takes off in its own direction. Forgivable, because as it was, the story couldn't be spun into a feature movie. Unfortunately this means that the story's brilliant and startling conclusion is lost.

Oh, the premise. I almost forgot. Basically, why waste a couple of weeks going on holiday when Rekall Corporation can dump the detailed memories of a great two week vacation into your brain in half an hour for a modest price. Yet it seems just like the real thing!

Arnold Schwarzenegger plays the subject of an attempted memory transfer, which simply goes to awaken some real memories of his own, while Sharon Stone plays his wife and Rachel Ticotin his love interest.

Back in 1990 this movie was remarkable for its violence (it had to be recut to avoid a US 'X' rating) and its special effects. Most of these still stand up remarkably well, even when delivered in a revealing high definition transfer. Although it was disconcerting to see that Arnie's large high definition TV was actually square, rather than widescreen.

Total Recall was released on DVD in the very early days of the format in a rather cruddy French transfer, with crackling noise in the surround channels at one point. Then it disappeared from sale and it wasn't until the last couple of years that a new, much improved, DVD version was released.

Of course, this HD DVD one kills it for picture quality. There is some film grain, but overall the presentation of the picture was excellent, simply providing a window into the original film. The transfer uses the VC-1 compression system.

The sound was good, but no different on my system to the remastered DVD because the English track is in the high quality DTS-HD Master Audio format (5.1 channels). My system will not yet decode this, so all I was getting was multichannel PCM, or standard DTS. You can't change the audio or subtitle language with the keys on the Toshiba's remote. Instead it was necessary to go back to main menu, select the left arrow icon, and choose the playback language.

The disc has hardly any extras, just a HD promo. But it also has video and audio configuration sections. The former is just two sets of grey scales and a 'blacker than black' character over a regular black background. This makes setting brightness and contrast easy (the instructions are on the screen). Since this is the thing many people get wrong, it is very useful.

The audio optimisation sends out a signal to each of the five channels in turn, with on screen instructions telling you to make sure the sounds are coming from the appropriate speakers. Actually, the pink noise from the five main speakers is suitable for balancing the system, but that from the subwoofer isn't. Its noise seems to be at a higher level, and is a descending sine wave, so it's not good for setting the subwoofer balance.
---
Facts
Running time: 114 minutes
Video: 1.85:1, 1080p24, VC1,
Sound: DTS-HD Master Audio 3/2.1; German: DTS-HD High Resolution 3/2.1 @ 1,536kbps; French: DTS-HD High Resolution 2.0 @ 768kbps
Subtitles: French, English, German, Danish, Finnish, Norwegian, Swedish, Dutch
Extras: HD promo (4 mins); Audio and Video configuration screens
Restrictions: Rated

(Australian rating); Region Free
---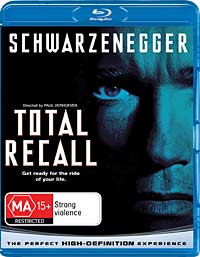 Of course, HD DVD is now dead, but this version of Total Recall lives on in Blu-ray.

I'm not kidding about living on. The video encode is identical. I extracted the first 737 'I' frames from the HD DVD and compared them to the first 737 'I' frames extracted from the Blu-ray. There were bit-for-bit identical.

The basic audio tracks are the same in theory, but with Portuguese and Spanish added. The English sound track is DTS-HD Master Audio on both, and both are supposed to have DTS-HD High Resolution German and French tracks. The problem is that with the HD DVD version, these were both reported by the Toshiba player as being standard DTS. Likewise, when I set the player to bitstream output, the receiver reported it as being standard DTS.

With the Blu-ray, though, both of these are indeed reported as DTS-HD HR at 2046kbps.

Now, the facts, and then a comparison between the Blu-ray and the DVD.
---
Facts
Running time: 114 minutes
Video: 1.85:1, 1080p24, VC1, 19.95Mbps
Sound: English: DTS-HD Master Audio 16 bit/48kHz 3/2.1 @ 2121kbps; German, French: DTS-HD High Resolution 16 bit/48kHz 3/2.1 @ 2046kbps; Portuguese, Spanish: DTS 3/2.1 @ 1536kbps
Subtitles: English, Portuguese, Danish, German, Spanish, French, Spanish, Dutch, Norwegian, Finnish, Swedish
Extras: Video Configuration Screen (1080p24, VC1, No sound) - Title continuously loops; Audio Configuration Screen (1080p24, VC1, DTS5.1 @ 1,536kbps) - Title continuously loops
Restrictions: Rated

(Australian rating); Regions A and B only

The following video bitrate graph was generated by BDInfo 0.5.3: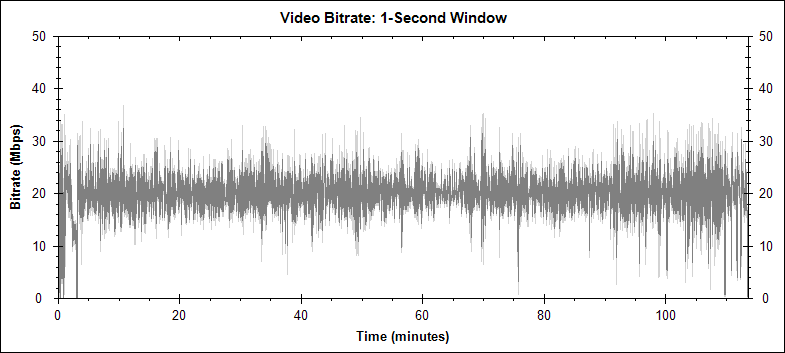 ---
Here are some comparisons between the PAL DVD and the Blu-ray version of this movie. For this comparison I used the two disc special edition PAL DVD.

In the following examples, at the top of each is the full frame (suitably shrunk down) used in the comparison, with a 250 pixel wide detail from the frame underneath. The left side is from the PAL DVD. The image was captured digitally from the disc, scaled up from its native 720 by 576 resolution to 1,024 by 576 (to present in the 16:9 aspect ratio), and then, in order to be comparable to the Blu-ray version, from that to 1,920 by 1,080. The detail is from that last scaled version, and has not been rescaled again. The right side is from the Australian Blu-ray. This has not been scaled at all.

Different applications were used to capture the two frames, so I am not normally comfortable comparing the colour between the two, merely the detail and sharpness. However the DVD did seem to be noticabl darker throughout than the Blu-ray. For those visitors from NTSC lands, generally the PAL DVD is just a touch sharper than the NTSC DVD.

Lace is always good for comparing sharpness and detail: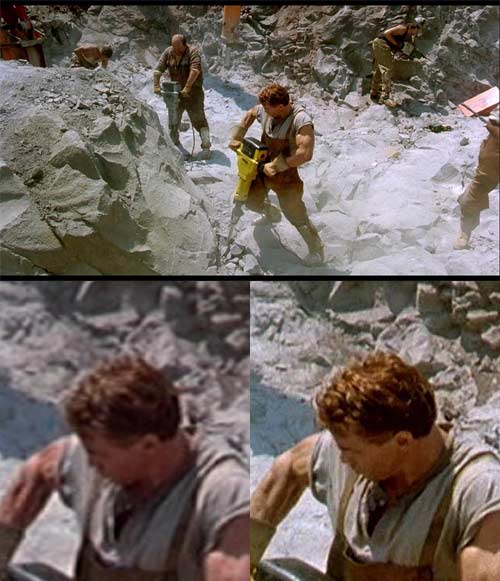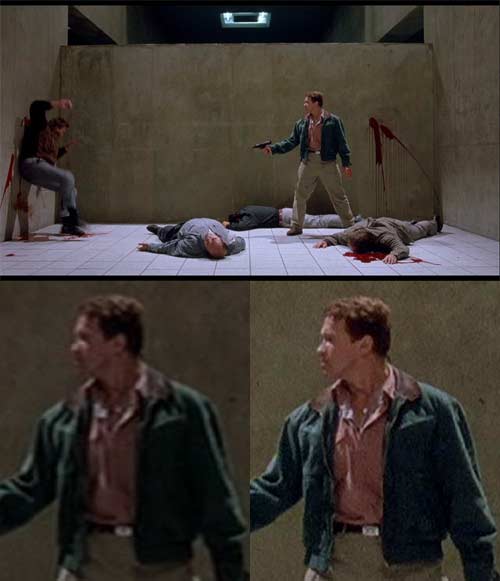 Somehow the greater sharpness of Blu-ray lends itself nicely to making metallic objects look more real: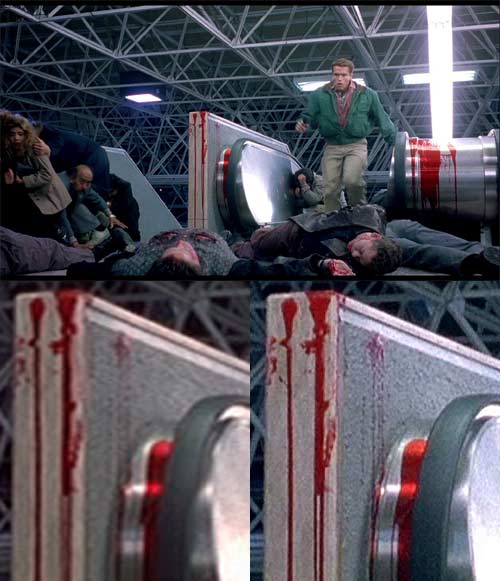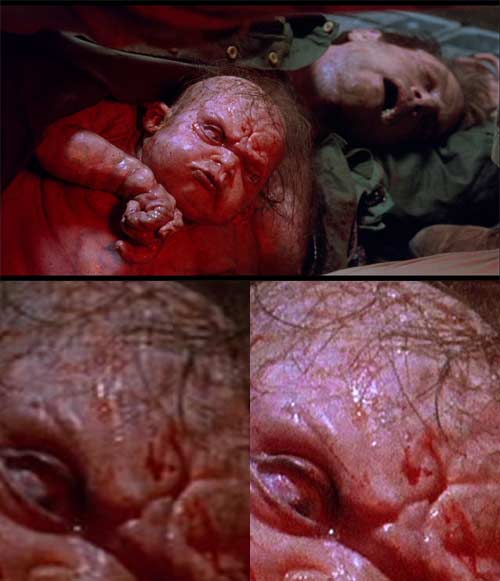 Unfortunately, the greater detail in Blu-ray can also expose imperfect special effects, such as the obviously fake factory shown here: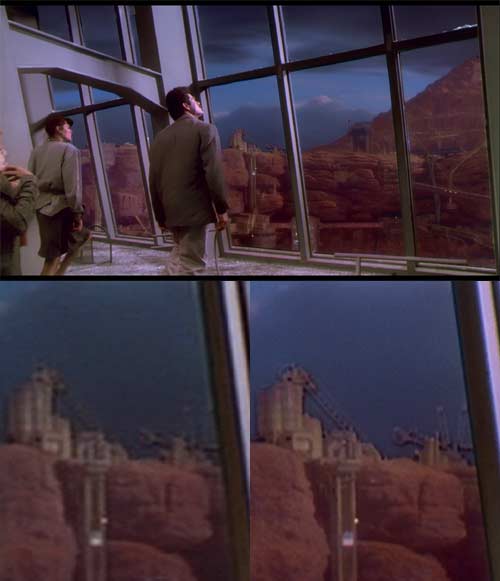 ---
&copy 2002-2009, Stephen Dawson