Home Page | About Me | Home Entertainment | Home Entertainment Blog | Politics | Australian Libertarian Society Blog | Disclosures
---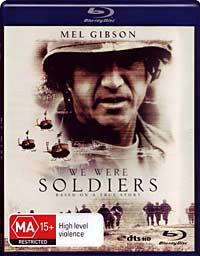 Originally published in Sound and Image, September/October 2008, v.22#1
Last updated 8 April 2010
---
We Were Soldiers
2002 - Icon Film Distribution Pty Ltd
Director: Randall Wallace
Starring: Mel Gibson, Madeleine Stowe, Greg Kinnear, Sam Elliott, Chris Klein, Keri Russell, Barry Pepper, Duong Don and Ryan Hurst

Movie:

Picture:

Sound:

Extras:

---
I am a total sucker when it comes to movie sentimentality. I am an even bigger sucker when it comes to well made war movies. But, I am happy to say, I am not as much of a sucker as those who are excessively cynical. For example, this quotation from a representative review of We Were Soldiers: 'Director Randall Wallace ... has an ear for sappy dialogue, a talent that is evidenced here with lines like, "I'm glad I could die for my country" and "Tell my wife I love her". Whenever reality meets Hollywood, there are inevitably some concessions.'

Sorry, as Wallace's commentary on this Blu-ray version of the movie makes clear, those two lines actually were uttered in the final seconds of life of the two soldiers represented on screen. Should we criticise dying soldiers for not spontaneously composing scintillating dialogue? The fact is, far too often when a movie reviewer meets Hollywood, he doesn't understand reality when he sees it!

This movie is based, fairly closely it seems, on a book written by the characters played by Mel Gibson and Barry Pepper. That it takes place in the Vietnam War is more or less irrelevant. If you want to experience -- short of joining up for yourself -- the experience of a hard fought battle in the modern era -- this is a good place to start.

On this disc it seemed to me that the focus was variable and almost always at least a touch too soft. The contrast was a bit brutal as well. I suspect that both were due to the cinematography rather than the transfer to Blu-ray. Or perhaps I am now being too demanding, having recently watched many CGI-enhanced movies. Nonetheless, it was obviously sharper and cleaner than the DVDs.

One real oddity: at the end of the movie, as I saw it at the cinema, as presented on HD DVD, as it appears on the Warner-distributed DVD and Icon's own recently re-released DTS 5.1 version of the DVD, at the end of the movie there are some explanatory text overlays. These are missing from Blu-ray disc.

The sound is definitely worthy of being used as a demonstration. There are helicopters whapping around, bullets describing their supersonic trajectories past your ears. Thuds. Cracks. Whatever. All incredibly realistic. And brought to you in DTS-HD Master Audio, without loss.

For extras, all you get is a commentary and a 26 minute making-of featurette. The latter is in 480i standard definition described below**, but rather than being blown up to inevitable fuzziness on a full high definition screen, it is presented within a window in the menu screen.
---
Facts
Running time: 139 minutes
Picture: 2.35:1 anamorphic, 1080p24, MPEG4 AVC, 31.37Mbps
Sound: English: Dolby Digital EX, 3/3.1 @ 640kbps; English: DTS-HD Master Audio ES Matrix, 3/3.1*; English, Commentary: Dolby Digital 2/0.0 @ 224kbps
Subtitles: English for the Hearing Impaired
Features: Documentary: 'Getting It Right' (742 by 568 window within 1080p24 frame, MPEG4 AVC, DD2.0 @ 224kbps - 26 mins)

The following video bitrate graph was generated by BDInfo 0.5.3:
---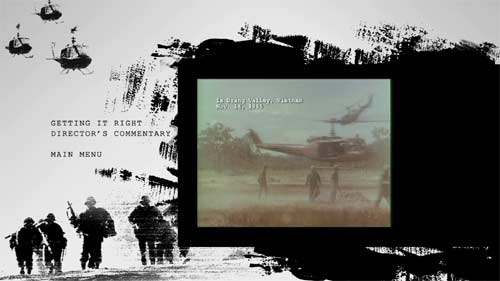 * I originally had this down as DTS-HD Master Audio, 3/2.1. That's because the equipment I was using failed to report that this was a 6.1 channel sound track. But the Yamaha RX-V3900 receiver that I'm using for the moment does report this, so I've changed this. Of course, the whole idea of DTS-HD Master Audio ES Matrix is somewhat of a contradiction in terms, I would have thought. DTS-HD Master Audio is a lossless codec, so it should allow the sound to be perfectly reconstituted. Stuffing a surround back channel into the two regular surround channels by way of matrixing it is not a lossless procedure. Which makes you wonder why they didn't do it discretely.

** That was my take on it anyway. However, thanks to the wondrous software tool BDInfo, I can now report that this extra is presented as a hard coded window on a static background. In otherwords, the background is part of the video, with the whole thing presented in 1080p24 format. The video insert seems to be about 568 pixels tall by 742 wide and is, of course, itself progressive at 24 frames per second. How this works is shown to the right.
---
Here are some comparisons between the PAL DVD and the Blu-ray version of this movie. At the top of each is the full frame (suitably shrunk down) used in the comparison, with a 250 pixel wide detail from the frame underneath. The left side is from the PAL DVD. The image was captured digitally from the disc, scaled up from its native 720 by 576 resolution to 1,024 by 576 (to present in the correct aspect ratio). I then scaled it, in order for it to be comparable to the Blu-ray version, to 1,920 by 1,080 pixels.

The detail is from that last scaled version, and has not been rescaled again. The right side is from the Australian Blu-ray. This has not been scaled at all. Different applications were used to capture the two frames, so I am not comfortable comparing the colour between the two, merely the detail and sharpness. For those visitors from NTSC lands, generally the PAL DVD is just a touch sharper than the NTSC DVD.

The first shot -- this is a bloody movie, remember -- isn't particularly compelling in favour of the Blu-ray. The beret insignia is a little more detailed, but the main additional detail revealed by the Blu-ray is film grain: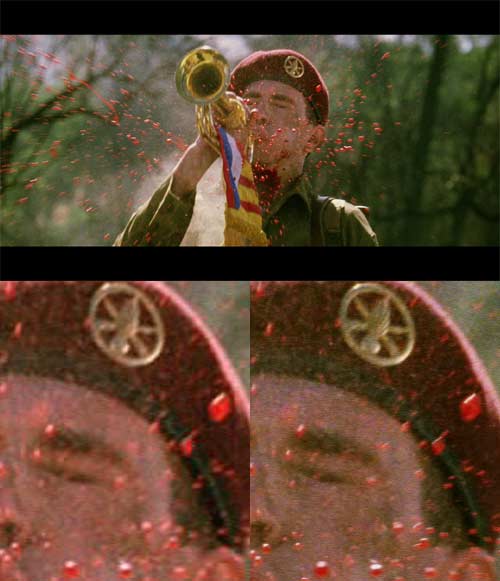 With hard edges and fine detail, Blu-ray really should stand out. But once again, there really isn't much in it, aside from film grain: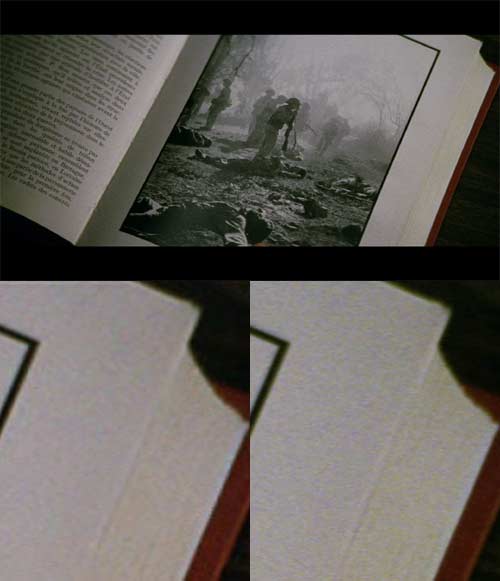 Now, this is more like it. Yes, Keri Russell has a face and is laughing. Yes, Madeleine Stowe is holding a notepad. Clearly the Blu-ray is faithful to the source. It is the source that it incredibly grainy: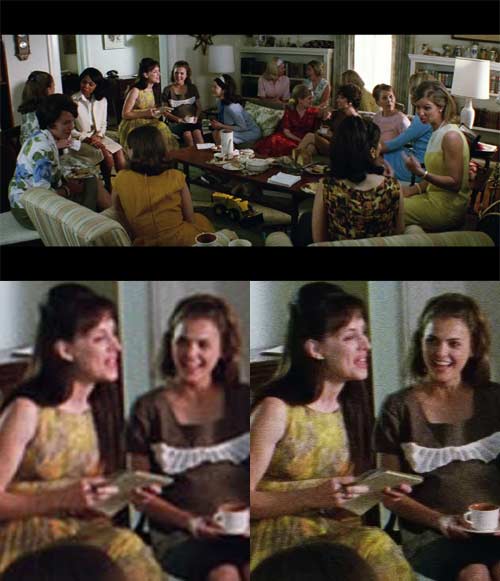 As has been noted elsewhere, once the story gets to 'Vietnam' (apparently the whole lot was filmed in the US) the picture quality increases sharply. Was this some kind of artistic decision, to make the war more real than the preparation? Anyway, rather than focusing on the subject of this frame, I've chosen a patch of grass in the bottom right hand corner of the frame. Here we see the content resolved, rather than at most hinted at by the DVD: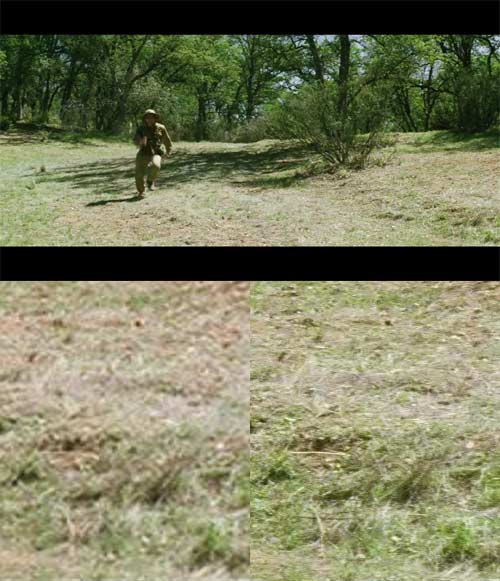 Here is one example of a text overlay being omitted from the Blu-ray. I normally take the full frame at the top of these comparisons from the Blu-ray, but this one is from the DVD. Still plenty of grain in the former, but also a lot more detail and sharper edges. I defy you to ascertain from the DVD that the dead man has a belt of M60 ammo over his shoulder: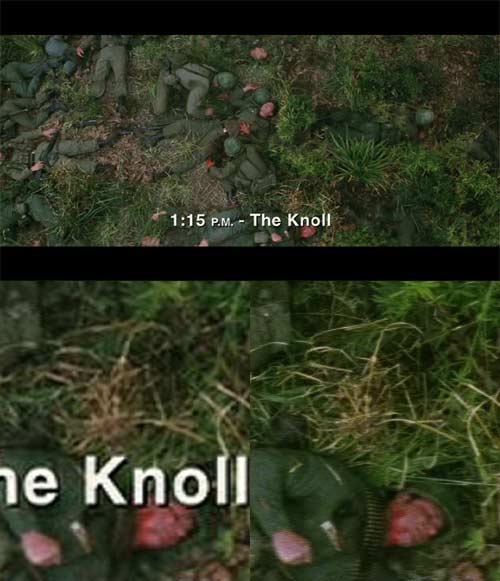 Love him or hate him, Mel Gibson sure can act. Which you can see, despite the film grain: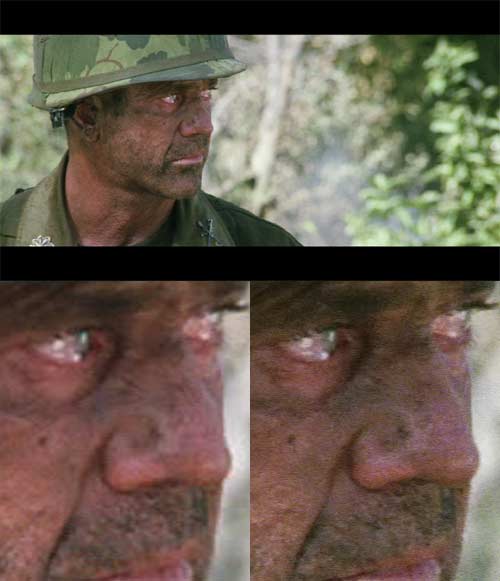 Another missing overlay, right at the end of the movie. The background -- clearly more readable on the Blu-ray -- is the US Vietnam War Memorial. The next text panel (missing from the Blu-ray) notes that these names are flanked by some 58,000 other Americans who died in that war. Those who died in the events portrayed in the movie are listed in the Blu-ray at the head of the credits, but the panel saying as much is missing: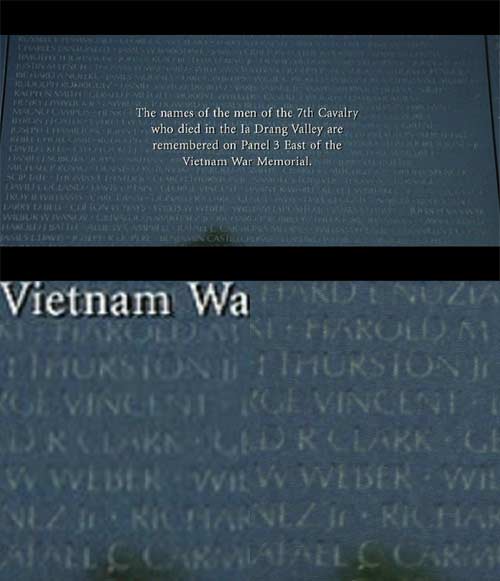 ---
&copy 2002-2010, Stephen Dawson