Home Page | About Me | Home Entertainment | Home Entertainment Blog | Politics | Australian Libertarian Society Blog | Disclosures
---
Epson EMP-TW200 & Panasonic PT-AE500E LCD Projectors
Shortened version published in The Age, 'Livewire' section, 29 April 2004
One of the reasons I stopped writing for The Age newspaper was because I found myself bound up in frequent rewrites on telephonic editorial discussions. The great majority of my material is published as submitted. I found Melbourne's Herald Sun newspaper a more welcome home for my style of writing.

With this piece, I ended up having to submit a re-written introduction, which I've reproduced at the foot of this item.
---
The 'creative destruction' that is capitalism continues to stun me. Two years ago it wasn't possible to buy a $4,000 projector that was suitable for home theatre use. Cheap projectors had lousy resolution and were even worse with widescreen. Yet now I've got two projectors that break that price point and deliver true high resolution widescreen.
The price is low because they use LCD panels. The competing technologies are DLP and LCOS. Widescreen DLP home theatre projectors are edging down to around $9,000, while LCOS projectors remain on the budget-busting side of $10,000.
Both DLP (for Digital Light Processor) and LCOS (Liquid Crystal on Silicon) do most things a bit better than LCD (Liquid Crystal Display). One of the trickiest parts of producing a high quality picture is not making it bright – just putting a more powerful globe into the box does that trick – but making the dark bits dark. LCD projectors shine their lamps' light through LCD panels and turn parts of their surfaces opaque to 'create' darkness. Nice concept, but LCDs aren't capable of completely stopping the light, so when a black part of the picture is required, you get a dark grey.
Both DLP and LCOS work by reflecting the lamp's light from their panels, so they have an easier job of it. They do better blacks. DLP does its reflecting with microscopic mirrors, LCOS by changing the reflectivity of its LCD panels.
Still, our eyes adjust for these different levels of black – if they didn't a black cat wouldn't look black in bright sunlight.
DLP and LCOS also have smaller gaps between each individual dot on their surface because all their electronics can sit behind the panel. LCD panels have their electronics around the edges. DLP and LCOS have less of the grainy 'screen door' effect. But by providing lots of pixels (1,280 by 720 each), these projectors reduce this to near insignificance.
These projectors are generous in the other attributes required for good home theatre performance, in particular their ability to accept the kinds of video signals that various DVD players and set top boxes can produce. It is no longer acceptable to rely on the horrible composite video connection. You will recognise the yellow socket on most TVs. But composite video really degrades picture quality. You may not notice this on a TV-sized screen. But the damage is all too apparent when the picture is thrown up against a screen or wall and has a 100 inch (2.54 metre) diagonal.
Yet, as we'll see, even though the prices and the purposes served are nearly identical, the makers of these two projectors have each, ahem, focused on different aspects of user convenience.
Epson EMP-TW200
RRP: $3,999
The styling of Epson's EMP-TW200 evokes the image of the high-end home theatre projector. Largish and curvy, it wouldn't look bad attached to your ceiling. The remote control continues the theme and has a useful back-light so you see the keys in the dark.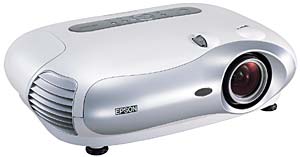 Installation is simple, thanks to a beaut lens shift feature. This lets the picture to be moved up and down, and side to side, without distortion. The zoom and focus are on the remote control because the lens is powered.
This projector delivered $10,000 performance out of a $4,000 box. Despite a modestly specified contrast ratio of 1,000:1, in my darkened theatre room it produced subjectively identical levels of black: rather good, not perfect. It can wind up the brightness from 500 ANSI lumens to 1,300, allowing daytime use. But avoid them in a dark room. My retinas are still recovering. The cooling fan is also much quieter at the low output setting.
Colour performance? That's all up to you. I quite liked the 'Natural' setting without any fiddling. If you like tweaking, the controls are comprehensive. You can even plug it into a computer and use the supplied software to design your own colour schemes.
The picture was nearly, but not quite, as smooth as the Panasonic's with a screen-door effect just a little more evident. But that was on 'The Simpsons', and cartoons do emphasise the effect.
The only feature of significance missing is a digital video input. Still, nice projector, brilliant price.
Panasonic PT-AE500E
RRP: $3,899
Performance wise, the Panasonic PT-AE500E is close to the Epson. Design-wise, it's a very different animal. Panasonic has gone for the compact, business projector look. Just 85mm thick, its 'footprint' consumes about the same area as an A4 sheet of paper.
The light output of 850 ANSI lumens looked just about right to me in my darkened viewing room. But not bright enough for business use, where it would to compete with the fluorescent ceiling lights. Most important was how it delivered its 1,280 by 720 pixels of resolution. In a word, nicely. Nasty twinkling on pixel boundaries was pretty much absent, and with the sheer number of dots the result was as smooth a picture as some $20,000 models I've used. The colour was good: strong and evenly spread from light areas to dark ones, and even dark scenes preserved their detail.
The blacks weren't quite as black as they could have been, but after watching Master and Commander for twenty minutes, I had to cast a shadow over part of the screen to convince myself of this. Compared to most LCD projectors, the blacks were quite good.
The menu system was straightforward, with three memories for picture settings. Watch that remote: it's small enough to easily misplace, but the backlit keys make it easy to use in the dark.
A highlight: the connections. The projector has component video, SCART (useful for digital TV receivers) and a Digital Video Interface, which is perfect for even better picture quality from the new DVD players just appearing.
Specifications
| | | |
| --- | --- | --- |
| Product | Epson EMP-TW200 | Panasonic PT-AE500E |
| Display system | 3 x 0.7 inch Polysilicon TFT active matrix LCD panels | 3 x 0.7 inch TFT active matrix LCD panels |
| Resolution | 1,280 by 720 | 1,280 by 720 |
| Contrast ratio | 1,000:1 | 1,300:1 |
| Inputs | 1 x composite video, 1 x S-Video, 1 x component video, 1 x D4 (component video alternative), 1 x D-SUB15 computer | 1 x composite video, 1 x S-Video, 1 x component video, 1 x DVI (with HDCP support), 1 x D-SUB15 computer |
| Other connections | 1 x RS-232C serial port, 1 x USB port, 1 x Trigger out | 1 x Trigger out |
| Features | Powered zoom and focus, lens shift | |
| Dimensions | 440 x 114 x 320 mm | 280 x 85 x 269 mm |
| Weight | 5.3 kg | 2.9 kg |
| Phone | 1300 130 194 | 132 600 |
| Web | www.epson.com.au | www.panasonic.com.au |
---
Alternative introduction
The 'creative destruction' that is capitalism continues to stun me. Two years ago it wasn't possible to buy a $4,000 projector that was suitable for home theatre use. Cheap projectors had lousy resolution and few offered widescreen. Yet now I've got here before me two projectors that break that price point and deliver true high resolution widescreen.

LCD projectors have a poor reputation for quality compared to a couple of more recent projection technologies. No, even the best LCD projectors are not quite as good as fine DLP (for Digital Light Processor) and LCOS (Liquid Crystal on Silicon) models, but then widescreen DLPs are only now edging down to around $9,000, while LCOS projectors remain on the budget-busting side of $10,000.

Much of the poor reputation of LCD projectors stems from the low resolution of the cheaper ones. Coming from computer technology, they have tended to offer displays that suit computers: SVGA (800 by 600 pixels) or XGA (1,024 by 768). That's fine for people showing Powerpoint presentations in conference halls, but not what's really required in the home theatre.

Both these projectors are firmly set in the home theatre tradition, offering their pictures in widescreen format (16:9) and with lots of resolution (1,280 by 720 pixels).

In addition to being plenty of resolution for DVDs, the detail these deliver begins to take advantage of high definition TV.

A lesser-known point about this degree of resolution is that it significantly reduces the 'screen door' effect that used to be all too obvious with LCD projectors. LCD projectors shine their lamp's light through LCD panels and turn parts of their surfaces opaque to 'create' darkness. Because of this, all the microscopic wiring that feeds the signal to each of the 900,000+ pixels on each panel has to sit around the outside edges of the pixels. Blow these up in size for display on a two metre screen, and there they sit, casting a grid-shaped shadow over the picture.

But the more pixels there are, the less noticeable the grid. Both these projectors excel here, with the Panasonic the stronger of the two on presenting a smooth image.

These projectors are generous in the other attributes required for good home theatre performance, in particular their ability to accept the kinds of video signals that various DVD players and set top boxes can produce. It is no longer acceptable to rely on the horrible composite video connection. You may not notice how much this degrades picture quality on a TV-sized screen. But the damage is all too apparent when the picture is thrown up against a screen or wall and has a 100 inch (2.54 metre) diagonal.

Yet, as we'll see, even though the prices and the purposes served are nearly identical, the makers of these two projectors have each, ahem, focused on different aspects of user convenience.

© 2004 - Stephen Dawson
---